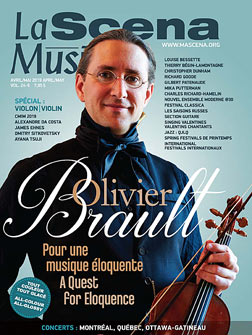 This page is also available in / Cette page est également disponible en:

Francais (French)
By Wah Keung Chan and Alexandre Da Costa
To help navigate the 2019 edition of the Concours musical international de Montréal (CMIM), La Scena listened to 23 of the 24 participants to arrive at our prediction of the winners. French-Russian violinist Fedor Rudin withdrew after his appointment as concertmaster of the Vienna State Opera and Vienna Philharmonic and we were not informed of his replacement during the evaluation process.
The 24 violinists include highly decorated winners of recent international competitions. In our listening of publicly available audio and video, many from previous competition performances, the technical prowess of all participants was professional level, but it was difficult to pick out a clear winner. Our top five choices were based on subtle displays of musicality, which CMIM's jury will be keenly looking out for.
The Asian factor
With 17 Asians amongst the participants, it comes as no surprise that four of our top five are also Asians. This year, no Canadians made the cut, leaving us wondering if Canada is falling behind. However, Canadian Timothy Chooi, who won the 2018 Joseph Joachim Competition, made the cut for the Queen Elisabeth Competition, which will be held in early May, just before the CMIM. He may have chosen to skip the CMIM.
Meet the violinists who may make the podium:
Hyun Jae Lim
South Korea
Twenty-one-year-old South Korean Hyun Jae Lim has first-prize potential. Her performance of Mendelssohn's Violin Concerto at the 2018 Menuhin Violin Competition had full tone and almost goose-bump sensibility, which carried her to third prize behind winner Diana Adamyan (who excelled with a moving Bruch Violin Concerto No. 1). For Montreal, her choice of the Tchaikovsky Violin Concerto will allow her to put her emotions on display. She currently studies in Philadelphia at the Curtis Institute of Music with Shmuel Ashkenasi, Arnold Steinhardt and, since 2018, Midori. Her résumé includes solo appearances with the Philadelphia Orchestra, the Royal Philharmonic Orchestra and the Houston Symphony.
Prediction: First
Leonard Fu
Germany
Born in Kiel, Germany, Chinese-German violinist Leonard Fu began musical life by imitating his sisters. His parents enrolled him in piano lessons at age 4 and his first violin lesson at age 7. At 8 he was admitted to the pre-college program of the Hannover University of Music. Later he joined the same program at the Hamburg University of Music. Before his Bachelor studies at New England Conservatory with Donald Weilerstein, his teachers were Ina Kertscher, Lara Lev and Tanja Becker-Bender.
Fu has been the laureate of prestigious competitions. Most recently, he placed fifth at the International Joseph Joachim Violin Competition, where his performance of the Mendelssohn Violin Concerto showed professionalism. If he can inject more feeling, he may have a chance to win. His choice of the Prokofiev Violin Concerto No. 2 may allow him to shine. Fu is currently playing on an instrument built by Carlo Ferdinando Landolfi of Milan, c. 1750-1775.
Prediction: Second
Stephen Kim
USA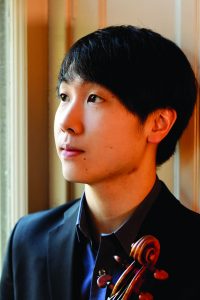 Twenty-three-year-old American violinist Stephen Kim is quickly building an international reputation. A graduate of the Curtis Institute where he studied with Shmuel Ashkenasi, Aaron Rosand and the late Joseph Silverstein, and current student of Hyo Kang at the Juilliard School, Stephen is a former prize winner at the Seoul and Sendai competitions and gave a mature performance of the Prokofiev Violin Concerto No. 1 to win fouth prize at the 2014 Menuhin International Violin Competition. Most recently, he was awarded third prize at the 2018 Paganini International Violin Competition, where his poised Brahms Violin Concerto (which he will reprise in Montreal) almost carried the day. Kim performs on the 1725 ex-Moller Guarneri del Gesù violin.
Prediction: Second
Michiru Matsuyama
Japan
Born in Osaka and raised in Kobe, Michiru Matsuyama was only 4 when she started studying violin and piano. Since 2010, the 28-year-old has lived in Germany, where she has studied with Kolja Blacher at the Hanns Eisler School of Music in Berlin, Natalia Prischepenko at the Carl Maria von Weber University of Music in Dresden and Carolin Widmann at the Felix Mendelssohn Bartholdy University of Music and Theatre in Leipzig.
A regular competition winner, Matsuyama reached the semi-finals of the 2015 Queen Elisabeth International Music Competition, where her performance of Mozart's Violin Concerto No. 3 showed solid tone and fine musicality. Her choice for Montreal of Shostakovich's Violin Concerto No. 1 will be a better showcase. She plays a violin made by Camillus Camilli in 1742.
Prediction: Podium
Elina Buksha
Latvia
Considered one of Latvia's leading younger violinists, 29-year-old Elina Buksha began playing the violin at the age of 5, and from 2011 through 2017 studied at Belgium's Queen Elisabeth Music Chapel under the direction of Augustin Dumay. Elina also participates in masterclasses with Ana Chumachenko. In 2017 she began studying with Christoph Poppen at the Hochschule für Musik und Theater München. Buksha already has recording (Saints-Saëns and Lalo) credits. Her performance of Chausson's Concert in D major showed a full tone and mature musicality. It will be interesting to hear her Brahms Concerto in Montreal.
Buksha plays a 1723 Domenico Montagnana violin.
Prediction: Podium
CMIM 2019 runs from May 29 to June 5. www.concoursmontreal.ca
This page is also available in / Cette page est également disponible en:

Francais (French)