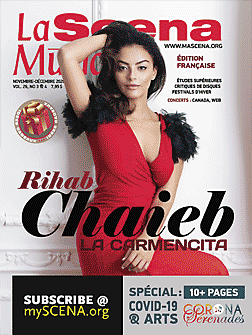 This page is also available in / Cette page est également disponible en:

Francais (French)
By Justin Bernard, Arthur Kaptainis, Norman Lebrecht, Paul E. Robinson
Vivaldi: Luce e ombra
Myriam Leblanc, soprano. Grégoire Jeay, flute; Antoine Malette-Chénier, Baroque triple harp;
Marie-Michel Beauparlant, cello (Ensemble Mirabilia)
Analekta AN 2 9137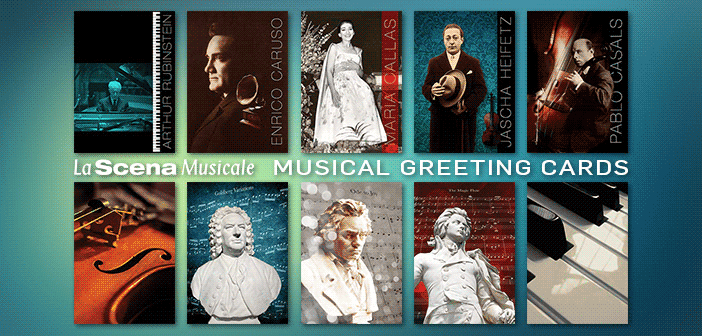 Total time: 60:47
3/5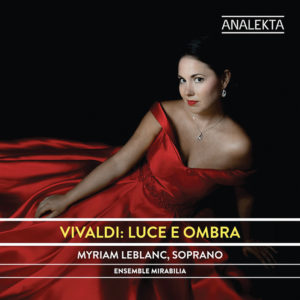 Equated in the public mind with peppy ­concerti, Vivaldi was similarly prolific (and predictable) as a vocal composer. This ­program spotlighting the young lyric ­soprano Myriam Leblanc mixes melancholy and uptempo numbers with instrumental entr'actes by a trio of flute, cello and harp (the last standing in for a harpsichord and sounding much like a lute). The opening track, an extended aria ("Gelido in ogni vena") from the opera Il Farnace, brings to mind Winter with the layered sonorities of the introduction. The steady and implacable flute of Grégoire Jeay is almost a second soloist in the cantata All'ombra di sospetto. Leblanc has a pure and agile voice. She ­applies vibrato sparingly, even where lengthy suspensions could use some ­intensity and support. The impression sometimes is of a boy soprano pouring out improbably adult emotions. Still, this is pleasing program, closely recorded in ­keeping with the modest forces. The booklet includes complete texts but no explanatory notes to speak of.
Britten: Sinfonia da Requiem
("The British Project.")
City of Birmingham SO/Mirga Gražinytė-Tyla
DG 4839072
Total time: 20:09
4/5
Like Beethoven's Mass in C, which is ­overshadowed by the mighty Missa Solemnis, Benjamin Britten's Sinfonia da Requiem is sometimes mistaken for the War Requiem, ­although the two works have nothing in ­common. The Sinfonia, for orchestra alone, lasts just 20 minutes and is riddled with personal ambivalence. Britten was commissioned to write it in 1939, having recently settled in New York and been exposed to its cosmopolitan lifestyle, so much more colourful than London's greys. The commission came from the Japanese government, to mark the 2,600th anniversary of its ruling dynasty. Japan had brutally invaded China. Britten was a pacifist. He told a newspaper reporter: "I'm making it as anti-war as possible." But he took the fee. The following year he was summoned to the Japanese consulate to be accused of insulting the ­nation (they did not ask for the money back).
The work was premiered at Carnegie Hall on March 29, 1941 by the New York Philharmonic and its chief conductor John Barbirolli. Its next performance, in Boston, was more important. The conductor Serge Koussevitsky liked it so much that he commissioned Britten to write his first major opera, Peter Grimes. Amid Japan's entry into the Second World War and his new preoccupation with opera, the Sinfonia da Requiem got sidelined. To this day, it seldom commands centre stage as a formative work by a brilliant composer in his 20s.
Cast in two sombre outer movements and an agitated centre, all with Roman Catholic ­titles, the Sinfonia covers a gamut of moods, from pity to passion. Mahler is an unmissable influence, notably the Ninth Symphony, while the brass and percussion eruptions belong to Stravinsky and the atmosphere to wartime fragility and the composer's moral unease. Britten was living in U.S. comfort while his homeland was being blitzed by the Germans.
These conflicts are powerfully projected in a hypertense new recording by the City of Birmingham Symphony Orchestra and its Lithuanian music director Mirga Gražinytė-Tyla. Unlike many respectful English performances I have heard, this one reflects life at the edge, its continuance uncertain, its faith flickering to extinction. You are unsure from one bar to the next which way the world will go. It is the least English interpretation I have ever encountered, and all the better for that. Mirga stretches rubato to the point of transparency and admits hints of atonality. Does she sense the composer's mixed feelings? It's a completely absorbing narrative, available on instant download from DG. NL
The Spirit and the Dust
Beverley Johnston, percussion; Marc Djokic, violin; Amici Chamber Ensemble
Centrediscs CMCCD 27920
Duration: 67 minutes
5/5
Earlier this year, the Canadian Music Centre released a recording that we strongly recommend: The Spirit and the Dust. It creates a psychedelic atmosphere with otherworldly sounds and features percussionist Beverley Johnston, violinist Marc Djokic and the Amici Chamber ­Ensemble. The sounds of the marimba and ­vibraphone occasionally transport us into a trance, making the music pleasant to hear despite the modern musical language. These appealing and accessible works are by Dinuk Wijeratne, Christos Hatzis, Norbert Palej and Richard Mascall, four active composers in the contemporary field. Wijeratne's The Spirit and the Dust gives the album its title and is characterized by an ethereal, floating atmosphere that is sometimes met with anxiety and horror. Divided into three movements, Hatzis's Vignette cycle is a nice dialogue between the marimba and violin, whereas Palej's Ser con Él combines music with spoken texts. To end the album, Johnston and Djokic come together once again in Mascall's Quantum Hologram, a ­masterful work that lasts more than 17 minutes and never runs short of musical ideas. This album will appeal to people who are still reluctant to ­listen to contemporary music. JB
Beethoven: Violin Sonatas Op. 12 Nos. 1-3; Op. 24
Andrew Wan, violin. Charles Richard-Hamelin, piano
Analekta AN2 8795
Total time: 69:58
4/5
This disc works well as a COVID-era blues-chaser as well as a timely reminder of how comprehensive a genius Beethoven is for everyone everywhere (notwithstanding ­contemporary ideological effusions to the contrary). All four sonatas – and indeed all movements but one – are in a major key. Not that the radiant bonhomie ever seems easily won, Beethoven being the greatest of all masters of the art of representing life in its shade as well as sunshine. Andrew Wan of MSO fame is able to make incisive points with subtle means. He is aptly matched at the piano by the thoughtful Charles Richard-Hamelin. We feel throughout that these great works are expressions not ­simply of equality but of friendship. It would be hard to ask for better-natured chirping in the first movement of Op. 12 No. 2, taken at a relatively relaxed Allegro ­vivace. The opening of the "Spring" Sonata Op. 24 soars sweetly and there much chiaroscuro in the slow movement. My only objection is to the non-observance of ­first-movement repeats. Of course, I have only my old-fashioned fondness for compact discs to blame. I am told that the stream or the download gives you the whole shebang. AK
Herbert von Karajan
The Complete Decca Recordings
Decca 483 4903 (33 CDs)
5/5
There was a time, about 60 years ago, when Herbert von Karajan was called unofficially the "General Music Director of Europe." In 1960 he was conductor for life of the Berlin Philharmonic, artistic director of the Vienna State Opera, chief conductor of the Philharmonia Orchestra of London, and a frequent conductor with the Vienna Philharmonic, La Scala and the Salzburg Festival. He was also under contact to all three of the leading record companies: EMI, Deutsche Grammophon and Decca.
At Decca he had the good fortune to work regularly with John Culshaw, perhaps the ­leading producer of his generation. With Culshaw at the controls Karajan made dozens of recordings, including most of the nine operas in this new set. Many commemorate legendary productions at the Vienna State Opera, each featuring the finest singers of the day. In this box you will find La Bohème with Pavarotti, Freni and Ghiaurov; Madama Butterfly with Pavarotti, Freni and Ludwig; Tosca with Leontyne Price, Di Stefano and Taddei; Carmen with Price, Corelli, Freni and Merrill; Otello with Del Monaco, Tebaldi and Protti; Boris Godunov with Ghiaurov in the title role; Le Nozze di Figaro with van Dam, Krause, Cotrubas and von Stade; Aida with Tebaldi, Bergonzi and Simionato; and Die Fledermaus in a gala performance starring Gueden, Kmentt, Waechter and Berry, with cameo appearances by Nilsson, Björling, Tebaldi, Price, Sutherland and many others. Many of these performances are nearly definitive and each repays repeated listening.
The rest of the recordings feature Karajan with the Vienna Philharmonic in performances that he did better with other orchestras either before or after. The exceptions would be an extraordinarily powerful reading of Holst's The Planets and coruscating performances of Strauss's Don Juan and Death and Transfiguration. Obviously, the main reason for investing in this box set is to complete your Karajan collection or because you somehow failed to acquire the opera recordings over the years. There are no librettos but they are readily available at www.booklets.deccaclassics.com. PER
Peter-Anthony Togni: Sea Dreams.
Luminous Voices Chamber Choir/Timothy Shantz. Katie Partridge (soprano), Sarah Han-Scinocco (flute), Sarah MacDonald (flute), Tova Olson, Victor Cheng (percussion), Jeff Reilly (bass clarinet)
Leaf Music LM236
Total Time: 61:39
4/5
Radiant and/or relaxing choral recordings are not exactly in short supply. There is always room for another. Here the Calgary-based and accurately self-descriptive Luminous Voices under their music director Timothy Shantz make an ­admirable case for the sacred scores of the Nova Scotia composer Peter-Anthony Togni. We start with a calmly uplifting and mostly consonant Totus Tuus addressed to the Virgin. The simple texture of a Requiem et Lux is gently animated by subtle dynamics. Dissonances are so purely rendered by these singers (31 are listed in the booklet) they project a paradoxical stasis. A setting in French of Psalm 98 turns the words "chantez au Seigneur" into a lively ostinato figure. The ­three-movement title composition opens with an alluring flute duet and swells nicely. The treatment of the T.S. Eliot text is as much devotional as ­maritime. Seas are predominantly calm but there are flickers of spray and sunshine. "Getting into a boat or on a ship is a kind of leap of faith," says the composer. "We can only pray and trust that the journey will be successful." This one is. AK
Singing in the Dead of Night
Eighth Blackbird
Cedille CDR90000195
Total time: 45:00
4/5
Love & Death
Navarra String Quartet
Orchid Classics ORC100135
Total time: 80 minutes
3/5
You'll often hear me telling people a couple of generations down the line that they should ­listen to new music of our time rather than Beethoven and Mahler, which they will enjoy better once they are in their 50s. Can't say I've made many converts. All the usual excuses: get home from work, make supper, put the kids to bed, veg out on the sofa, no concentration left for the squeaks and squawks of contemporary composers.
Yeah, been there, done that. But I'm not ­giving up trying to persuade younger people to listen to the new. Wrap your ears, for ­instance, around Eighth Blackbird's new album, which engages three US composers – David Lang, Julia Wolfe and Michael Gordon – with fragments from the Beatles' ornithological song. Remember the Beatles? They were contemporary composers of the ­mid-20th century, not much heard today.
I love what these tonalists do with the Beatles' bits and pieces. A snippet of "Eleanor Rigby" catches my ear, in between arrays of bathroom noises, interactions and actual tunes. The album's only 45 minutes long but I could sit and listen to it for hours.
The Navarra Quartet's Love and Death flickers from sombre to sombrero. A bullfighter's lament by Joaquin Turina (1882-1949) is utterly new to me. I've dropped a line to the torero advising him to retrain as a ­musician for post-Covid employment.
The star turns on the album are by the Hungarian microminimalist György Kurtág (b. 1926), who requires all of your attention for all of one or two minutes and rewards your effort more richly than you could ever imagine. The rest is Puccini's Chrysanthemums, Janacek's "Kreutzer Sonata" Quartet and Schubert's "Death and the Maiden" – all beautifully played but not a patch on the three novelties. New music is good. Try some. NL
Reena Esmail: This Love Between Us:
Prayers for Unity
Barbara Croall: Giishkaapkag
The Elora Singers/Mark Vourinen
TESR 001
Total time: 54:06
4/5
This recording by the two-dozen strong Elora Singers under Mark Vourinen clearly aligns with the contemporary emphasis on cultural diversity. The longer work, by the Indian-American ­composer Reena Esmail, incorporates multiple languages and attempts to survey the world's major religions in seven movements – in Indian and Western musical styles. A tall order. The score (invovling an orchestra of more than 20, ­including sitar and tabla) is most convincing in the "Hinduism" section, in which soloists alternate long legato lines in Hindi and English. Choral writing honours Western practice more in the breach than the observance. Many are the open intervals and sudden modulations; repetition abounds. A greater success is Giishkaapkag ("Where the rock is cut through") by the Odawa First Nations composer Barbara Croall. Rocks here are portrayed as crucibles of the souls of missing and murdered Indigenous women. Souls emerge through vocalizations that are integrated with nature imagery. The results are entirely ­organic. Indeed, extended choral techniques sound more primeval than modern. Despite the context, the score achieves a quiet affirmation of life, not least through the evocative obbligatos of the papigwan (traditional cedar flute) as ­performed by the composer. Not easy from a ­technical standpoint – the Elora Singers are clearly pros – this impressive work deserves swift and wide dissemination. AK
Beethoven: Variations
(Op. 34, Op. 35, WoO69, 70, 78, 79, 80)
Angela Hewitt, piano. Hyperion CDA68346
Total time: 79:40
4/5
Like a little Bach with your Beethoven? Angela Hewitt obliges with a splendidly pointillistic version of the 33 Variations in C Minor, which was once the repertoire of Horowitz and should be revived more often. The virtuoso rat-a-tat comes across impressively on Hewitt's beloved (and bright) Fazioli piano, but so do the whispers of the calmer variations, including Var. 30, done ­tranquillemente, as the composer requires. We get incisive performances of Op. 34 and Op. 35, the latter known as the "Eroica" Variations for their use of the theme of the finale of the ­eponymous symphony, one year in advance. Beethoven's exuberance is constantly on the verge of bursting forth in this masterpiece; ­Hewitt gives value to both its energy and decorum. No one will be surprised to learn that the fugue goes well. The seldom-heard variations on themes by Paisiello are fetching. The Variations on "God Save the King" seem a little too dignified but spirits rise with the Variations on (shock and horror) "Rule Britannia." Hewitt's extrovert personality aligns nicely with this repertoire. At almost 80 minutes the recording, however acquired, represents good value. Yet another plus: Hewitt's perceptive and personal booklet notes. About the Fazioli: This recording represents its swan song. This instrument came to an untimely and accidental end after the sessions last January in the Jesus-Christus-Kirche in Berlin. Sad story. Happy disc. AK
This page is also available in / Cette page est également disponible en:

Francais (French)