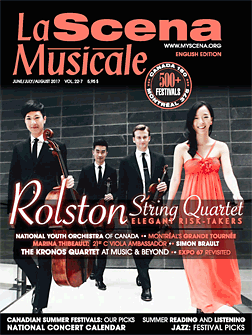 This page is also available in / Cette page est également disponible en:

Francais (French)
Montreal St-Ambroise Fringe Festival
Montreal, until June 18
The most convivial and bilingual event of the season, the Montreal St-Ambroise Fringe Festival takes place in the heart of the city on the Main. What makes it different? A program determined by lottery! Theatre, comedy, dance, music, and drag…no less than 153 talented companies from all over the world will be battling for your attention. The best way to pick is by reading the audience reviews posted in Parc des Amériques ­– an exercise that's sure to make you a real fringier. My bets are on inVitro, by Pretium Doloris, the ever-interesting company of Véronique Raymond who looks at the life of a woman transformed into "life factory" and Trouver l'eau si belle, by Théâtre du Globule Rouge, with a script by the prolific Simon Boulerice directed by Miguel Doucet, who plunges us into the 1990s. Them Good Ol' Boys by the talented Stéfan Cédilot, a specialist in rock'n'roll history, takes us back to the dawn of the 1960s, while Sauf une fois au Fringe, from Les péchées mignonnes, invites us to Chez Françoise, a bar where, thanks to a drink and an excellent collective of authors, there is always a good story to tell. Keep an eye on Police Project, an interactive documentary show about what the police inspire in us. Racial profiling, machismo, political manipulation: the talented Germain Pitre neglects nothing. Meanwhile in To-do List, Martin Grenier, in the midst of a midlife crisis, takes advantage of the Fringe tribunal to take stock of his life (by Tsunami Theater). Australian, Irish and French companies are all in town. For $10 or less per show, why not check it out? www.montrealfringe.com
— Nathalie de Han
Théâtre Lac Brome
Knowlton, QC, June 3 – Sep 2
Two theatrical treats by renowned French authors are on the menu this summer at Théâtre Lac Brome. Around the World in 80 Days, adapted for stage by author Toby Hulse, features a small cast going on a big adventure in this family-friendly coproduction with Geordie and Hudson Village theatres, directed by Mike Payette and starring Danielle Desormeaux, Mike Hughes, and Chimemwe Miller (Jul 22 – Aug 5). If you need a little optimism, don't miss the staged reading of Candide ou Rendez-vous Voltaire, adapted by Albert Millaire with music by Nicholas Pynes (July 13–15). Meanwhile, Wayne Doba and Andrea Conway share a selection of their favourite dances along with their favourite anecdotes in Tap 'n' Tell; Dominic Boulianne plays on Miss Constance (Pascale Racine) in a sexy, funny, and classy cabaret show; and while Passion Latina may be classified under music shows, anyone familiar with Natalie Choquette will expect plenty of drama and laughter too. www.theatrelacbrome.ca
— REBECCA ANNE CLARK
Shakespeare in the Summer
Well worth mentioning are the myriad and sundry lesser-known Bard fests in Canada, so whether you prefer plays by the sea, under the stars, under the sun or onstage, be sure to check out the following.
Newfoundland's Shakespeare by the Sea celebrates its 25th anniversary season under the rubric "From Home Port to Uncharted Waters". Performances include Shakespeare's The Tempest and Timon of Athens. Tempest is directed by Paul Rowe, and runs July 14 to August 12. Ian Campbell directs Timon July 2 to August 7. Shake it Up! by Brendan Kelso, Khara Oliver and Ian Campbell is a pseudo 'speed-acting' take on four Shakespearean plays; it consists of six actors interpreting all the roles and delivering same in under an hour. The fun, fast and furious concoction is specifically aimed at kids and runs June 24 to August 12. Direction is by Sharon King-Campbell. Other, non-Shakespearean plays are also featured in and around various parks and provincial historic sites. Ends on August 28. www.shakespearebytheseafestival.com
The St. Lawrence Shakespeare Theatre Festival in Prescott, Ontario proposes Antony and Cleopatra, directed by Rona Waddington, and the Complete Works of William Shakespeare (abridged), directed by Caroline Smith. They will be staged July 8 to August 12. Also on the menu is Alexandre Dumas' historical oeuvre The Three Musketeers, which runs August 15 to 20. www.stlawrenceshakespeare.ca
I would be remiss in not mentioning that Stratford is staging Twelfth Night and Timon of Athens, among other non-Shakespeare works ranging from Euripides to Molière to Gilbert & Sullivan, with a few world premiers for good measure. However, the Grande Dame of Canadian Shakespeare festivals also presents Romeo and Juliet, starring Antoine Yared and Sara Farb, and directed by Scott Wentworth. The iconic tragedy runs May 3 to October 21. www.stratfordfestival.ca
— NAOMI GOLD
Huntsville Festival of the Arts
Hunstville, ON, July and August
If you're in Muskoka this summer, the Huntsville Festival of the Arts has a packed program including a jazz festival and Nuit Blance North (July 29). Storytelling, film screenings, and a lot of music are on the menu, but the Canadian Brass (July 5), Toronto All-Star Big Band (Aug 4), and Zimbabwe's Black Umfolosi (July 12) are some can't-miss events. www.huntsvillefestival.on.ca
— REBECCA ANNE CLARK
Footloose at Just For Laughs
Montreal, June 14 to July 15
Montreal's zany Just for Laughs Festival will have theatregoers laughing and dancing in the aisles this June. Their theatrical division presents the French version of Footloose the Musical. Serge Postigo has adapted the Broadway smash hit and directs a cast of 32, headlined by Philippe Touzel and Éléonore Lagacé. Based on the 1984 blockbuster film, Footloose follows teenager Ren McCormack from Chicago to Bomont, a Bible-belt backwater where dancing and rock'n roll are banned. Aided by his dazzling footwork, Ren sets out to challenge the status quo and fight repression in the ultra-conservative town. Composed by Tom Snow with lyrics by Dean Pitchford; additional lyrics by Kenny Loggins. Book penned by Pitchford and Walter Bobbie. Runs June 14 to July 15 at Théâtre St-Denis. www.hahaha.com
— NAOMI GOLD
Luminato Festival
Toronto, June 14 to 25
Luminato is Toronto's preeminent multi-arts, multi-platform festival dedicated to performance, visual art, music, theatre, and dance. This summer's programming is exciting, to say the least. From June 15 to 18, award-winning choreographer Akram Khan will present his work Until the Lions. On June 18, the National Arts Centre Orchestra conducted by Alexander Shelley will perform new works by Zosha Di Castri, Jocelyn Morlock, Nicole Lizée, and John Estacio. From June 22 to 24, the festival presents Bearing, a new dance opera from Michael Greyeyes and Yvette Nolan. Le Patin Libre, a Montreal collective bringing together competitive ice skating and street dance, performs from June 22 to 25. Check out free shows throughout the festival in the famous Spiegeltent in David Pecaut Square. See the complete program at luminatofestival.com.
— Orphée Russell
Fous de théâtre
L'Assomption, June 27 to 30
This year, L'Assomption hosts the first edition of Fous de théâtre, a festival for the whole family. Public readings, on-site plays, theatrical performances, street shows and parades will animate the Arts District of the charming little town. A theatre training session is even offered for teenagers. Folks of all ages will enjoy L'Enfance de l'art – Doigts d'auteur by Marc Favreau, a tribute collage created by ExLibris. Meanwhile, Mazal Tov, a black comedy by Marc-André Thibault and Theater Bistouri, takes a look at mixed marriages. The love theme continues with J't'aime encore, a script by Roxanne Bouchard directed by François Bernier: why do we pair off and start families? Let's stay in the theme with Venir au monde, a text for which Anne-Marie Olivier collected hundreds of birth stories and which is directed by the excellent Véronique Côté. Audiences can also see the fascinating Muliats (Montreal in the Innu language), which features texts by Innu, Huron-Wendat and Abenaki artists telling of the meeting between Shaniss, who left his reserve, and Christophe, a dyed-in-the-wool Montrealer, as well as Frida Kahlo: Correspondence. Letters, messages, diaries…in the company of the charming Mariachi Figueroa, Sophie Faucher evokes the tortured world of this famous Mexican artist. fousdetheatre.ca
— Nathalie de Han
Canadian Multiculturalism Day
Montreal, Toronto, and Vancouver, June 27
In this year of Canada 150 celebrations, the Government of Canada is proud to support Canadian Multiculturalism Day celebrations in Montreal, Vancouver, and Toronto on June 27. Organized by Les FrancoFolies de Montréal, Canadian Multiculturalism Day in Montreal offers the free community event "Celebrate our Diversity!" Festival-goers are invited to take part in a massive barbecue while attending concerts and dance performances offered by ambassadors from several of Montréal's cultural communities. In honour of Canadian Multiculturalism Day in Toronto, the Harbourfront Centre presents "Here in the 6ix: Celebrate Multiculturalism Day." The event begins at dawn with a sunrise ceremony, followed by breakfast, yoga, family-friendly workshops, and performances. To celebrate Canadian Multiculturalism Day in Vancouver, Canada Place Corporation presents "UNITE!" There will be dance and percussion performances and interactive workshops throughout the day. A free concert featuring Juno- and Grammy-winning artists will be presented at the end of the evening. For more information: www.canada.ca/en/canadian-heritage/campaigns/celebrate-canada-days.
— Orphée Russell
High Park Shakespeare Festival
Toronto, June 29 to September 3
Canada's longest-running outdoor theatre troupe celebrates its 35th anniversary, and for the occasion, offers up two stellar plays. Although polar opposites, each is a masterpiece of its particular genre. In a gender-bending twist on the epic tour de force that is King Lear, veteran stage actress Diane D'Aquila interprets the tormented protagonist from a female perspective. The thunderous tale of misplaced trust, bloody revenge and divided loyalties is directed by Alistair Newton. From the depths of madness to the madcap comedy that is Twelfth Night, High Park is perfect for a pre-performance picnic on the hill – especially when paired with a piquant side of mistaken identity. Tanja Jacobs handles direction for Twelfth Night. www.canadianstage.com
— Naomi Gold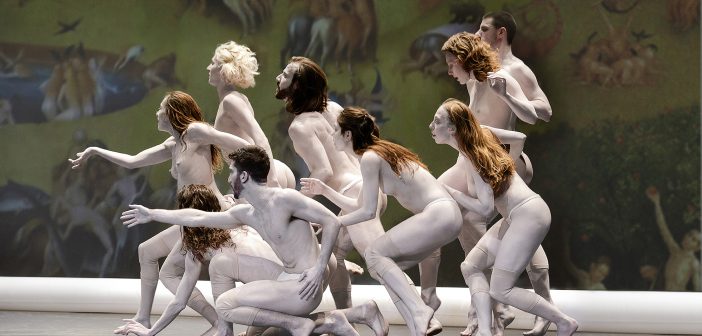 Canada Dance Festival
Ottawa, July 2 to 16
The Canada Dance Festival has a big year in 2017 as this year marks both the 20th anniversary of its founding, and 150th anniversary of Canadian Confederation. In twelve programs spanning two weeks at the National Arts Center and the surrounding museums, this event makes a point of supporting artistic openness and creativity.
While Marie Chouinard's latest three-act monument in homage to Hieronymus Bosch will take over the NAC's main stage, the renowned choreographer will give an intimate solo show at the National Gallery of Canada. Hieronymus Bosch: The Garden of Earthly Delights premiered a year ago at the Theaterfestival Boulevard in the Netherlands to celebrate the 500th anniversary of the painter's death; IN MUSEUM is in contrast a form of proximity, exchange and commitment to immediacy that premiered at the Musée des beaux-arts de Montréal in 2013.
The space given to works that show a more inviting, human side mark this edition more so than the grand stages and immortal founding figures of the Canadian dance. So it's encouraging to see Montreal's Aurélie Pedron and her performance-installation ENTRE, which received good visibility during a Quebec tour last year. With senses piqued, immersed in darkness and sound in a confined space, and in direct contact with the invisible performer, each lone spectator experiences the immersive immediacy of a sensory den.
In the same spirit of interaction and performance in situ, Vancouverite Lee Su-Feh brings together spectators and collaborators into a mobile forest composed of sixty pink rods of bamboo that are collectively and creatively manipulated in Dance Machine. After a public inauguration in Montreal one month previously, the installation will occupy the main lobby of the NAC afternoons and evenings, with free access for much of its tenure.
A parallel project at the Canadian Museum of Nature, the 40-minute OutSideIn by Newfoundland artist Anne Troake has a mysterious appeal – possibly because it suggests an unexpected link between the land of its origins, Su-Feh's nature, Pedron's den, and Chouinard's legendary garden. www.canadadance.ca
— Marion Gerbier
Montréal Complètement Cirque
Montreal, July 6 to 16, with extended events until July 31
More than ever on the occasion of the festivities of the 375th, the Completely Cirque is completely Montreal. For its eighth edition, this fascinating and fun-filled family festival will take over Émery lane, Saint-Denis street, the Jardins Gamelin, and theatres and cabarets as well as technological bastions. It's no surprise that supplementary events were announced until July 31 even before the festivities began.
Expect big events this year, including the premier of The 7 Fingers' Vice & Vertu, which will invade the Société des arts technologiques with over 30 acrobats and musicians for several hours of meandering madness on every floor – wear comfortable shoes! Another substantial event features 22 performers from French Compagnie XY presenting Il n'est pas encore minuit, a veritable high-voltage competition created in collaboration with choreographer Loïc Touzé. Not to mention the Casino, which will be under assault by Australians Strut & Fret and their tendentious show Limbo, which has already excited audiences around the globe.
Many local companies will also give long-awaited return shows, including Cirque Alfonse and its musical atmosphere drawing on Quebec traditions and the fantastical troupe of Throw2catch who come from the mysterious fictional region of Kouglistan for the sole reason of spreading the joy of clowning. With the Minutes Complètement Cirque, which reinvent themselves digitally and commandeer passers-by to perform via their phones, as well as the original creation Rouge, this year's MCC is a grand fête that fits perfectly with the 375th and will win the islander's hearts this July. montrealcompletementcirque.com
— Marion Gerbier
TD SunFest
London, ON, July 6–9
TD Sunfest brings audiences another year of world-class world music with performers from around the globe, representing genres such as Afrobeat, Early (European classical) music, salsa and jazz alongside blends of traditional and contemporary music from almost every continent. New this year will be SUN Nation Under a Groove, showcasing Canadian talent from coast to coast, and Suntario 150 to give Ontario's most diverse performers a special stage. The New Canadian Global Music Orchestra won't miss Sunfest on their festival rounds this summer, and favourites like Lemon Bucket Orkestra, Delhi 2 Dublin, Five Alarm Funk, and Lazo will be back for another year – along with the usual equally-diverse culinary offerings. www.sunfest.on.ca
— REBECCA ANNE CLARK
ZH Festival
Montréal, July 7 to August 13
For Montreal's theatre connoisseurs, the coolest event of the season will be the ninth edition of Zone Homa, now rechristened ZH Festival. ZH Festival puts the new generation of artists at the forefront as they showcase works in the making, whether in theatre, dance, performance art or music. Since 2009, ZH Festival has unveiled 259 premiers and 1400 artists to more than 15,000 spectators. This season, 28 evenings and 45 fresh works will take place in collaboration with and at the Maison de la culture Maisonneuve. Don't miss Annie Darisse (Les animaux dénaturés), Gaétan Paré (La dette de Dieu), Yves Morin (Je ne te savais pas poète), Dave Saint-Pierre (Icon\End\Lie), Katia Rock (Kutchipanita!), or Charles Dauphinais (Chef-d'œuvre). ZH Festival is partnering with the Théâtre Denise-Pelletier and the Atelier d'histoire Mercier-Hochelaga-Maisonneuve for a project of cultural mediation and artistic creation, Pendant ce temps-là à Montréal. It's inspired by places and historical figures in the Hochelaga-Maisonneuve neighbourhood in celebration of Montreal's 375th birthday. A perfect opportunity to discover or rediscover the borough. www.zonehoma.com
— Nathalie de Han
Repercussion Theatre's Shakespeare in the Park
Montreal, July 13 to August 15
Once summer blooms, Montreal's Repercussion Theatre will tour the parks of Montreal with its production of Shakespeare's Much Ado About Nothing. The timeless, dark romantic comedy – penned 1598-99 – might arguably have created the first feminist heroine in Beatrice. Railing against 16th century societal conventions dictating that women assume an acquiescentrole, the feisty, incisive and fiercely independent Beatrice advocates gender equality and unapologetically posits that she doesn't need a man. Ultimately she does does marry Benedick, but on her own terms – having insisted on a union based on love and self-fulfillment. Shakespeare-in-the-Park director Amanda Kellock leads a cast of eleven in this classic gem. Well-known thespians Holly Gauthier-Frankel and Quincy Armorer interpret the young lovers – both of whom are delicious characters to portray. Repercussion entertains some ten thousand people each year with their by-donation performances. Families love the communal, convivial atmosphere, and this year Repercussion will feature various pre-performance activities. In conjunction with Geordie Productions, the troupe will present two workshops for teens, one downtown and another in the West Island. Also, Shakespeare goes high-tech this year with his very own app called Plank, enabling fans to follow the Bard's text en Français. Repercussion Theatre has been taking Shakepeare from the page to the park since 1988 and has extended its reach to Cornwall, Ontario. As part of its mission, the company has committed to gender parity, with women comprising at least half of its artistic team, as well as to diversity onstage, by employing actors from a wide variety of cultural communities. All the parks are indeed stages, beginning with Baie d'Urfé's Fritz Farm on July 13 and concluding at Longueuil's Parc Empire on August 15. The full schedule can be found online: www.repercussiontheatre.com
— Naomi Gold
Just For Laughs Festival
Montreal, July 15 to 30
Summer in Montreal wouldn't be the same without Just For Laughs, and this year a winning formula remains unchanged with a plethora of comedians on stage. Besides Serge Postigo's French-language adaptation of Footloose, audiences can see André Sauvé with the OSM, as well as internationally-renowned comedians like Jerry Seinfeld, Trevor Noah, Laverne Cox, Ali Wong, and many more, or national or local favourites such as Rick Mercer and Sugar Sammy. If galas aren't your style, there will be plenty of unpredictable laughs at the street festival component. www.hahaha.com
Festival des Arts de Saint-Sauveur
Saint-Sauveur, July 27 to August 6
The 26th edition of FASS, its third under the direction of Guillaume Côté, has kept a healthy program balance of major performances, free events and family activities. The play between dance and music opens with an overture featuring the duo Moon vs Sun (piano, guitar, voice and other instruments) who will team up on stage with local young choreographers and performers. In the following days, audiences will discover various fusions between urban and contemporary dance and piano (Ample Man Dance) or a harmonica quartet with varied styles (D'Harmo).
Once again, the Big Top will be the venue for ballet groups of international renown as well as pieces and programs under expert leadership. Worth mentioning is none other than Benjamin Millepied, a celebrity fought over by the New York City Ballet and the Opéra de Paris, and who has devoted himself to the L.A. Dance Project since its founding in 2012. Although quite young, this company already exudes an energetic virtuosity. Roberto Campanella's ProArteDanza will also be heading to Toronto, three years after its first acclaimed performance at the Festival, as well as Les Grands Ballets, representing Montreal's many colours with at least five offerings from choreographers Ohad Naharin, Marwik Schmitt, Éric Gauthier, Stephan Thoss et Jiří Kylián.
Another point of interest, Hervé Koubi from France will be travelling with a dozen young street dancers originally from Maghreb, harking back to his own Algerian roots. The poetically entitled work, Ce que le jour doit à la nuit [What the Day Owes the Night], shapes identities buried in the body, torn between truth and secrets. www.festivaldesarts.ca
— Marion Gerbier
First Peoples Festival
Montreal, August 2 to 9
The Montreal First Peoples Festival is always worth a visit. Taking advantage of the 375th anniversary of Montreal, the festival chose to enhance the Nuestroamericana Friendship Parade as a way to deepen it within the heart of the city, and to create opportunities for often under-represented minorities, the festival chose to work with Diversité artistique Montréal. The cult of the legend of Atahensic, the first woman, ancestor of humanity, became a contemporary ritual, a celebration of the great myth of creation, in which all of Montreal's diversity comes to see itself as belonging to this generous and welcoming land. Poets Joséphine Bacon and Chloé Sainte-Marie, who have forged a longstanding and intimate friendship that has marked their mutual artistic journey, will present a show made especially for the festival. The outdoor component of the First Peoples Festival will take place at the Quartier des spectacles. www.presenceautochtone.ca.
— Nathalie de Han
NDG Arts Week
Montreal, Aug 21–27
For its eighth edition, NDG Arts Week will bring back many of its most popular events, including the NDG Off The Wall short film festival, Opera in the Park, and the Art Hives Meet-Up in collaboration with the Art Walk. New this year is ComiCamp, a comic and graphic novel workshop led by local visual artists. All events are free of charge and centered around the bustling Notre-Dame-de-Grace Park. www.artsndg.ca
— REBECCA ANNE CLARK
MUTEK
Montréal, 22 to 27 August
MUTEK is Canada's preeminent festival for electronic and digital music. MUTEK is putting an international spin on this year's 18th edition. Four days will be dedicated to four cultural centers – London, Mexico City, Barcelona, and Berlin – in an exploration of the multidisciplinary links between Montreal and those four cities, headlined by the Inter_connect concert series at the Society for Arts and Technology (SAT). Object-artist interactions will be at the fore of the London concert, which has UK artists Graham Dunning, Sculpture, and Sensate Focus alongside Canadian artists Alexis Langevin-Tétrault and Myriam Bleau. The Mexico City concert features live sets by Mexican artists Lao, Mexican Jihad, OLY, and OMAAR. The Barcelona concert features an eclectic array of music from Filastina & Nova, Sunny Graves, and Wooky & Alba Corral. Finally, the sounds of ambient, dub, and techno will take center stage in the Berlin concert, featuring artists from Canada and Germany. The festival also has its Nocturne series at the Métropolis theatre, the free Expérience series at the Esplanade de la Place des Arts, and even a concert in collaboration with Piknik Électronik at Jean-Drapeau park! For the full program, visit www.mutek.org.
— Orphée Russell
More Performing Arts
This summer will be punctuated by many other festivals throughout Canada, where dance takes a more traditional place among more diverse performing arts programs.
This is the case for ZooFest, which will take downtown Montreal hostage from 6 to 29 July and whose programming will soon be broadcast. www.zoofest.com
In Toronto, the SummerWorks Performance Festival unveiled a preliminary list of nearly 150 artists participating in the festivities from August 3 to 13. The full 2017 program will be announced June 13. www.summerworks.ca
— Marion Gerbier
More Festive Fun
Many festivals had yet to release their programming at press time. Here are a few more festivals you won't want to miss!
Alianat Arts Festival, Iqaluit, June 30 – July 3
Alianat is the place to be for a cool summer festival bringing together the best Inuit and circumpolar musicians and performing artists, with a dash of international flavour. www.alianait.ca
Mtl en Arts, Montreal, June 28 – July 2
This visual art and music festival takes over the Jardins Gamelin and environs with plenty to look at, buy, and leave your mark on for art enthusiasts of all ages. www.mtlenarts.com
Fantasia International Film Festival, Montreal, July 13 – Aug 2
With hundreds of films and shorts shown each year, Fantasia is known for big names and cutting-edge genre films you won't see anywhere else. www.fantasiafestival.com
Big on Bloor, Toronto, July 22–23
This festival shuts down a section of Bloor Street West for a celebration of local arts and culture including visual and performance art, vendors, and interactive activities. www.bigonbloorfestival.com
This page is also available in / Cette page est également disponible en:

Francais (French)