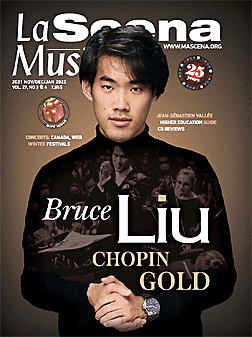 This page is also available in / Cette page est également disponible en:

Francais (French)
By Justin Bernard, Natasha Gauthier, Arthur Kaptainis, Denise Lai, Dino Spaziani
La Nef / Myriam Leblanc / Sylvain Bergeron
Oct. 2
What you missed
Myriam Leblanc's soft voice immediately immersed us in an intimate atmosphere. In J'avais cru qu'en vous aimant la douleur serait extrême, by an anonymous composer, we were able to admire her artistic flair, her musicality and her technique, perfectly adapted to early music, especially the vocal treatment of appoggiaturas. In Vos mépris, chaque jour, by a certain Michel Lambert, she showed off her excellent diction. This piece is stylistically very similar to the famous Pur ti miro duet from Claudio Monteverdi's The Coronation of Poppea.
Solo pieces from the same period followed, performed by Sylvain Bergeron on baroque guitar. His playing, full of nuance and subtlety, allowed the strings of the instrument to vibrate fully.
Gripes
As the evening progressed, Leblanc was able to present each piece herself, albeit brilliantly, but the lack of printed programs made it difficult to remember and absorb the information which gave the impression of an evening of medleys.
Her voice was more or less suited to the French songs of Brel and Barbara. Indeed, the polished roundness of classical singing does not go down well with the often 'flayed' side of the Belgian songwriter. It is better suited to the plaintive temperament of the lady in black, but it is still far from the intensity and depth of Barbara. JB
---
RCM / Follies in Concert
Oct. 16
What you missed
Follies in Concert featured an all-Canadian cast of powerhouses in the musical theatre world: Cynthia Dale was aptly cast in the lead role of Phyllis, bitter about her unhappy life with a husband she does not love. She dazzled with her beguiling voice and dance moves, especially in the signature numbers "Could I Leave You?" and "The Story of Lucy and Jessie."
Ma-Anne Dionisio was the other female lead as Sally, who yearns for Ben, her old love. Her sweet voice is reminiscent of a young Kim in her most iconic role, always leaving the audience yearning for more. Playing Sally's husband Buddy was Eric McCormack. His comical portrayals were especially effective in his rendition of "The Right Girl."
One highlight in the first half was Charlotte Moore as Carlotta singing "I'm Still Here," with her equally mighty voice and theatrics. Another highlight was a lovely duet in the second half with Mary Lou Fallis, as Heidi, opposite Katelyn Bird, a promising soprano as Heidi's younger self.
The remaining cast reunion in Koerner Hall had the feeling of old friends having a grand time together. Honourable mentions go to Gabriel Antonacci, Tess Benger, Andrew Broderick and Kimberly-Ann Truong, who played the younger versions of the leads. It seemed the females outshone their male counterparts in vocal chops.
Gripes
It would have been nice to see more emotion in Marcus Nance, who played Phyllis's husband Ben. Although he has ahoneyed bass-baritone voice, his acting was rather stiff. Perhaps the most famous artist, tenor Ben Hepner, turned out to be the biggest disappointment, as the role of Dmitri is not a singing part. It would seem thaHeppner is not coming out of retirement after all! DL
---
Chants Libres / L'Orangeraie
Oct. 19
What you missed
Musically speaking, the orchestration is well construced. Motifs played by the brass come through powerfully from the orchestra and generate all the tension of the drama that is taking place. Some Eastern influences are also heard when Amed is returned to America (a reminder of his distant past, no doubt).
The best singer – by far – was the baritone Dion Mazerolle. Along with Nicholas Burns, he was one of the few singers to project his voice beyond the front row and played the authoritative character of Soulayed, the terrorist leader of a nearby village, remarkably well.
Gripes
It was clear that the means were limited. A few piles of stones served as scenery, the rest was projected on a large screen: a mountain in the distance, on the right, which looked a little too much like a computer screen background, but no oranges, orange trees or even an orange grove.
As far as the music is concerned, what stays in mind after the show are the dialogues set to music, these recitatives which are very similar and which were well integrated by the end of the show. In this respect, the recitatives of Mozart, Rossini or Debussy's writing could be accused of the same shortcomings. Except that here, Moultaka's recitative style is reduced to the simplest musical expression possible: the repetition of the same note, in a rhythm that follows the text, and a different note as a cadence, often an interval of an augmented fourth when it is ascending. Despite this apparent and somewhat wearying simplicity, it cannot be said that the composer was gentle with his performers. JB
---
NACO / John Storgårds / Leila Josefowicz
Oct. 21 
What you missed
You know a concerto soloist has absolutely shredded it when the "devil horns" salute feels like a more appropriate response than mere applause. That's the kind of glam-rock energy Leila Josefowicz brought to John Adams' Violin Concerto. Josefowicz's incandescent, full-throttle live performance felt like a shot of pure adrenaline.
This marked Principal Guest Conductor John Storgårds's first NACO appearance in more than two years. The mutual affection and respect between orchestra and conductor delivered moments of pure, unadulterated joy throughout the evening. Storgårds is all passion and heart; his unjaded enthusiasm and musical honesty elevated British composer Malcolm Arnold's Three Shanties from potential cheese-fest to something more substantial, where jolly humour contrasted with sophisticated orchestral textures.
There was much to admire in Storgårds's romantic approach to Haydn's Symphony No. 100 ("Military"). The majestic introduction was given ample dynamic space to unfold, while the military-march tempi were appropriately brisk but never breakneck. Storgårds has a delightful way of illuminating all of Haydn's little conversations between woodwinds and strings. The strings sounded fluffy and warm, like fresh bread, despite a few untidy spots. Michael Fedyshyn's second movement trumpet solo fanfare gleamed like the braided cord on a dragoon's uniform.
The orchestra was tight and alert; everyone onstage was visibly counting, and playing, their butts off. Principal flute Joanna G'froerer, principal horn Lawrence Vine and especially the hard-working percussion section led by Feza Zweifel, were all outstanding. NG
---
The Path of Miracles / Voces Boreales / Andrew Gray
Oct. 23
What you missed
The show is based on Joby Talbot's great work and is performed by 18 professional singers of the highest quality. Hearing them sustain incredibly demanding vocal lines makes you wonder when and how they manage to take a breath. This is one of the greatest choral works of our time. and the performance was a unique experience that showcased the magic of polyphony. Sometimes choral works produce miraculous effects and bring us on an imaginary path that carries the lightness of angelic flights, as if additional voices were added to the 18 physical voices. This work is one of them.
Outside the church, as a preamble, actor-storytellers prepare us for this pilgrimage by telling us about the history of Compostela, from James the Great (St. James), through the emperor Charlemagne, to the medieval villager who is preparing to make the journey.
Gripes
I tried to find something to complain about, but apart from the wait caused by the QR code checkpoint, I couldn't find anything. The temperature was fortunately bearable. DS
---
Bourgie Hall / Jean-Guihen Queyras
Oct. 26
What you missed
The Partita for solo cello by the Turkish composer Ahmet Adnan Saygun (1907-1991) was a discovery for just about everyone, and Jean-Guihen Queyras, who was very eloquent in his short speeches, did not fail to point this out. It remains accessible, despite its resolutely modern language, and has a certain appeal because of its crossbreeding.
Bach's Cello Suite No. 1 needed no introduction. Jean-Guihen Queyras gave us a very personal interpretation. Like a painter, the cellist weighed and subtracted every colour from his playing. With his bow, he executed a multitude of gestures capable of making the full amplitude of a sound tone resonate.
Gripes
The second part of the program allowed us to better appreciate the quality of Queyras' cello, in comparison with that of Stéphane Tétreault. An instrument made by Gioffredo Cappa in 1696, with a warm and velvety sound, whereas Tétreault's Stradivarius has a more piercing timbre. Taking the lead in the last two pieces of the programme, the young cellist appeared less relaxed than Queyras. The endpin supporting Tétreault's cello was far forward, raising the instrument and forcing the performer to raise his right elbow higher than his stage partner.
In Offenbach's Duet for Two Cellos, the insistent repetition of musical themes eventually made us weary, but there was nevertheless a lot of spirit and gaiety. We expected no less from the operetta composer. JB
---
Orchestre Métropolitain / Yannick Nézet-Séguin
Oct. 29
What you missed
Schumann's Manfred Overture got this program titled "Romantic Treasures" off to an appropriately smoldering start. Strings were warm and legato was abundant. Scattered over an extended stage, the OM made a big-orchestra sound.
The main event was Louise Farrenc's Symphony No. 3, an orthodox four-movement work of 1849 that never, in the slightest detail, goes astray. Given the cheers, the crowd didn't feel any reservations.
Farrenc learned lessons from Beethoven. The stormy minor-mode sequence of the otherwise sweet-tempered slow movement was one; the use of horns and woodwinds in the trio of the scherzo, another. Yet despite Ludwigisms here and there, the music remained self-sufficient in conception and expression.
This is far from a familiar score, but the OM musicians dispatched it with the authority, balance and pinpoint articulation (agile violins in the finale) they might have brought to an old favourite. Nézet-Séguin was using a score but obviously had both absorbed the music and learned to love it.
There is, of course, now a political impetus to perform Farrenc. Successful in her own time, this mid-19th-century Parisian has lately come to the rescue of ensembles (including the OSM and Yannick's Philadelphia Orchestra) that are desperate for classic female repertoire. I am glad YNS has joined the club.
Gripes
Perhaps the slower passages of the Schumann could have been less stately. The works of Max Bruch could also use another look, but his 1911 Concerto for Clarinet and Viola is likely to remain on the fringes of the repertoire. Soloists exchange nostalgic pleasantries in the first two movements but there is no coherent role for the orchestra before the Allegro molto finale. Still, there were beauties to be savoured in the confident performances of two OM principals, Simon Aldrich (clarinet) and Elvira Misbakhova (viola). AK
This page is also available in / Cette page est également disponible en:

Francais (French)