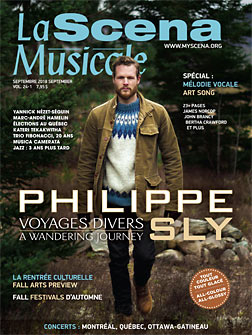 This page is also available in / Cette page est également disponible en:

Francais (French)
Bach, Schumann, Debussy and Chopin: These are the familiar names on the program Marc-André Hamelin plays on Sept. 30 for the Ladies' Morning Musical Club. While many associate him with names like Alkan and Sorabji, Hamelin is at ease both in the heart and at the outer limits of the repertoire.
"These are all old friends and I am happy to present these works," Hamelin said in a phone interview hours before he was to fly to the U.K. to perform at the Edinburgh International Festival.
Hamelin says Bach is "probably the greatest composer that ever lived, the perfect combination of emotion and intellect, an inspiration to an incalculable number of composers through the ages." For the Ladies he will play Busoni's transcription of the Chaconne.
Schumann's Fantasie, which he has played for years, is mysterious, he says. "There is so much we are not aware of. It is a love letter to Clara, it was intended as an homage to Beethoven, and the piece as a whole is dedicated to Franz Liszt."
Hamelin recalls a time when he didn't understand Debussy's music. "It was only when I started delve into it myself, that [I realized] he is not only one of the greatest 20th century composers, but like Bach, a source of inspiration for so many. He had such an understanding of the piano and its possibilities."
In the 2008 documentary Legato, the World of the Piano, Hamelin says: "Debussy rarely wants the piano to sound just like a piano. He makes it sound like just about everything else under the sun…
"This is at the basis of what I do…I am interested in making audiences forget that I am playing an instrument. I am just making music."
Few artists would dare to begin their career by showcasing music audiences weren't familiar with, but in the early 1990s Hamelin was just doing what came naturally.
"I am not sure it was courage, it was more cluelessness," Hamelin said. "I didn't have much guidance. I did what I wanted. I should have stuck a little bit more to standard repertoire."
In retrospect, he says his early choices in programming delayed his success. "It was only after 2001 that things really took off." Since then he has been affiliated with Colbert Artists Management and includes well-known works and his own music in his programs.
Unlike most pianists, Hamelin grew up with neglected music, discovering it along with his father, Gilles Hamelin, a pharmacist by trade and a gifted pianist.
"Recordings of Alkan's music were scarce in the 60s," Hamelin said. "One day [my father]found an LP by Raymond Lewenthal, an American pianist. At the same time he found a collection Lewenthal had edited for Schirmer of Alkan's music in score, so he brought it home one evening. We listened to it together. It was his and my intro to Alkan."
Hamelin was seven years old, already used to following scores and listening to traditional repertoire. "I couldn't possibly have played this stuff, it was quite a discovery we made at the same time."
At 13, Hamelin bought his first LP, the Concord Sonata, with his own $7.98, inspired by a special issue of Clavier magazine honouring the centenary of Charles Ives' birth.
When Hamelin first gained public attention, it was his phenomenal mastery of the piano that stunned the audience. At one New York recital, people actually started leaving their seats and moving to the left side of the hall to see his hands.
But he is not impressed with mere pyrotechnics. "I was reading an article where Horowitz said 'technique' is a misnomer, we should be calling it 'mechanics.' [To me] 'technique' means the incorporation into the mechanics of your playing of everything – any artistic means both emotional and corporal – to translate the emotional message of the piece."
Hamelin has always improvised and composed but says he thinks of himself as "a pianist first, no question."
"I don't make a living off [composition]but it is something I find necessary. At the very beginning my main motivation was to write something that I could play. I now hope others will take up what I have written."
Represented by Peters, Hamelin's first published work was 12 Etudes in all the minor keys, written over a span of 25 years. Since 2011, over 10 works have followed, most recently a transcription of the fourth etude from that collection, transcribed for saxophone quartet by Matt Evans.
"One of the most pleasant surprises I've had in my composing life was my accidental discovery of the Zzyzx Quartet's arrangement of this etude," Hamelin writes on the Peters website.  "I would have never thought that my piece could be adapted to the medium of the sax quartet! I am so happy to have a small part in contributing to the sax quartet literature!"
Hamelin records exclusively for Hyperion Records. Since his first CD of Alkan's music in 1994, he has completed over 70 recordings. His latest, of Schubert's Sonata in B Flat Major D. 960 and Impromptus Op. 142, is especially meaningful to him. He has played the sonata for more than 20 years but this is his first recording of it.
"If it was in every recital for the rest of my life, I would not be unhappy," he says. "Whenever I start playing it I just settle back into this world which is completely comfortable and friendly and I feel the communication with the composer."
Hamelin will return to Schubert but continue exploring and sharing the music of composers he feels should be known.
He is gratified that the music of Nikolai Medtner, whose 14 sonatas he recorded in 1998, is now making its way into the repertoire.
"I don't do it for myself, I do it for the audience and also for other pianists, to give them courage to explore these works."
Marc-André Hamelin will perform on Sept. 30 at
Pollack Hall for the Ladies' Morning Musical Club (www.lmmc.ca). For more information on Hamelin's concerts, visit www.marcandrehamelin.com.
This page is also available in / Cette page est également disponible en:

Francais (French)