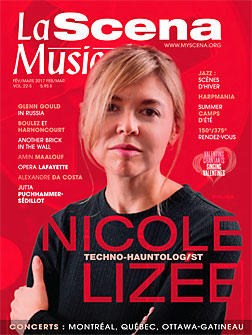 This page is also available in / Cette page est également disponible en:

Francais (French)
"What happens when you find a ghost and you bring it into a work of music?"
asks Nicole Lizée. Insofar as that question is ­answerable, her compositions that form a dialogue with the surrealist film worlds of David Lynch, Stanley Kubrick, and Alfred Hitchcock or compositions that meld outmoded and glitching gadgets with western chamber instruments unveil the eerie temporal rift between present and past as humans interact with media and technology.
Sound Sources
Born in small-town Gravelbourg, Saskatchewan in 1973, Lizée's ­experiments in sound led her to pursue piano at Brandon University, Manitoba followed by a MA in composition at McGill, which she ­completed in early 2000s. She is currently based in Lachine, a ­borough located in southwest Montreal.
Lizée boasts an impressive list of commissions from prominent ­organizations and new music groups, including the Kronos Quartet, ECM+, the Gryphon Trio, the San Francisco Symphony, Architek ­Percussion, La Société de musique contemporaine du Québec (SMCQ), the National Arts Centre Orchestra, CBC Radio-Canada, and ­Tapestry Opera. Her works – which have been performed at Carnegie Hall and Royal Albert Hall as well as at festivals like the BBC Proms, Bang On a Can, and Toronto's own Luminato – have earned her recognition both at home and abroad. In 2013, she won the Canada Council for the Arts Jules Léger Prize for New Chamber Music as well as a Prix Opus. As part of the Governor General's Performing Arts Awards ­Mentorship Program, she was selected by Academy Award-winning film composer Howard Shore to be his protégée in 2015. Last year, she received a prestigious Lucas Artists Fellowship Award.
Citing a childhood surrounded by her parents' Easy Listening and film soundtrack records and an adolescence steeped in MTV, New Wave, Heavy Metal, and counterculture artists like the Red Hot Chili Peppers and the Smiths, Lizée developed a deep interest in sound and noise, which allowed her to become fluent in a diverse palette of aural colours. "I've listened to a lot of music my whole life, of almost every genre," she says. "Not saying that all of it has influenced me, certainly not. I like people who do what they want, and their primary goal is not to be commercially successful."
Born in the generation commonly known as "X" – roughly, the years between the mid-'60s and early-'80s – Lizée experienced a veritable riot of influences due to the rapid development and dissemination of media and technology. Generic boundaries lost their rigidity as she bounced from classical piano to guitar to drums to, well, anything she could get her hands on.
"I was just really open to sound," she explains. "For a while, I was going to be a heavy-metal drummer, or do experimental soundtrack work for TV shows or movies, or go and work with Kate Bush." ­Ultimately, music school seemed the most suitable place. "I knew I wanted to continue making music and I wanted to compose."
In the years since her graduation from McGill, she has done just that; alternating her career in composition with an active performance schedule, either on the turntables in her psychedelic-surrealist band SaskPower (with Steve Raegele on guitar and the Winnipeg Symphony Orchestra percussionist Ben Reimer) or surrounded by vintage ­electronics in interpretations of her own works.
"Much of my aesthetic is celebrating and reviving analog devices, sounds, and equipment: finding old equipment that was once the height of technology in the '60s, '70s, and '80s," says Lizée. "It's a sound world that speaks to me because I grew up around these ­electronics; my father was a salesman, collector, and technician of ­machines."
Although much of this analog technology has since been replaced by digital equivalents, mechanical fallibility is expressed in markedly different ways. Analogous to the binary code that constitutes their design, digital electronics work until they break. "The thing about analog ­electronics," explains Lizée, "is that unlike digital, they don't die; they actually have a much more interesting life after they start malfunctioning."
With decaying devices ranging from the archaic to the arcane – the reel-to-reel machine, the stylophone, the omnichord – Lizée aims to create both new sounds and new perspectives. "I use this equipment within a chamber ensemble. I notate it, harmonize it, and members of the ensemble have to learn how to play it – I devise a way of ­playing it like a violin or a vibraphone or any other instrument. It becomes a part of the ensemble."
If malfunctioning, glitching and melting devices seem unlikely ­bedfellows for chamber works, for Lizée, the progression from the workshop to the concert hall was instinctive. "Bringing these two worlds together is very natural," she explains. "I consider oscillators and game consoles instruments or sources of sound in the same way I consider a piano or guitar." This affinity gave rise to pieces such as Arcadiac (2005–8) for '70s and '80s arcade consoles, video, and ­orchestra, or Karappo Okesutura (2006) for glitched and spliced karaoke tapes of pop music, chamber ensemble, and mezzo soprano.
"For me, everything is potentially music," says Lizée. "But it's not just arbitrary, it has to be something that has a lot of meaning to me."
Coaxing Music out of Atypical Places
However, Lizée's works are more than mere nostalgia. "It's not just from my past. My past is part of it because there's such a rich history of art and sources that are not necessarily viewed as art [that]I want to bring into an artistic place." Many of the sources she works with are not considered art, not only due to the commerciality of their production, but also their short-lived and often disposable nature. "There's something about things that were so important to so many people at one point in time and then were quickly forgotten or replaced or put in a landfill."
"They're ghosts. They're things that once existed. They meant so much to everybody and then they disappeared. And then what? What happens when you find a ghost and you bring it into a work of music?"
It's this intersection of the ethereal and the substantial that is the premise of many of Lizée's compositions. These technological ghosts are imperfect and self-contained spectres flung out of time and space, drawing your attention to both the materiality and singularity of this other world. The re-contextualization of these technologies leads to what Lizée calls "musical hauntology." Hauntology – a portmanteau of haunting and ontology – is a term coined by French philosopher Jacques Derrida to describe the disjunction caused by the materialization of a spectre from the past in the present moment. In a late-capitalist society, obsolete technology is the perfect phantasmal conduit.
One result of this experimentation is Hitchcock Études, an homage to the film director. Sonically, it recalls both the early tape experiments of John Cage in the 1950s and '60s and the speech-derived melodies of Steve Reich in Different Trains (1988). One of the main differences, however, is a malfunctioning videotape playing alongside the ­ensemble. The work is part of the four-part Criterion Collection, with pieces devoted to Kubrick, Lynch, and Quentin Tarantino.
"The premise of the piece is watching the Hitchcock films over and over like I did when I was a kid. Watching them on tape, they would degrade and get chewed up, but I would still watch them," Lizée says. "The colours would saturate, rhythms would start happening, and ­different scenes would get cut up and spliced. Since a young age, I loved the way it looked and sounded."
Hitchcock Études: Schoolhouse Étude by Nicole Lizée – Piano: Megumi Masaki; Video: Nicole Lizée
Lizée found something beautiful about the stutter of Psycho's ­Norman Bates on a stuttering tape. "For most people that would be a bad sound and now you have to discard the tape and buy a new one," she says. "For me, this sounds amazing and I can't help but pair it with a vibraphone or a drum kit."
It's more than just sounds, though. "What happens is that the tape, the film, and the characters, go into a different world. I describe it as a fever dream […] It becomes more vivid, unpredictable, and psychedelic," she explains. "I want to stop time in this moment on the film and celebrate the malfunction. Because of the malfunction we're being taken into a different world."
To pair this malfunctioning tape with a chamber ensemble, Lizée has to notate the sonic glitches. This meticulous approach to notation began back during her McGill studies, when she composed her thesis for turntables and orchestra entitled RPM (1999, rev. 2005), which is featured on her first CD, This Will Not Be Televised (2008).
Lizée recalls watching a MTV special on New York turntablists in the early '80s and finding it incredible. "I remember thinking, 'This is the epitome of creativity: using something that was never made to be used [in that]way and making music out of it,'" she explains. "It's essentially what I've based my whole aesthetic on: coaxing music out of atypical places."
Paolo Kapunan, a trumpet student at McGill, became a lifelong friend and collaborator after agreeing to play the concerto. "I have a snapshot memory of Denys Bouliane conducting Paolo in his bedroom, underneath his loft bed," Lizée describes. "Incredulously, this thing that [Bouliane's] seeing notated – record juggling, pitch shifting, everything – is actually going to happen. It's a moment that Paolo and I always laugh about: Paolo's underwear all over the floor and there's this conductor [in the room]."
Kapunan, who is also known in the Montreal scratch DJ scene as DJ P-Love, was recently featured with Stéphane Tétreault on ­Bookburners, from the 2014 album of the same name. The piece for turntables and cello was a 2016 JUNO Award nominee for Classical Composition of the Year.
Bookburners by Nicole Lizée – Cello: Stéphane Tétreault; Turntables: P-Love
This year, Lizée is busier than ever with appearances at the Sydney Festival and with Vancouver new music ensemble Standing Wave at the PuSh International Performing Arts Festival.
Standing Wave will travel to Montreal in February for the SMCQ's Montréal/Nouvelle Musiques festival, which runs February 23 to March 4. Under the theme "Back to the Future," one evening is ­devoted entirely to Lizée, where three works will be performed: ­Ouijist (2013) for alto flute, percussion, violin, double bass, and spectres; Sculptress (2010) for clarinet, piano, percussion, violin, cello and ­vintage machines, an homage to electronic music pioneer Delia ­Derbyshire; and Hitchcock Études (2010) for piano, glitch, and film.
On March 11, as part of the New Creations Festival, the Toronto Symphony Orchestra with the Kronos Quartet will premiere a 20-minute "melting documentary" entitled Black MIDI. The work is based on the music genre of the same name which layers so many notes that, if notated in a traditional way, the page would be black with ink.
"I have no interest in following a trend because it's acceptable," ­explains Lizée, "I would be writing in a very different way if I had to do that."
---
Sculptress: The Music of Nicole Lizée at SMCQ's Montréal/Nouvelles Musiques. March 1, 9PM, Agora Hydro-Québec–Cœur des sciences–UQAM. www.smcq.qc.ca
This page is also available in / Cette page est également disponible en:

Francais (French)