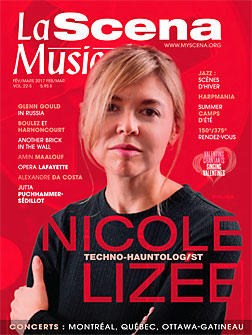 This page is also available in / Cette page est également disponible en:

Francais (French)
Industry Moves
In mid-December, nine members of the ­Toronto Symphony Orchestra's Board of ­Directors abruptly resigned from their positions, highlighting possible trouble behind the scenes. The resignations, which happened in two waves, included Chair Richard Phillips and Vice-Chair Blake Goldring, as well as ­Renette Berman, Diane Francis, Peter Levitt, William Morris, John Novak, William ­Thomas, and Sonia Baxendale. Even with the remarkable turnaround outlined in their ­annual 2015–16 fiscal report, which cited a surplus of over $800,000 after an alleged $4 to 6-million deficit, the orchestra has been rocked by a number of sudden changes since the controversial resignation of President and CEO Jeff Melanson. Catherine Beck, who ­joined the board the previous year, has taken over as chair. Beck is an industrialist and the daughter of H. Thomas Beck, who chaired the TSO from 1981–83.
Diana Weir has been named the new ­Executive Director of the Hamilton ­Orchestra. She replaces Carol Kehoe, who held the post since 2012. Weir has been the Director of Communications and Development at the HPO since 2013.
Honours and Awards
The 100 newest recipients of the Order of Canada have been announced by the Right Honourable David Johnston, The Governor General of Canada. This is the 50th anniversary of the Order, coinciding with the 150th anniversary of Canada. Appointments related to classical music include: Russell Braun (baritone), Michael Schade (tenor), Howard Shore (film music composer), Donna June Bennett and Brian Leslie Finley (co-founders of Westben Arts Festival Theatre), Andre Bourbeau (businessman, politician, and arts advocate), Tanya Tagaq (singer-songwriter), and Katherine Carleton (clarinetist, pedagogue, and arts advocate).
The Canadian Opera Company has named five new instrumentalists to the 2017 COC ­Orchestra Academy. For the first time, McGill's Schulich School of Music was associated with the auditions, broadening the pool from Toronto institutions such as the Glenn Gould School and the University of Toronto. GGS violist Madlen Breckbill, cellist James Churchill and bassist Jesse Dietschi, UofT ­violinist Heng-Han Hou and Schulich violinist Jung Tsai will participate in a three-week training program that includes public ­performances, masterclasses, rehearsal sessions, and participation in the opening night of the COC's production of Götterdämmerung.
Tragic Losses
Canadian opera champion Stuart Hamilton passed away at noon on January 1, 2017 at the age of 87. The Regina-born pianist was an operatic mainstay in Toronto, with contributions to the community too numerous to ­calculate. As a pianist and coach, he was a regular collaborator with Maureen Forrester and Lois Marshall and was the first music director of the Canadian Opera Company's Ensemble of young singers. He was also the long-time host of CBC's Saturday Afternoon at the Opera.
Esteemed Estonian choral composer Veljo Tormis passed away on January 21 at the age of 86. For most of his life, he worked under Soviet oppression and many of his compositions are based on ­traditional Estonian folksongs.
Roberta Peters died at the age of 86 after a ­career that spanned five decades. The ­coloratura soprano sang 34 seasons at the Metropolitan Opera in 512 performances in 24 roles.
Canadian-born violinist and pedagogue Betty-Jean Hagen passed away in New York on ­December 29 at the age of 86. She studied at the Royal Conservatory of Music with Géza de Kresz and the Juilliard School with Ivan Galamian. She taught at Western University in London, Ontario, as well as at Vassar ­College in Dutchess County, New York.
American violist Bernard Zaslav died on ­December 28 at the age of 90. Zaslav was a founding member of The Composers ­Quartet, and played in the Fine Arts Quartet, Vermeer Quartet, and the Stanford String Quartet. He taught at many institutions including ­Stanford, Columbia, and the University of Wisconsin–Milwaukee.
Singer and actress Debbie Reynolds died at the age of 84, two days after the death of her daughter, Carrie Fisher. Reynolds's breakout role was Kathy Selden in Singin' in the Rain (1952), which was followed by a long and celebrated career in the music and film industries.
English singer and songwriter George Michael passed away on Christmas Day at the age of 53. Member of the pop duo Wham!, George Michael is best known for hit singles "Careless Whisper" and "Praying for Time." As a member of the LGBT community, George Michael was a LGBT rights and HIV/AIDS activist.
Karel Husa, a Czech-born composer and ­conductor who fled to America in the 1950s, passed away on December 14 at the age of 95. Husa was a pioneer of microtonality who ­studied with Arthur Honegger and Nadia Boulanger. From 1954 to 1992, Husa was a professor of composition at Cornell.
Music and Politics
A petition is circulating online over a competition launched by the House of Commons for composers to write a five-minute piece in ­honour of Canada's Sesquicentennial and the 90th anniversary of Ottawa's Peace Tower, which will be performed on Canada Day. The award offered by the government is $400 and $800 for the youth and open categories, ­respectively. As Musical Toronto reported in January, according to the Canadian League of Composers, a piece of that length should be awarded at least $2,125. At the time of press, the petition created by Quebec composer Simon Bertrand has collected over 900 signatures. Winners are scheduled to be announced on March 1st. It is important to note, that this competition is but one of many outlets for composers for Canada 150; for example, the TSO has commissioned over 40 short new works called "Sesquies" that will be performed by orchestras across the country.
US Beltway-based media outlet The Hill ­reported mid-January that President Donald Trump's administration is considering privatizing the Corporation for Public Broadcasting (CBP) and eliminating the National ­Endowment for the Arts (NEA), and National Endowment for the Humanities (NEH), citing budgetary concerns about the $400-billion deficit and $18-trillion national debt. The ­proposed cuts make up less than 0.02% of the total US budget. In comparison, President Trump is planning on spending about $100 billion more on the military than the ­Pentagon has budgeted for his first term.
Hamburg's Elbphilharmonie has finally opened after years of delays and an invoice for over four times the initial budget. The "acoustically perfect" concert hall was designed by Yasuhisa Toyota with initial plans by Swiss architectural firm Herzog & de Meuron. Built on a former warehouse, the building houses a cultural centre with three concert halls and residential suites, rented by Westin Hotels.
Upcoming Events
In association with Canada 150 celebrations, a new chamber music festival has been ­announced in London, Ontario. The Western 360 Summer Music Festival, which will run August 10–13, has named violinist Scott St. John its artistic director. The festival will ­feature concerts, workshops, film screenings, and professional development seminars aimed at aspiring strings students. Several faculty members at the Don Wright Faculty of Music, Western University are involved with the festival, including violinist Annette-Barbara Vogel, cellist Thomas Wiebe and ­pianist Stephan Sylvestre. The Ensemble Made in Canada (Elissa Lee, violin; Sharon Wei, viola; Rachel Mercer, cello; Angela Park, piano) will be in residence.
The 4th International Orchestra Conference will take place in Montreal, May 11–14, hosted by the Guilde des musiciens et ­musiciennes du Québec. The official ambassador of the conference is Yannick Nézet-Séguin, who says in a press release, "Quebec and Montreal are home to a thriving orchestral community. The fact that people from the music world will visit Montreal from all points of the compass can only draw attention to this richness, which is a point of pride to us. For us, this will be an opportunity to take inspiration from what's happening ­elsewhere." This is the first time the FIM ­(International Federation of Musicians) will hold the event in a North American city.
This page is also available in / Cette page est également disponible en:

Francais (French)