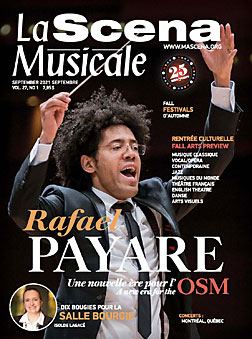 This page is also available in / Cette page est également disponible en:

Francais (French)
Since Sept. 1, spectators in Quebec have been required to present a vaccine passport to gain access to outdoor performance sites, indoor performance halls and cinemas as well as alternative venues, such as churches, bars or restaurants.
Note that the vaccine passport is not required by libraries and museums, places of worship, spas and saunas, or to obtain massage therapy or beauty treatments.
Spectators can present their QR code printed on paper or in PDF format on a mobile device, but the preferred option remains the VaxiCode app. The vaccine passport must be presented with a valid photo ID to confirm the name appearing on the passport.
Spectator names appear on the VaxiCode Vérif reader to allow employees to verify identity, but no other information is shared. A colour code (red/green) confirms the validity of the passport.
Good news for presenters and young audiences: Children under 13 are exempt from the passport and can attend sites that normally require the passport by providing proof of identity that confirms their age. In addition, an establishment cannot refuse entry to an artist who must give a performance on the grounds that he or she does not meet the passport requirements.
CQM poll
Prior to the planned meetings with the Ministry of Culture and Communications, the Conseil québécois de la musique (CQM) conducted a poll of its members to identify their opinions and concerns.
It appears that organizations are extremely divided on their estimate of the time required to adapt to vaccine control. More than two-thirds (67.6%) believe that the vaccine passport is essential, despite some negative impact. However, a third (32.4%) think that the controls are not necessary given observance of strict sanitary standards. Finally, 70.6% of the groups questioned are favourably or very favourably disposed to the imposition of a vaccine passport on the public attending their concerts or other activities, while 29.4% offer little or no support.
The government is taking every measure to encourage the population to be vaccinated, including establishing this health standard. "We are aiming for a balance to allow the vaccinated population to find greater freedom by keeping the economy open and protecting everyone's health," said the minister of health.
N.B. At press time, Ontario had also announced the introduction of a similar vaccine passport as of October.
This page is also available in / Cette page est également disponible en:

Francais (French)