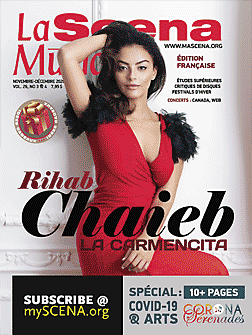 This page is also available in / Cette page est également disponible en:

Francais (French)
The Orchestre classique de Montréal (OCM) is deeply invested in projects, as it has demonstrated in the past by promoting Canadian and Indigenous artists and composers. This year, the orchestra's support for communities is once again in evidence. On Nov. 20, OCM followers can hear the Canadian premiere of the chamber opera As One to mark Transgender Day of Remembrance, a day paying tribute to transgendered individuals who were persecuted or killed because of their identity. Come what may, the opera will be the season opener and broadcast online. It features two voices – one male, the other female – portraying one character who is transgendered. The opera is based on a true story by co-librettist Kimberly Reed.
As One was a favourite for OCM executive director Taras Kulish: "I heard excerpts from this opera during the 2016 Opera America conference in Montreal. I was hooked from the very first note. I had an interest in, and was touched by, the theme, which is not often tackled. There are no trouser parts [women singing traditionally masculine roles]. We are introduced to a transgendered individual's life story, from adolescence to adulthood. This was something OCM wanted to set straight from the start, for the transgendered community would have been skeptical if the story had not been authentic. That authenticity is clear as day in As One." 
With a score by Laura Kaminsky, this opera is written for two soloists and string quartet, making it economical to produce. Moreover, it falls in line with two OCM missions: to expand orchestral repertoire and reach a wide array of listeners around Montreal. The willingness to express openness to others has led the orchestra to extend performances beyond two evenings and hold discussion forums in English and French a week before showtime.
"Kimberly Reed will be one of the forum panelists along with two transgendered individuals," Kulish explained. "Two transgendered opera singers I got to know in the United States and Europe will also be panelists, and they will sing for us online. Involving the transgendered community in this project has been a great gift." 
This is not the first time that OCM has presented contemporary repertoire. Under the leadership of artistic director Boris Brott, the orchestra has commissioned numerous young composers. This season, a commission will be part of a concert scheduled for March 30: Concerto for Pipigwan (traditional Anishinaabe wooden flute) by the Indigenous composer Barbara Croall. "Croall will play the solos in this four-movement concerto representing the seasons of the year," said Kulish. "This concerto will be coupled with Astor Piazzolla's Cuatro estaciones porteñas on the 100th anniversary of the composer's birth. This concert will be out of the ordinary." 
The OCM is breaking new ground not only with its repertoire but with its concerts. "This new ground dates back to the spring, more specifically in April," said Kulish. "We were one of the first orchestras to give online concerts. We knew we wanted to do something during lockdown. None of us expected to have close to 3,000 views per broadcast. 
"We broadcast a dozen concerts and created a Facebook page unlike any seen before. We now have close to 7,000 followers. Together with our Twitter and Instagram platforms, we have more than 10,000 followers. This is advantageous for us because people talk about us and we gain exposure. The pandemic taught us a valuable
lesson in the great power of social media and the importance of having digital presence. Of course, we may never reproduce the full experience of in-person concerts with a live acoustic. But since we can present online  concerts that appeal to people, this is encouraging for us to survive in our field." The orchestra is one of many  cultural organizations that picked themselves up and made the best of the pandemic. Many factors worked to the orchestra's benefit, including good  financial health before the pandemic, the orchestra's size, and its ability to face the new reality. These factors show why OCM is good standing today.
"Everything was going well for us before the pandemic," Kulish said. "We presented three sold-out concerts, putting us in good shape from the start. Being a chamber orchestra and a small organization was also a definite advantage, making it possible for us to adapt quickly. Although much uncertainty remains, I am not at all worried about the 2020–2021 season. 
"However, I am worried about economic readjustment in the next few years, as are many cultural organization managers. Governments are giving us emergency aid. There are sources of support. What will the cultural economy look like in the future? What will sponsorship look like? Let us take it one day at a time. We'll cross that bridge when we come to it." 
Translation by Dwain Richardson
As One. Music by Laura Kaminsky; libretto by Kimberly Reed and Mark Campbell; film by Kimberly Reed. Cast: Phillip Addis, baritone (Hannah as a teen); Sarah Bissonnette, mezzo-soprano (Hannah as an adult). OCM string quartet; Geneviève Leclair, conductor. Eda Holmes, stage director. Nov. 20 at 7:30 p.m. at Cirque Éloize. Also note that the forums in English and in French will take place on Nov. 14 and Nov 15. (online event only, available until Dec. 4 for ticket holders) www.orchestre.ca
This page is also available in / Cette page est également disponible en:

Francais (French)