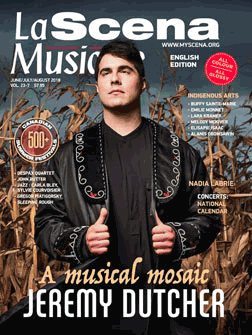 This page is also available in / Cette page est également disponible en:

Francais (French)
Nadia Labrie has launched her first solo album – a great occasion for a flutist known initially for the duo she created with guitarist Annie Labrie, her twin sister. Duo Similia was a great success, performing 500 concerts in more than 13 countries, recording four albums for the Analekta label, and winning many awards, including a 2004 Félix for best instrumental album.
Following many years dedicated to her family and children, Nadia has made a comeback. We met in a café nestled in Montreal's Villeray neighbourhood. This was an opportunity to learn about her career as a flutist, her professional circle and musical training, and her approach to balancing family and work.
A New Beginning
Nadia's first solo album for Analekta is dedicated to Schubert. The Introduction and Variations on "Trockne Blumen" is the lone piece written for flute. Making up the balance are transcriptions: the "Arpeggione" Sonata, excerpts from Die schöne Müllerin, and the popular Lieder "Ave Maria" and "Ständchen." This composer, who died at 31, holds a special place in her heart. The Introduction and Variations take her back to her years as a student.
"I played this piece for my final exams at the Conservatoire de musique de Rimouski when I was 17 or 18," she recalled. "I started to listen to Schubert to be inspired by this kind of music. I listened to Die schöne Müllerin over and over, so I've been listening to this song cycle at least once a week for 21 years [laughter]. I had to include it in this album." Passion clearly brought Nadia to this composer, who expressed the essence of German Romanticism and the beauty of nature. Hence the album title Flute Passion: Schubert.
A Longtime Friend
Who better to take part in this project than pianist Mathieu Gaudet? "I have known Mathieu since I was 11 years of age," Nadia said.
"We rubbed shoulders as musicians but never had the opportunity to play together. I knew Mathieu also had a passion for music by Schubert. It was entirely natural for me to use him for this album."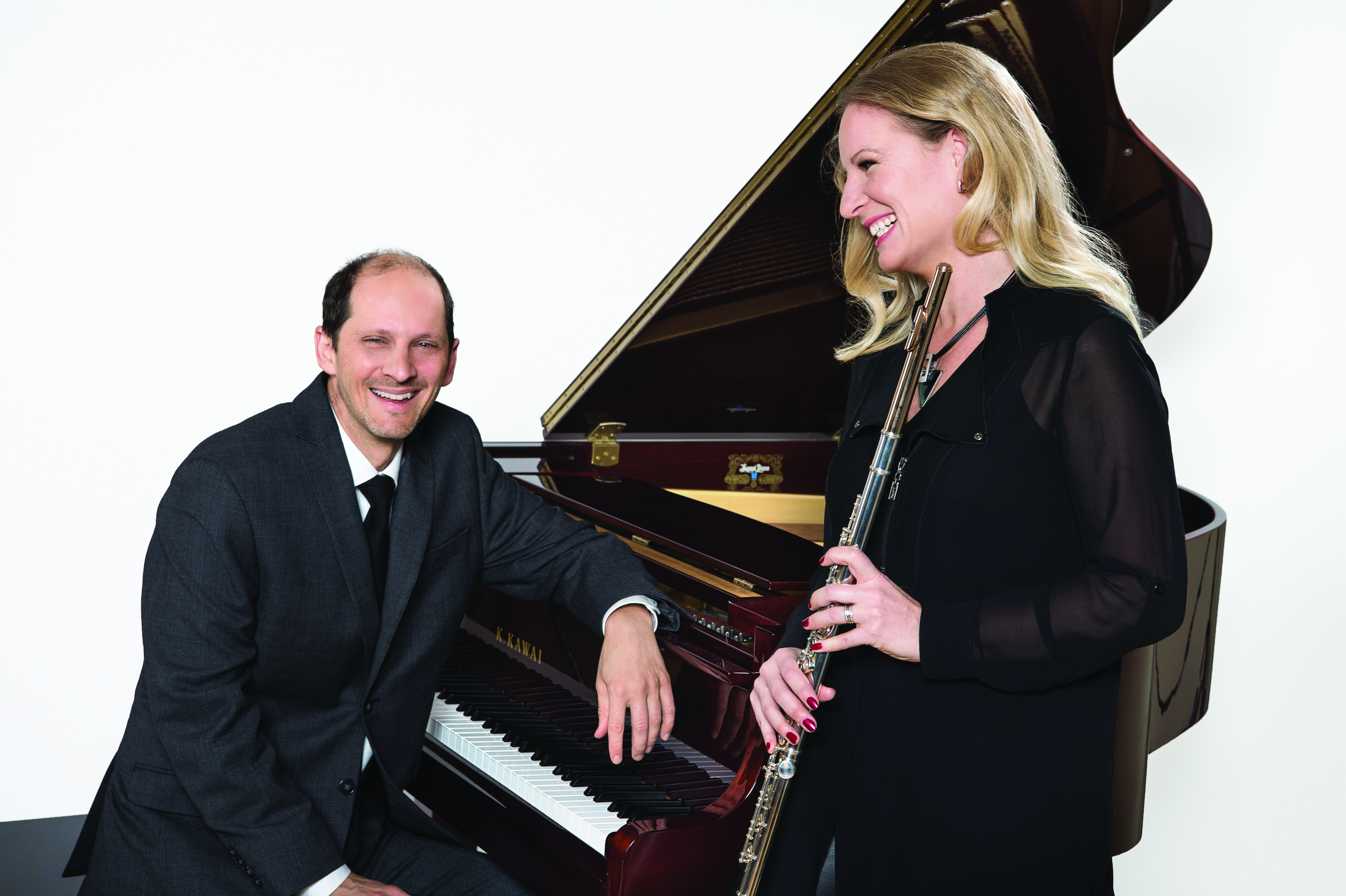 Their friendship went back to their student days in Rimouski. Each had a common sense of hard work, a discipline that brought them together and led them toward a career where they now know each other.
"We took the same courses at Cégep de Rimouski and were the only two to close the Conservatoire each evening," Nadia recalled. "We were two passionate people and perfectionists, so we rehearsed until the final hours. We've had so much in common, including our interest in science and music."
An Unfailing Connection
with Her Twin
Friendship is priceless, but the greatest bond Nadia has ever known remains with her twin sister Annie. The flutist has fond memories of their international tours.
"We were together 80 to 90% of the time and the chemistry worked well," Nadia said. "We organized approximately 10 tours in China with our agent – the first Canadian artists to sign a contract with an agent based in China – and about a hundred concerts per year. It was always a pleasure to play with her! All we had to do was look at each other during concerts to know what we were thinking.
"Ties between twins can be quite intense, and I feared I couldn't find the same connection with other musicians. In fact, it's hard to find anything better when you've been playing with the same person for 20 years."
Balancing Family with Work
After many years on the road, the flutist decided to put down her luggage and start a family. Today, Nadia is a mother of two children aged five and seven. This joy required adjustments and careful organization.
"It is impossible to go on tour for a month as we did before," she said. "After my first daughter was born, I was still performing concerts with orchestras; during this time, my partner was taking care of her, requiring a lot of management."
Nadia continued: "When my second child was born, it was obvious that we could not carry on with our regular schedule. [Before becoming a mother] I could rehearse for up to 10 hours, or until I had just enough for the day. We now have too many constraints to work with, compelling us to rehearse during select periods. This is what time management is all about."
Music-Savvy Children?
Nadia's children are showing more interest in music as they get older. They have encouraged her in creative ways, especially by playing a few notes from the "Arpeggione" Sonata that are dear to the flutist's heart. Could these children become future musicians?
"Recording a disc with piano drummed up my daughter's interest in the instrument. She would like to take lessons, and that makes me happy!" Nadia exclaimed.
"My two children practise the piano by attempting to play the music of the first album by ear. They are proud of their accomplishment, so the album must have had an impact on them.
"As a musician, I don't wish to impose anything on them. If they desire to pursue music, however, I will get involved and have them take lessons. I want the interest to come from them."
Family Environment
Talking about her children took Nadia back to her own childhood. Her parents were not musicians, but her father was extremely passionate about the genre.
"Many instruments were at home," she remembered. "We had a small organ, a guitar, a flute, a bagpipe, an accordion. Several musicians played traditional or folk music in my mother's house, but not in my father's."
Nadia discovered her first musical loves because of her father's huge record library, which included albums by such songwriters as Gilbert Bécaud and Jacques Brel.
Nadia's older sister, Pascale, played the flute. Looking at the instrument fuelled young Nadia's interest. "My sister began studies at the Conservatoire at age 9, playing in her room every day. I sidled in and looked at her," she said. "I fell in love with the flute. One day, my sister told me, 'Nadia, it looks like you like this instrument. Do you want me to show it to you?' She taught me how to blow into the flute, for it is not easy to make a sound. She also showed me how to play and explained the rudiments of musical analysis to Annie and me."
A Mature Musician
Nadia's childhood was also a period of first concerts. She and Pascale put together a flute quartet. At age 11, this milestone proved essential to the rest of her career. "We had organized many concerts in the Bas-Saint-Laurent region to raise funds for advanced training in Bazas, France, with the greatest flute masters.
The educational tool came in handy later. Organization, preparation steps, and requirements were nearly like those of Similia duo with my sister a few years later."
A Musician's Dream
Labrie's career began with a quartet, followed by a duo. Now she has a career as a soloist. Her future looks bright. Her Schubert album will be the first of many in the "Flute Passion" series. Next she would like to record flute concertos by Mozart.
And why not program three complete works for flute and orchestra? For this special project, Nadia wants to create an ensemble exclusively involving women. She believes that music is about sensation, waves, and energy experienced with musicians and the audience. This is the communication and connection she would like to revitalize.
"I think you need to hold about 10 rehearsals before any magic can happen among instrumentalists," she said. "I dream of forming a small group that will develop the uncommon symbiosis in our trade. We could then fully express the playfulness in Mozart's music – music that is full of surprises."
Translation by Dwain Richardson
Nadia Labrie is planning a tour across Quebec to
present her latest album. Dates will be announced on her website. www.nadialabrie.com
This page is also available in / Cette page est également disponible en:

Francais (French)