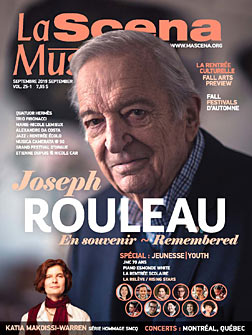 This page is also available in / Cette page est également disponible en:

Francais (French)
Cellist Matthew Christakos has won the 2019 Michael Measures First Prize, a prestigious award which recognizes promising young Canadian classical music performers enrolled in the summer training program of the National Youth Orchestra of Canada. Moreover, the 19-year-old has won several first prizes at the Kiwanis Festival of Greater Toronto, placing second overall in the Ontario strings category.
Christakos owes this recognition to the many teachers who guided him, combined with his parents' ongoing support. He studied with former Toronto Symphony Orchestra associate principal cellist David Hetherington at the Royal Conservatory's Phil and Eli Taylor Performance Academy for Young Artists. At this academy, Christakos could benefit from advanced training, including mentorship, and performance opportunities. He also trained at the Etobicoke School of the Arts, in Toronto and recently took part in the Morningside Music Bridge program in Boston.
Christako's passion and enthusiasm for hard work were apparent at an early age. He began his cello studies when he was only 4. He completed the Suzuki strings program under the guidance of Tricia Balmer at 13. During a handful of masterclasses and intensive summer programs, Matthew had the chance to get valuable advice from leading artists and teachers such as OSM principal cellist Brian Manker, Andres Diaz, Desmond Hoebig, John Kadz, Paul Katz, Paul Marleyn and Paul Pulford.
Among his previous engagements, Christakos has played with the Toronto Symphony Youth Orchestra and the Academy Chamber Orchestra of the Royal Conservatory.  As a soloist, he performed Haydn's Cello Concerto No. 1 with the NYCO Symphony Orchestra and the Shostakovich's Cello Concerto No. 1 at the Orford Arts Centre.
The Michael Measures First Prize came with a substantial grant of $25,000. This money will help Christakos when he begins his Bachelor of Music studies in September at the prestigious Curtis Institute of Music in Philadelphia, under Peter Wiley and Carter Brey.
Christakos was a featured soloist on the NYOC's 2019 TD Odyssey Tour, performing Brahms's Concerto for Violin and Cello with Alison Kim, conducted by Michael Francis. This tour took him to the Maison symphonique in Montreal, Parry Sound, Ontario; and Stratford, Ontario as part of the Stratford Summer Music festival. These musicians even performed at the Auditorio de la Diputación in Alicante, Spain.
Last but not least, Christakos has been listed by CBC Music among the "30 hot Canadian classical musicians under 30" for 2019.
This page is also available in / Cette page est également disponible en:

Francais (French)