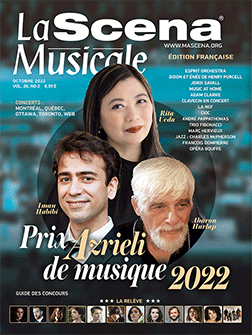 This page is also available in / Cette page est également disponible en:

Francais (French)
After his concert series of Marc-Antoine Charpentier's music with Hervé Niquet, his harpsichordist colleague and orchestra conductor, on Sept. 29 and 30, Luc Beauséjour gets back to the great Bach's music for two more concerts during the Clavecin en concert season. First, for Montreal's Bach Festival on Nov. 18, he will map out the composer's musical journey from his youth to maturity; then, on Nov. 17 at the Salle Bourgie for the last year dedicated entirely to his cantatas. In addition, there is a recording of Bach's Trio Sonatas, arranged for harpsichord, marimba and cello with the duo Stick&Bow, released by Analekta in 2021.
"These days, it's true," Beauséjour admits, "I'm very much into Bach. In thinking of a way to present a concert for November 18, I came up with the chronological idea in which I could show some really interesting contrasts. First there is the Capriccio on the Departure of a Beloved Brother BWV 992, program music which stands apart in Bach's works. People have told me that it doesn't really fit his style, which I found to be a valid point. I thought—let's go with Bach at about 18 years old and at 60 years old with the Ricercar a 3 from The Musical Offering BWV 1079. Between these two—Bach who had produced transcriptions and toccatas in his 20s—pieces such as The Well-Tempered Clavier. So I went about composing a program with well-known pieces, contrasting ones, reflecting the various cities and areas where Bach had lived, matching his evolution. Hence the title for the concert: Bach, A Journey."
Even after Nov. 18, the harpsichordist (who is also an instructor at the Montreal Conservatory of Music) intends to stage a show retracing Bach's various composition periods and immerse us in his life as an artist—not just a concert idea, but also a recording idea, he hopes. "I have imposed on myself to produce a recording. It's my way of staying active, of passing on this repertoire. When I was younger, my role models were Ton Koopman, Kenneth Gilbert, people with whom I had studied, Bernard and Mireille Lagacé. All these musicians made recordings. Gustav Leonhardt even made records into his 80s, and, not long after, passed away. I can't imagine myself doing otherwise unless I have a disability stopping me from playing. It's funny, but I can't see the end. As to the recording, it's the same thing. If my humble example can inspire, help someone, somewhere, all the better."
Translation by Karine Poznanski
For the complete program, see www.clavecinenconcert.com.
This page is also available in / Cette page est également disponible en:

Francais (French)