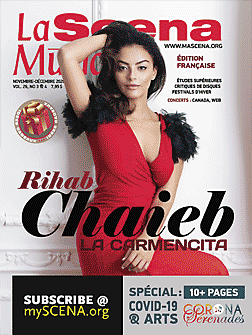 This page is also available in / Cette page est également disponible en:

Francais (French)
Le Vivier is an apt name. It refers both to one of the fathers of contemporary music in Quebec and to a dynamic pool of composers and performers of new music. An earlier article outlined the 2020-2021 season of this group of musicians and ensembles, which notably include Productions SuperMusique, the Quatuor Bozzini and Ensemble Paramirabo. But Le Vivier is also a house with many rooms, offering numerous opportunities for players in this field to affirm their ties.
First is the international component, which organizes the annual Cartel which brings together more than 25 broadcasters in North America and Europe. "Over the past two years, we have organized numerous meetings in Montreal and online, including several during the pandemic," explains artistic director Emmanuelle Lizière. "The Cartel has given rise to international exchanges with groups based in Europe, but also for ourselves, Le Vivier. We have built partnerships with the Forum des compositeurs in Wallonia in Belgium and the Belgian Ars Musica festival, which have resulted in to 12 concerts in Montreal and 10 in Belgium." 
Another component of Le Vivier is a program of residencies and exchanges with the Hellerau centre of Dresden, Germany, in partnership with the Conseil des arts et des lettres du Québec and the Montreal Goethe-Institut. Since 2015, this program offering residencies for the creation of new music has allowed a young composer from Germany to spend two months in Montreal to experience a new environment and live alongside other artists. In return, the Hellerau centre has committed to welcoming a Quebec artist. The residency also fosters the dissemination of works by composers from Quebec and from Germany, including, recently, the works of Quebecers Alexandre David (2018) and Ida Toninato (2019).
Other facets of Le Vivier are dedicated to Youth and a Mediation. The latter occupies an important place in the activities of Le Vivier, as evidenced by the 80 workshops organized last year.
"We have members who hail from Montreal as well as from other parts of the province, be they the Tour de bras or Erreur de type 27 ensembles," Lizière says. "Music mediation is also that: not only to be in Montreal, but also to expand. As part of our new website, we feel it is important for us to show, using multimedia and in particular through the use of prominent digital recordings, all that can be seen and done here."
Le Vivier mobile, the latest major project, is in great demand and focuses entirely on digital issues. The effort is progressing well, according to the artistic director. "This will allow us to branch out significantly in this area," she concludes.
This page is also available in / Cette page est également disponible en:

Francais (French)