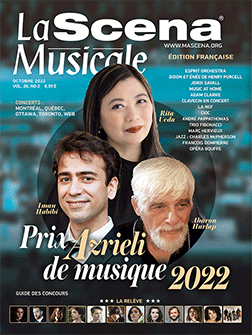 This page is also available in / Cette page est également disponible en:

Francais (French)
Jordi Savall returns to Canada this fall. Following his North American tour with Concert des Nations last February, which brought him to Ottawa, the famous Catalan gambist is back on the road, this time with Hespèrion XXI.
For this new tour, titled The Golden Age of Consort Music, Savall has called upon Hespèrion XXI , the ensemble of viols and theorbo with whom he has prepared a chamber music repertoire from the Renaissance and baroque periods. John Dowland (1563-1626) is one among many composers on the program, known primarily for his songs on the themes of love and pain. Dowland also composed a significant amount of instrumental repertoire, including a collection of seven pavanes and other pieces, entitled Lachrimae. From this collection, Savall and his ensemble will perform Semper Dowland, Semper Dolens, a final pavane in the form of a self-portrait. "It is an extraordinary work. Many composers have also written for the voice, like Henry Purcell (1659-1695), but Dowland remains one of the most important in England, before the end of the viola da gamba era." Savall will play Purcell's Fantasia Upon One Note. In addition to works by German, Italian and Spanish composers, he will also perform Cinq fantaisies sur une jeune fillette by the little-known French composer Eustache du Caurroy (1549-1609).
An early vocation
"I worked a lot during my youth on consort repertoire," Savall said. "I spent many hours at the British Museum and at the National Library of France. The result is about 20 recordings, from the Elizabethan period to the music of Purcell. Today, I am spoiled for choice. I could do 10 different concerts."
It was with the same diligence that the young Savall first discovered and then recorded entire sections of the French repertoire, notably the music of Monsieur de Sainte-Colombe (1640-1700) and Marin Marais (1656-1728), which later served as the inspiration for Alain Corneau's much-celebrated film Tous les matins du monde (1991). "I have always had this interest," Savall said. "I found so much beautiful music, completely forgotten. This prompted me to give up the cello, and dedicate myself to the viola da gamba and its repertoire. Thanks to the film, not only the general public, but also musicians who played on modern instruments and specialized in modern repertoire, were touched. This is perhaps the most beautiful thing about the project."
Today, the search for new repertoire continues. "I'm digging into the history of the first voyages to the New World," he said. "I am working with about 15 researchers who are working on Caribbean music composed in Cuba or Haiti. Other teams have transcribed manuscripts found in the cathedral of Las Palmas, in the Canary Islands. From there, the ships departed. Among the sailors who came from all over Europe, and from the Arab world, there were musicians and composers who wrote during the time they were held at the quay—sometimes up to two months, depending on the maritime climate."
When music speaks to you
Through his musical work, Jordi Savall has also developed a philosophy of interpretation: "I learned to play the viola da gamba from the music itself. When you play a piece, as you work on it and master it, you realize that it is the music itself that tells you what to do. It gives you instructions on how it should sound. That's also why I spent 10 years of my life working eight hours a day before I recorded for the first time. Once you really know it, there is a relationship that develops with the music, like two people who love each other. It's not a one-way relationship. You dedicate your time to someone you love and this person will also give you back beautiful things. It's very human, actually. And to do that, you have to be sensitive."
Translation by Eva Stone-Barney 
Jordi Savall and Hespèrion XXI Il are in concert at the Palais Montcalm in Quebec City on Nov. 6, at the Maison symphonique de Montréal on Nov. 7 and at the Carleton Dominion-Chalmers Centre in Ottawa on Nov. 8. www.alia-vox.com
This page is also available in / Cette page est également disponible en:

Francais (French)