This page is also available in / Cette page est également disponible en:

Francais (French)
The COVID-19 pandemic dramatically upset the end of term for students in universities and conservatories. Going back to school this term unfolds in equally exceptional conditions. The process includes new measures intended to guarantee the health and safety of all without compromising the quality of education. These measures were imposed following the implementation on July 18 of the Government of Quebec mandate requiring the wearing of a mask in all enclosed public places, including university campuses.
While each institution is duly complying with the government guidelines, some markedly different approaches have been observed in dealing with the health crisis. Here is an overview of the strategies being adopted by Quebec's higher education institutions in a context in which the threat of a second wave of infections has not been ruled out.
Université de Sherbrooke: In-Person Courses and More
In a video posted on YouTube, the rector of the Université de Sherbrooke, Pierre Cossette, wishes to address many of the questions and concerns surrounding the start of the school year: "Tons of measures are being taken. […] All classes will be reorganized. It's a lot of work, but we want to be ready. There will be lively lunch hours and concerts. We want the campus to be vibrant, for it to be a global experience not only for our students, but also for ourselves."
UdeS School of Music director Jacinthe Harbec hopes that this back-to-school season will not be so different from those of other years. "All undergraduate courses will be offered in-person for the fall 2020 semester, which is meant to be festive! Festive because we are very happy to see our students and the teaching team again after the long confinement experienced at the end of the winter term. […] For instrumental practice lessons, the School of Music has several large rehearsal spaces available to accommodate ensembles. Conductors of the large ensembles (vocal ensemble, symphony orchestra, wind ensemble and stage band) have shown great creativity in making this activity possible while respecting physical distancing. They will take the opportunity to form sub-ensembles. Students will find themselves working on ensemble music in a different way, where each student's personal contributions result in a greater sense of engagement. As there are no plans to hold concerts, musicians will instead experience performing on-camera for a webcast or video recording," she explains in a long interview available on the School of Music website.
Bishop's Favours In-Person Classes
Bishop's University campus in Lennoxville will offer in-person teaching, according to its website. In accordance with the health measures put in place by Quebec authorities, students must observe a distance of at least 1.5 meters when seated. To prevent any spread of the virus, university residences will also be set up appropriately and will offer only single rooms.
Face coverings will be mandatory on entering buildings and while moving through hallways, as well as open areas. The university is complying to the recommendations of the public health directorate and strongly encourages the wearing of face coverings in classrooms and in the workplace.
University of Ottawa Reopens its Campus
Although remote working remains the norm for the majority of members of the university community, some researchers have been allowed to return to their laboratories. Research activities on campus have intensified over the summer and faculty plans for a gradual return have been approved. Other sectors, such as the residences, have also seen the pace of their operations increase in anticipation of the fall semester. UOttawa has announced that a limited number of students will be able to return to campus, without, however, specifying the criteria or conditions for in-person eligibility.
This Ontario university strongly recommends that its staff work remotely whenever possible. In addition to the health and hygiene measures that have been imposed, it is important to note that gatherings of more than five students, during breaks or in other social interactions, are prohibited. In addition, UOttawa invites members of staff and the student community to report instances of non-compliance to the appropriate authorities.
There is bad news for foreign guest speakers. In light of public health guidelines and to ensure the health and safety of the members of its community, all conferences and meetings organized by the university and involving participants from outside the capital are canceled until the end of October. Also, as of Sept. 1, members of the university community can host specific events, provided that these only bring together local participants. These activities must follow public health guidelines and, until further notice, no events organized by external groups will be permitted.
UdeM Exercises Caution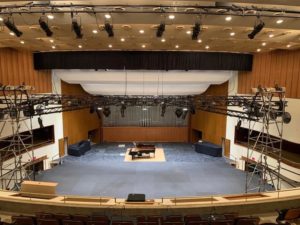 "Each passing week takes us further away from the normalcy we have known, and the coming spring amplifies the sense of strangeness that we have shared for some time with citizens around the world." So begins a letter sent by the rector of the University de Montréal, Guy Breton, to members of the faculty and the administrative team last May. "A university term requires a high level of preparation and the coming fall term promises to be a real organizational challenge," he warned.
Much of the fall 2020 semester teaching is being done remotely. Only certain courses or portions of courses may be given on campus. This is a decision made first and foremost in the interests of the health of the student community and of the general public, explains Breton. It must be kept in mind that the island of Montreal has experienced the highest concentration of confirmed cases in Quebec. "Our goal is to reduce the population density on our campuses by limiting the presence of students and employees to what is strictly necessary."
The music faculty, too, has adapted to the new reality. Salle Claude-Champagne has been equipped with a large platform in the parterre which doubles the surface area of the stage in order to guarantee adequate physical distance between the musicians (2,750 square feet, which roughly corresponds to the surface area of the stage of the Maison symphonique). It is expected that this enlarged stage will be used for audiovisual recordings, with the requisite collaboration of the film studies department. Concerts will take place online and offer students, despite the current context, a place where they can continue to practice.
For the fall semester, unless otherwise specified, UdeM will continue to favour remote working when possible.
McGill Closes its Music Buildings
As the number of confirmed cases decreases and certain rules no longer have to be applied, McGill University is once again considering holding activities on campus. However, for the cohort of international students there remains a question of fairness and accessibility. "We acknowledge that not all of our students will even be able to be in Montreal," reads a notice on the McGill website. "This is why any activity on campus, relating to student life or in-class learning, will also be offered online." Several options are on the table: virtual labs, simulators and a variety of multimedia resources.
As for the Schulich School of Music, McGill has made the difficult decision to close, until further notice, all associated buildings (studios, libraries, laboratories, offices, concert halls, rehearsal rooms, etc.). Nevertheless, under strict health and hygiene protocols, priority access to the practice rooms may be granted to students who do not own their own instruments (pianists, percussionists, organists or harpsichordists) as well as to those who do not have the leisure to practice at home.
Most major ensembles have suspended their programmes for this fall. This includes the McGill Symphony Orchestra, the McGill Wind Orchestra, the McGill Contemporary Ensemble, the McGill Baroque Orchestra and all choirs. Opera McGill and all jazz ensembles are offered remotely. Most small ensemble classes are not offered in their usual format, but ensemble play is covered as part of a series of remote technical development courses tailored to each style. Students connecting remotely will be able to meet all curriculum requirements. Jazz combos will be offered remotely and will focus on recording projects using online platforms. With regard to those courses that must be given in-person, the required size of the premises has been rigorously defined. For example, a singing lesson involving one teacher and one student must take place in a room with a surface area in excess of 500 square feet.
Health Measures at the Conservatoire
Because the threat of a second wave cannot be ruled out, the schedules of practical lessons and rehearsals at McGill as well as at the Montreal Conservatoire will be adjusted according to the availability of large venues. Wind instrument and vocal teachers will need to teach in larger spaces to minimize the risk of infection from droplets generated by flutists, trombonists, clarinetists, singers, etc. All members of the teaching staff and the student community must, at all times, respect a minimum distance of two meters when inside buildings, and an even greater distance in the courses. They are protected by plexiglass and visors; masks are also made available.
All theoretical courses will be given online and all instrument courses would be held in-person, provided that distancing measures are strictly observed. The maximum number of people allowed, during a given activity, is to be indicated on the door of each room. Piano teaching will have its specific constraints: for an individual lesson, the teacher and the student will use separate pianos and the teacher will not be able to give a demonstration on the student's keyboard. For other musicians and teachers who are not in this configuration, the sharing of instruments is obviously prohibited. Finally, instrument cases and boxes should be placed under the student's chair.
This page is also available in / Cette page est également disponible en:

Francais (French)