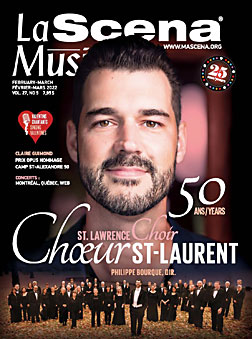 This page is also available in / Cette page est également disponible en:

Francais (French)
User Ratings (

1

Votes)

1.6
Mystic
Giorgia Fumanti, voix; Stefano Galante, piano; Galante Media Orchestra
Label: Vega2 (2021)
Giorgia Fumanti already has more than a dozen albumsù to her credit. Supported by her lifelong producers, her manager husband Maurice Velenosi, and Stefano Galante, who also provides musical direction, the Italian singer offers here a repertoire of cult songs and instrumental pieces arranged especially for her soprano voice.
The album jumbles together several great classics such as Piazzola's Libertango, Ravel's Boléro, Albinoni's Adagio, Orff's O Fortuna and Puccini's Nessun Dorma. Added to this are other classics closer to our time, such as Now we are free from the film Gladiator (2000), Hallelujah by Cohen and Papa can you hear me by Legrand.
Each of the pieces seems to have been reworked a lot in the studio so that the final product sounds great – too much perhaps? – and does not contain the slightest imperfection or almost none. Giorgia Fumanti's voice shines in all its beauty, so high that it sounds like that of an angel. Moreover, throughout the album, we feel a particular attention paid to vocal and musical purity, and thus a rather religious approach – spiritual, some would say – whereas the repertoire is not always so. At times it feels a little disembodied and lacking in personality, but the irresistible charm of the melodies operates nonetheless.
This page is also available in / Cette page est également disponible en:

Francais (French)