This page is also available in / Cette page est également disponible en:

Francais (French)
Luc Beauséjour : Mozart
Luc Beauséjour, fortepiano.
Analekta, 2021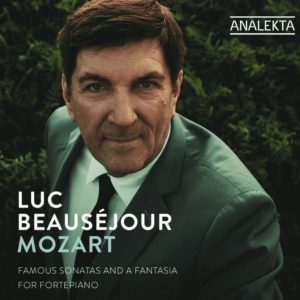 Primarily active on the Montreal scene as a harpsichordist, Luc Beauséjour plays other keyboard instruments as well. In 2016, he issued a set of all baroque pieces performed on a modern grand piano. This time around, he has chosen the fortepiano to interpret a number of well-known Mozart sonatas, among them the equally beloved Fantasy in D minor. All works performed on this album have stood the test of time by virtue of the youtfhul prodigy's creative genius. Because of that, the repertoire is a winning proposition, enhanced as it is by an instrument heard less frequently nowadays than in Mozart's time.
Beauséjour renders the music in a very classicist way, eschewing any romantic outpourings. But such an approach is quite in keeping with that instrument whose percussive and drier sound falls somewhere between those of the harpsichord and grand piano. Yet, it would have been nice for the performer to inject a little more variety in the proceedings —for instance in the repetition of motifs found in the Sonata No 11 "Alla Turca". On the flipside, his reading of the Sonata No 13 hits the mark with more contrasts in the playing. Given the fortepiano's tendency to produce more distant sounds that rapidly decay into the ambient space, it would likely have been a better idea to mike it more closely than it was.
This page is also available in / Cette page est également disponible en:

Francais (French)