This page is also available in / Cette page est également disponible en:

Francais (French)
Elinor Frey: Concertos italiens baroques
Elinor Frey, violoncelle, Rosa Barocca; Claude Lapalme, chef
AN 2 9163
Analekta, 2022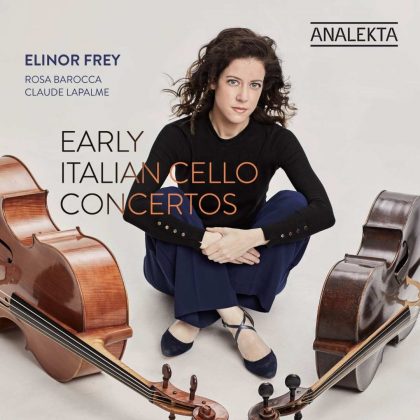 Just out on Montreal's Analekta label are the results of a joint venture pairing cellist Elinor Frey with Calgary's Ensemble Rosa Barocca under the direction of Claude Lapalme. The program consists of four concertos by Italian baroque composers Antonio Vivaldi (1678-1741), Leonardo Leo (1694-1744) and Giovanni Battista Sammartini (1700-1775), and two by Giuseppe Tartini (1692-1770)—the first for cello, strings and continuo; the second, in two movements and written for violin, but performed here on a small-sized violoncello.
Whatever instrument she uses, Frey is impressive on all accounts, sure-handed throughout and fleet in execution on both instruments. The opening bars of the Sammartini Concerto in C Major, for instance, are totally in character with baroque music (i.e. teeming with energy and vitality). The ensemble's input is crucial here, most notably in its phrasing of the slow movement and even more so in the flagwaving finale. The listener will most likely be struck by the virtuosic soloist's effortless way of breathing life into the music from start to finish.
Also of note is the sheer beauty and depth of sound drawn from Frey's instrument in the slow movements. While its velvety sounds might be slightly unfamiliar to today's ears, they give added sustenance to the ongoing flow of the melodic lines. The quality is definitely there, from a strictly performative point of view, that is. From a more purely esthetic one, however, the works themselves are of varying quality and interest. Of the Tartini works, the two movements of his sonata have more consistency than his Concerto in A Major, which seem less inspired than the Sammartini and Vivaldi pieces. The double stops on cello in the former Tartini work create the impression of a duo and the dissonances that ensue, which coupled with glissando effects, are oddly reminiscent of oriental music.
This page is also available in / Cette page est également disponible en:

Francais (French)