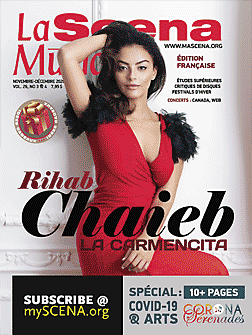 This page is also available in / Cette page est également disponible en:

Francais (French)
The Spirit and the Dust
Beverley Johnston, percussion; Marc Djokic, violin; Amici Chamber Ensemble
Centrediscs CMCCD 27920
Duration: 67 minutes
Earlier this year, the Canadian Music Centre released a recording that we strongly recommend: The Spirit and the Dust. It creates a psychedelic atmosphere with otherworldly sounds and features percussionist Beverley Johnston, violinist Marc Djokic and the Amici Chamber ­Ensemble. The sounds of the marimba and ­vibraphone occasionally transport us into a trance, making the music pleasant to hear despite the modern musical language. These appealing and accessible works are by Dinuk Wijeratne, Christos Hatzis, Norbert Palej and Richard Mascall, four active composers in the contemporary field. Wijeratne's The Spirit and the Dust gives the album its title and is characterized by an ethereal, floating atmosphere that is sometimes met with anxiety and horror. Divided into three movements, Hatzis's Vignette cycle is a nice dialogue between the marimba and violin, whereas Palej's Ser con Él combines music with spoken texts. To end the album, Johnston and Djokic come together once again in Mascall's Quantum Hologram, a ­masterful work that lasts more than 17 minutes and never runs short of musical ideas. This album will appeal to people who are still reluctant to ­listen to contemporary music.
This page is also available in / Cette page est également disponible en:

Francais (French)