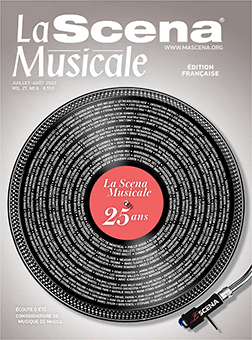 This page is also available in / Cette page est également disponible en:

Francais (French)
Found Frozen: Songs by Jeffrey Ryan
Danika Lorèn, soprano; Krisztina Szabó, mezzo-soprano; Dion Mazerolle, baritone; Steven Philcox, piano
Centrediscs, 2022
The Canadian label Centrediscs specializes in contemporary music and has accustomed listeners to performances for all kinds of ensembles and instruments. Found Frozen, however, is a return to a more classical form—that of piano and voice. This collection features new songs by Canadian composer Jeffrey Ryan, gathered into cycles (except for one song), and performed by three different singers and a pianist, Steven Philcox. Like so many others, this project comes to fruition after long, pandemic-related delays.
The album opens with the melody cycle that lends it its name, Found Frozen, sung by soprano Danika Lorèn. The music interweaves musical cultures, making it a rich experience. But  these three pieces seem a little hard, despite Lorèn coping well with the difficulties of the score, especially the interval leaps in the highest register. Perhaps that is why the challenges of the score seem so evident here. The next cycle, Miss Carr in Seven Scenes, showcases the singing talent of mezzo-soprano Krisztina Szabó. Listeners will discern her poise during both sung and spoken passages and her intelligent reading of the text. In some passages, the music matches the words wonderfully, like a madrigal, even if the composition styles have nothing to do with it. In Of Passion's Tide, baritone Dion Mazerolle balances vocal power and tenderness, able to show vulnerability in the best sense of the word, while remaining a master of technique. Where he really shines is in his subtle pianissimi, an emotional register where his singing is at its most attractive.
An album of contemporary songs might not be the first choice of lovers of the piano-voice repertoire, but the concept and soundscape of this homegrown composer are well worth the time.
This page is also available in / Cette page est également disponible en:

Francais (French)