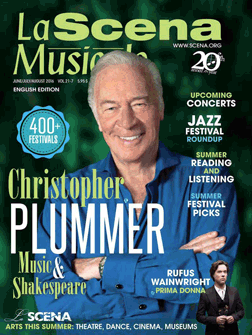 This page is also available in / Cette page est également disponible en:

Francais (French)
The Orchestre de la Francophonie will celebrate its 15th anniversary this summer. The program for the evening, which will take place at la Maison symphonique on August 7th, took some careful consideration. In the end, Artistic Director Jean-Philippe Tremblay chose Mahler's Symphony No. 2, "Resurrection."
"We chose this extraordinary work after considering what the musicians have been wanting to do for the last few years, although Mahler's compositions require a very large number of musicians which is not always easy to find," states Tremblay. "Moving from shadow into light, being very demanding of the musicians, this symphony is rewarding in its musical intensity."
The intertwining at the end of the choir with the two voices serves to underline the the event that is being celebrated. "We wanted a piece that would have the highest appeal for youth," explains Tremblay. "A piece that is heartwarming for humanity, one of those great musical moments when we feel connected as a whole."
To form the choir for this event, the Alliance des Chorales du Québec will recruit singers from all over the province. Approximately two hundred artists will be on stage, with two Quebecois singers showcased: France Bellemare, soprano (3rd prize winner, CMIM 2015) and Julie Boulianne, mezzo-soprano (4th prize winner, CMIM 2007).
Tremblay makes no secret of his desire to continue developing the orchestral academy as professional training for young musicians-in-the-making after their studies. The Orchestre de la Francophonie's academy is structured around three major objectives: training competent young orchestra players, training inquisitive musicians, and developing public-minded musicians who will become involved in their communities.
The educational aspect of the orchestra is one of the most important since youth need to learn the reality of being an orchestral musician, which involves more than just concert playing. Jean-Philippe Tremblay emphasizes the idea of a musician's involvement. With inspiration from orchestras that function well, he has noted that these are often groups where the musicians are active in managing the orchestra and are rooted in the community.
On another note, on the theme of youth involvement, the orchestra is launching the Jeunes Ambassadeurs à Haïti [Young Ambassadors to Haiti] program. Why? To send young musicians to train teachers on their own home ground and to work with the youth there.
"Remember, when one teacher is trained, that teacher will then train a hundred students," adds Tremblay. "We all become better musicians."
It was obvious that Tremblay wants to remain involved in such projects. Indeed, a partnership with Kinshasa in the Democratic Republic of Congo is already being developed with the objective of showcasing traditional African culture.
Translation: Karine Poznanski
This page is also available in / Cette page est également disponible en:

Francais (French)