This page is also available in / Cette page est également disponible en:

Francais (French)
With its 30 singers featured in the Serenades and its concert broadcast on demand on the quality platform OnJam.tv, La Scena Musicale's 12th edition of the Singing Valentines has turned into a true love festival.
It was an international edition, to say the least. For its Serenades, LSM brought ­together more than 30 singers of various nationalities and from different countries of the world such as Saudi Arabia, Israel, Italy, France, Germany, Switzerland and, of course, Canada. For its concert, LSM attracted 30 per cent of the audience from outside Canada. People from Venezuela, the United States, Mexico, Norway, Ireland, Spain, Turkey and elsewhere viewed the concert online.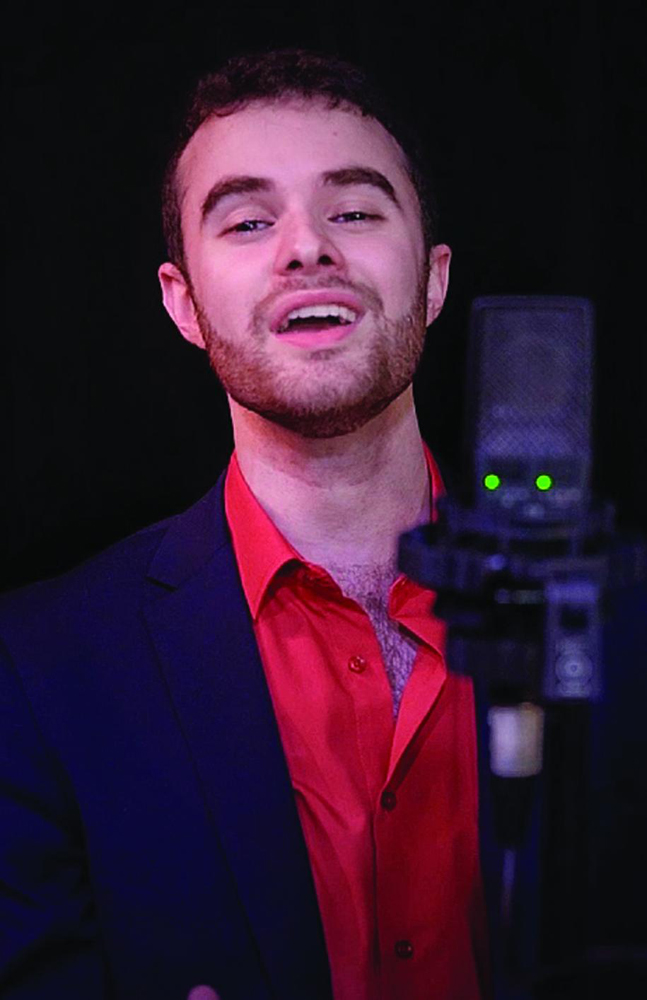 Let's remember the principle of the Singing Valentines. For a donation of $30 to $150, someone can give a loved one the romantic experience of a lifetime. Professionally-­trained singers sing a chosen song to the loved one—a parent, a friend, a co-worker, etc. Personalized serenades are offered via phone, FaceTime, Zoom and recorded video. This year, 30 singers volunteered their time for Valentine's Day, Feb. 11-14, to help raise funds for La Scena Musicale and give a special gift through song. People from across the country and around the world were able to order our famous Singing Valentines Serenade with 50 per cent of the proceeds going back to the ­participating artists.
Over the past two years, LSM has redoubled its efforts to give artists the opportunity to promote themselves and reach their audiences. Ania Hejnar, a Polish-born soprano living in Ontario, comments, "As an artist, I was very pleased to see the exposure the magazine provided to artists and the effort put into reaching out to the public. It had been a long time since we had been brought together, artists and audience. From the comfort of my home, I was able to perform meaningful songs for others, requested by their loved ones. Music creates unity. It brings comfort, peace and happiness, no matter what form it takes. It was such a pleasure to be a part of the Singing Valentines! I look forward to sharing this intimate and precious gift of music in the future." Queen Hezumuryango, a Burundian-born soprano living in Montreal, said: "The Singing Valentines were an opportunity for me to share my love for music in these uncertain times. It was a unique and memorable experience; I only hope that my joy reached my listeners."
So, while the experience is unforgettable for the person receiving a Singing Valentine, it is also unforgettable for the singers. Joseph Terterian, a Syrian-born tenor of Armenian ­origin living in Dubai, says, "It is always ­wonderful to use our voices for a cause. Singing Valentines was a great opportunity to do so. The best gift you can give someone is a musical gift, especially if it is personalized. I couldn't have been happier to be a part of such a wonderful initiative and to spread the love through song. The team behind the scenes was super professional and helpful, giving us ­wonderful content ideas and guiding us through the process and the event. I'm very happy to have been part of the event and look forward to working with LSM again."
The concert, which premiered on Feb. 12 at 7 p.m. on the OnJam.tv concert platform and remains available for viewing, features renowned local artists such as cellist Stéphane Tétreault, sopranos Raphaëlle Paquette, Valérie Poisson and Kripa Nageshwar, mezzo-sopranos Marion Germain and Marie-Andrée Mathieu, tenors Nils Brown and Don Adriano and baritone Simon Chaussé.
Since the beginning of the pandemic, LSM has organized several broadcast concerts on the themes of Christmas, the coronavirus, nurses, Mother's Day, Father's Day and Valentine's Day. Vivianne Jeanson-Delorme, the concert's director and video editor, reminds us that producing somewhat atypical holiday-related events has become LSM's signature, and how important it is to renew ourselves year after year. "If we produce events year after year for Valentine's Day, Mother's Day, Father's Day, etc., what's central for me is to try to do something different each time, figure out how to repeat without being repetitive. You have to rethink the colour scheme, the vision, etc."
The quality of the concert this time was greatly enhanced by the fact that it was ­presented on OnJam.tv. Adrian Rodriguez, concert co-ordinator and director, explains the advantages of using a professional ­platform rather than YouTube and Facebook to present a concert. "First, we had no loss of quality in both sound and image, so ­technically we were able to present something much more advanced than before. Secondly, the audience ­response was much better. It seems like our audience took it more seriously and most of the 400 people who watched our show watched it in its entirety. For the ­previous shows on YouTube and Facebook, we were reaching 5,000 views, but the average viewing time was a minute or two. Personally, I find it much more rewarding to have 400 people watch the whole thing than 5,000 who watched a small part of who-knows-what actually."
Another reason La Scena Musicale's concerts are so successful is its partnership with Piano Esmonde White, which lets LSM use its recording studio. "It's been a really nice partnership," Rodriguez  says, "that has ­allowed us to have the artists in person and control the quality."           
This page is also available in / Cette page est également disponible en:

Francais (French)