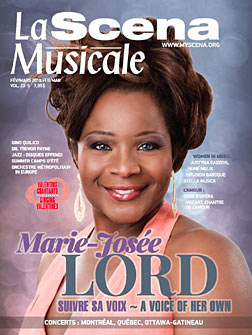 Say it in … Karaoke!
Make a list of the meaningful songs in the history of your relationship and sing them in a karaoke bar. After each song, take the time to remember the details of the moment the song referred to. Emotion at its peak! For the nostalgia of the good old days, the Astral 2000 bar at 1845 Ontario St. E. is perfect. Those who prefer a non-alcoholic bar can try the Kool Café at 5416 d'Iberville St.
Celebrate Love on Foot!
The organization Les amis de la montagne (Mount Royal) is planning a snowshoe hike on Feb. 9 and 10 as a special Valentine's Day weekend event. Accompanied by a guide, discover snowshoe mountain trails and breathtaking views of the city. A glass of sparkling wine and a chocolate truffle will be offered during the hike. www.lemontroyal.qc.ca
Idyllic Evening at Biddle's Jr.!
Plan a more relaxed Valentine's Day, which is sure to be a love tonic. Try a Nordic spa session at Bota Bota or Scandinave Les Bains in Old Montreal, followed by a romantic dinner in Biddle's Jr. Resto Cabaret Bar at 209 Notre Dame St. W. Sublime jazz nights crown the reputation of this restaurant, which is also known for its ribs and especially its signature cocktails named in tribute to jazz legends. This Valentine's Day menu offers a Love Celebration with table d'hôte and music by Charles Biddle Jr, son of the restaurant's founder, Montreal jazz legend Charles Biddle. www.biddlesjr.com
Opt for an exotic or traditional Valentine's Day!
La Sala Rossa presents the Ethnic Heritage Ensemble with maestro multi-percussionist El'Zabar and an Improvised Soul Tour. Furthermore, Couscous Comedy Show offers an evening of humor and succulent dishes of couscous at the Rialto Theater. Also noteworthy is the show by multidisciplinary artist Fred Pellerin, who presents Un village en trois dés in the Théâtre Maisonneuve of Place des Arts. www.placedesarts.com
Dare the unusual!
Experience a romantic date in a burlesque club. The exploratory journey of this special universe will put you in a different frame of mind. Fun, laughter and excitement guaranteed! This year, Valentine's Day (Wednesday) coincides with the big weekly variety show (art of burlesque, comedy, dance, magic, circus, music, etc.) that distinguishes the Wiggle Room club. www.wiggleroom.ca
Free fall into love!
Experience the same sensations as a parachutist during the free fall portion of a jump. Take advantage of the promotion offered on this exciting flight to remember. Fascinating photos and a video of your new experience can be yours to share with your dear ones. And above all, to watch later with your children and grandchildren. Joy in its purest state! SkyVenture Montreal at Centropolis. www.skyventuremontreal.com
Attend Ladies Night!
On this special Valentine's Day, Théâtre Maisonneuve presents, on Tuesday, February 13th, the worldwide successful play Ladies Night. Follow the story, written with remarkable mockery, of a group of unemployed friends who develop a male strip show to impress women, but especially to prove to themselves that they can exist. Hilarious, especially these days! www.placedesarts.com
La Scena Singing Valentines
La Scena's 2018 fundraising campaign begins with our 8th edition of Singing Valentines. This year, we receive the invaluable collaboration of sopranos Chantal Dionne, Raphaëlle Paquette and Marie-Claire Fafard-Blais, mezzo Marie-Annick Béliveau, tenor Wah Keung Chan, baritone Simon Fournier and the participation of singer Dino Spaziani. For the price of a flower bouquet (a donation of $ 30 to $ 60, student rate of $ 20), give your beloved a unique gift on this Valentine's Day: a famous song interpreted on the phone by a professional opera singer. Visit www.mySCENA.org for a list of songs (including such favorites as My Heart Opens to Your Voice, Che Gelida Manina, My Funny Valentine, and other popular hits). You can check the availability of singers, listen to clips and read testimonials from previous years before calling us to place your order at 514-948-2520 ext. 3, or at don@lascena.ca.
Translated by Mélissa Brien