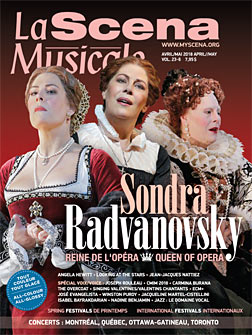 This page is also available in / Cette page est également disponible en:

Francais (French)
The Montreal Russian Seasons, a celebration of Slavic art and culture, takes place this year from May 10 to June 2. The organizers have put the accent on the Jewish and Yiddish influence in Slavic countries.
The opening cocktail and gala concert on May 10 at 7:30 p.m. at the Centre culturel Notre-Dame-de-Grâce features Ewa Sas, violin; Jean-Michel Dubé, piano; Johanne Patry, mezzo-soprano; and the Montreal Piano Duo, who will play piano four-hands repertoire.
For its sixth edition, this festival hopes to introduce the richness of the Slavic culture to the Quebec and Canadian public by drawing attention to the music of Russian composers, including Prokofiev and Shostakovich, who have been influenced by Jewish culture.
"There will also be introductions to pieces from composers of Jewish origin from Slavic countries like Henryk Wieniawski and Boris Pigovat," explains artistic director Irina Krasnyanskaya, a pianist who teaches at the University of Montreal.
One novelty this year is a presentation on May 15 by Krasnyanskaya on the soundtrack of Prokofiev et le cinéma at the Centre culturel Notre-Dame-de-Grâce. The festival will also pay tribute to the great filmmaker Sergei Eisenstein.
Multidisciplinarity and diversity
The artistic director looks forward to the participation of distinguished artists such as pianist Ilya Poletaev, a Montrealer of Russian and Jewish origin and professor of piano at the Schulich School of Music of McGill University. Poletaev presents a Russian program on May 23 at the Chapelle historique du Bon-Pasteur.
On May 27, at the Conservatoire de musique de Montréal, the Russian Seasons showcase its multidisciplinary approach with a mix of chamber music and poetry. Featured are Krasnyanskaya, violist Elvira Misbakhova, clarinetist Airat Ichmouratov and the Turovsky Quartet, who will interpret works by Prokofiev and Pigovat.
The final concert takes place on June 2 at Salle Claude-Champagne. Klezmer music will be celebrated with cellist Stéphane Tétreault, clarinetist André Moisan and the Orchestre Nouvelle Génération. Another highlight of the evening is an appearance by Kleztory, an ensemble that specializes in traditional Jewish music.
Translated by Viviane Reid
This page is also available in / Cette page est également disponible en:

Francais (French)