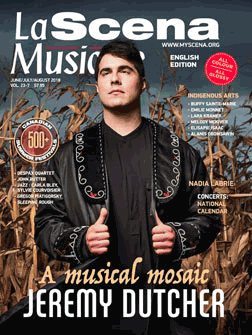 This page is also available in / Cette page est également disponible en:

Francais (French)
War came to an end with the Treaty of Versailles. Music societies and festivals around the world are observing the centenary and paying their respects.
Reflections of Wartime is the theme of this year's Toronto Summer Music Festival, which runs from July 12 to Aug. 4.
"I didn't want it to be just World War I-inspired, but wartime-inspired in general," artistic director Jonathan Crow explains. "An incredible wealth of music comes from wartime and not all of it dark."
Toronto Summer Music combines a festival with an academy program for pre-professional classical musicians. Most have completed their undergraduate degrees and are about to embark on the ambitious transition to professional life.
The transition can be challenging. "In university ensembles, you can practice a piece for up to six weeks – you get so much time – before you perform it," Crow says. "In the real world, it's a much quicker turnaround."
Orchestral musicians sometimes prepare for a performance on as little as one reading.
Academy musicians work onstage with leading professionals. "The idea is to learn by doing," Crow says.
After performing with TSM for six years, Crow took the helm two years ago from Douglas McNabney.
"It was a nice transition," the Toronto Symphony Orchestra concertmaster says. Now he relishes the opportunity to attend concerts as well as perform in them.
"I come up with the theme for the season, but it always changes the second I start engaging with artists," Crow says. Last year TSM celebrated Canada's sesquicentennial.
TSM will be offering something new on July 29: Community Day.
Three free concerts are on offer. A morning chamber program in Walter Hall features players from the National Youth Orchestra. In the evening, the 95-piece NYO performs music by Strauss, John Estacio and Alison Yun-Fei in Koerner Hall.
In the afternoon the Canadian National Brass Project under James Sommerville performs in the Bentway, an outdoor space underneath Toronto's Gardiner Expressway, not far from Fort York.
"I wanted to bring [the music]back to the community and have things for the whole family to do," Crow explains. "Something where they can enjoy a concert outside without the fear of clapping in the wrong place."
For programming and ticket information go to www.torontosummermusic.com.
This page is also available in / Cette page est également disponible en:

Francais (French)