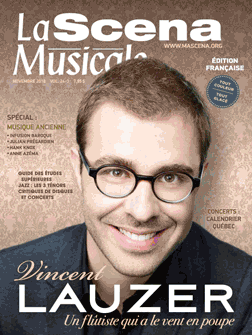 This page is also available in / Cette page est également disponible en:

Francais (French)
"I never had it in mind to become this sort of professional composer, but mainly a performer," says Paquito D'Rivera. The son of a classical saxophonist, this clarinettist/saxophonist/composer has music his blood.
"Then time passed by and for some reason people started being interested in my music. So now I am something like a woodwind player who composes or vice versa, like in the old times!"
Born in Havana, D'Rivera started studying with his father and made his debut at age 10 with the National Theatre Orchestra. After continuing his studies at the Havana Conservatory of Music, he was a featured soloist at age 17 with the Cuban National Symphony.
"We listened to all types of music at home, from Mozart, Weber and Sigurd Rascher to Mario Lanza, Charlie Parker and Ernesto Lecuona," D'Rivera says. He credits the great French composer Maurice Ravel and in particular his Pièce en forme de Habanera for igniting his passion for composition.
"When I was, like, 12 years old, inspired by that piece, I wrote my own 'Habanera' for three clarinets. Many years later that became part of my Aires Tropicales, a work in six movements commissioned by the Aspen Woodwind Quintet."
The 14-time Grammy Award-winning artist has a discography that includes more than 30 solo albums as well work with Irakere. This group has an innovative sound: an explosive mixture of jazz, rock, classical and traditional Cuban music that led to D'Rivera's first Grammy. When I jokingly asked him if he had a favourite among the 14, he was ready with a response.
"Maybe Song for Maura, because it was dedicated to my late mother, but all those recording projects had a very special appeal. They are like my own children."
The jazz legend has performed with greats all over the world. He was a founding member of the Grammy-winning United Nation Orchestra organized by Dizzy Gillespie. "A great guy with a fantastic musicality as well as a unique sense of humor," D'Rivera says of the trumpeter. "Everybody loved him." D'Rivera has also received a Lifetime Achievement Award from Carnegie Hall in 1991 for his contributions to Latin music.
Not content to be an award-winning performer and composer, D'Rivera also has a few literary titles to his credit, including an autobiography, My Sax Life, and a work of fiction, Oh, La Habana. When I asked if he had any plans to write anything else, he says: "My most recent book is titled Letters to Yeyito, an epistolary [novel]with an imaginary music student who is wondering if it is worth it to pursue a career in the music business.
"I must tell you how much fun it was to write about all those crazy things that I saw in over 60 years on the road."
D'Rivera will be hitting the Koerner Hall stage at the Royal Conservatory of Music in Toronto with the incredible Harlem String Quartet. When I asked him how his association with the quartet came about, it seemed that it may have been in the cards all along.
"I've known [Harlem String Quartet violinist and fellow Cuban] Ilmar Gavilan since he was a kid," D'Rivera says. "His grandfather, Juan Jorge Junco, a great clarinetist, was a friend of my dad and one of my first inspirations on the clarinet. So I guess sooner or later we'd end up doing some kind of project together."
The Harlem String Quartet was founded in 2006 by the Sphinx Organization, a non-profit whose focus is building diversity in classical music and providing music education to underserved communities. The group, which has been seen onstage in the U.K., France, Belgium, Japan, South Africa, and across North America, brings diverse programming combining standard string quartet canon with Latin, jazz, and contemporary works.
The program features works by William Bolcom, Debussy, von Weber, as well as several by D'Rivera himself. I asked D'Rivera where his inspiration for composing is drawn from.
"I don't know how to answer that question, but I can say that I deeply enjoy the music of an array of composers (as well as arrangers) as different as Stravinsky, Antônio Carlos Jobim, Brahms, Lecuona, Respighi, Billy Strayhorn, Debussy and Chick Corea, among so many others that in some way might have inspired or had some influence on my writing."
"We put together an eclectic program for this occasion," he says, "thinking of the mixed audiences that attend our performances."
Eclectic is crucial. "I always like to include some improvised sections in my performances, and that's something that people expect from me too."
When asked whether he prefers to perform jazz or classical, he says, "I also love the music of some of the so-called classical composers, and that's why I recorded Jazz Meets the Classics. The great Duke Ellington always said that good arranging is like re-composing."
D'Rivera is always experimenting. "We did some rhythmic arrangements of Beethoven, Mozart, Barrios Mangoré and Chopin. It is like having the best of two worlds, making believe that those musicians were born in Cuba, Brasil, Peru or even New Orleans."
Paquito D'Rivera and the Harlem String Quartet
perform on Dec. 7 at Koerner Hall. www.rcmusic.com
This page is also available in / Cette page est également disponible en:

Francais (French)