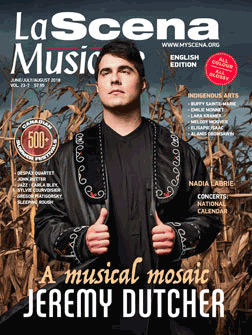 Oh, it's been a long one," Barbara Smith laughs when I ask about her history with the National Youth Orchestra of Canada.
The NYO Canada is a summer training institute that brings together musicians aged between 16 to 28 years old to rehearse and tour two concert programs. A former cellist with a background in orchestral management, Smith has been the executive and artistic director of the organization for 15 years.
Once a year the group gathers under the baton of a guest conductor. Formerly, this position would rotate every year. Smith has decided to extend the engagement to two years.
"Most of the students come back," Smith explains. "So this gives the conductor more time to help grow the orchestra." She says students respond well to the continuity.
Finding appropriate repertoire is a challenge.
"We're a training program, so we have a lot of instruments," Smith says. "We have two harps, keyboard, quadruple winds."
It can be difficult to find pieces that accommodate such massive instrumentation. Repertoire this year is by Copland, John Estacio, Gershwin, Vaughan Williams, Strauss and Scriabin.
Back for the second year of his term, Jonathan Darlington of the Vancouver Opera leads these elite young musicians on a five-city tour of Ontario (Parry Sound on July 24, St. Catharines on July 26, Toronto on July 29 and Ottawa on Aug. 3) and Quebec (Montreal on Aug. 1) before they head off for Germany and Scotland.
For their first overseas stop, on Aug. 8, the NYO will perform in the Berlin Konzerthaus as part of the Young Euro Classic festival. Two days later the orchestra visits the Staatstheater of another German city, Kassel. The tour closes on Aug. 14 with an appearance under the auspices of the Edinburgh International Festival.
"It's upon invitation only, so it's a real honour and privilege to be going," Smith says of this famous event.
New this year to the orchestra's injury and health program is a mental health component. Students can attend seminars and receive counseling from qualified professionals.
"It's become very important." Smith says. This initiative is made possible through the support of the Murphy Foundation.
There are already plans for 2019 and 2020. Under the next conductor, Michael Francis, the crew heads to Spain and possibly the UK.
For information on the 2018 tour go to www.nyoc.org.