This page is also available in / Cette page est également disponible en:

Francais (French)
Mother's Day is the sort of manufactured holiday often cloaked in sentimentality and clichés. Long-stemmed red roses, exorbitantly overpriced brunches, ­cloying greeting-card poetry—all point to a skewed, idealistic view of motherhood. The commercialization of Mother's Day does a disservice to the endlessly nuanced roles mothers play in all cultures, and the incredibly complex relationship their children have with them. 
If Mother's Day is all chocolates and ­bouquets, then opera's mothers are contrastingly short-shrifted in another way, almost always portrayed as harridans and manipulators with a penchant for infanticide or suicide. But mostly they are distant, off-stage presences, usually only granted supporting, cameo role status if they appear at all.
This isn't surprising given so much of the core operatic repertoire comes from the 19th century, an era in which motherhood was ­idealized through the example of Queen ­Victoria who epitomized middle-class femininity and domesticity. Coventry Patmore's popular poem, "The Angel in the House," popularized the notion that women should be submissive, passive beings whose only role was as devoted, perfect mother and wife. Such paragons of ­womanhood simply may not have been viewed as fodder for full-blooded operatic drama. 
Rather than as exemplars of comfort and safety from the outside world, opera mothers are more often presented as potentially ­dangerous, murderous and unhinged. One of the only mothers in opera who could ­legitimately be called a main protagonist is Azucena in Verdi's Il trovatore. The composer himself famously considered naming the opera after her. Azucena's life is tragically scarred by the memory of her own mother's violent burning at the stake. In her quest for vengeance, she steals the infant son of her mother's murderer, but in a manic rage, accidentally kills her own child instead. 
Not quite in Azucena's league, but close, is Bellini's Norma who contemplates murdering her two children to avenge their father who is currently having an affair with Norma's friend and fellow priestess, Adalgisa. She doesn't go through with it, but still abandons her offspring when she commits suicide with their father at the opera's end. Certainly not a greeting-card-worthy example of perfect motherhood!
But at least Azucena and Norma are ­complex, full-blooded creations. Many operatic mothers are sidelined, referred to only in ­passing by characters who get actual stage time. Don José's mother in Bizet's Carmen, for ­example, is a distant, feeble presence who is used to guilt the young soldier into abandoning his fiery affair with the "'dangerous" gypsy. In Donizetti's Lucia di Lammermoor, the title character's grief over her deceased mother is ­offered as an excuse for her distress when forced into an unwanted marriage by her brother ­Enrico. These mothers exert influence from afar but are hardly fully fleshed-out characters. 
Somewhere in between larger-than-life Azucena and Don José's invisible mother lie several operatic mothers who are heard on stage, albeit in small, but impactful form. One of the most powerful moments in all opera is the trio, "Chère enfant! Qu'e j'appelle" from the Antonia act of Offenbach's Les contes d'Hoffmann. Here, in several degrees of meta, the soprano plays an actual singer whose (once again, dead) mother is conjured from beyond the grave to encourage her daughter to literally sing herself to death. Then, in Mascagni's Cavalleria rusticana, although she only appears in a couple of brief scenes, Mamma Lucia stands as one of opera's few sympathetic opera mothers. She represents a strong, maternal archetype to whom Santuzza confesses her affair with Lucia's son, Turridu, but still, mainly functions as a sounding board without much personal agency.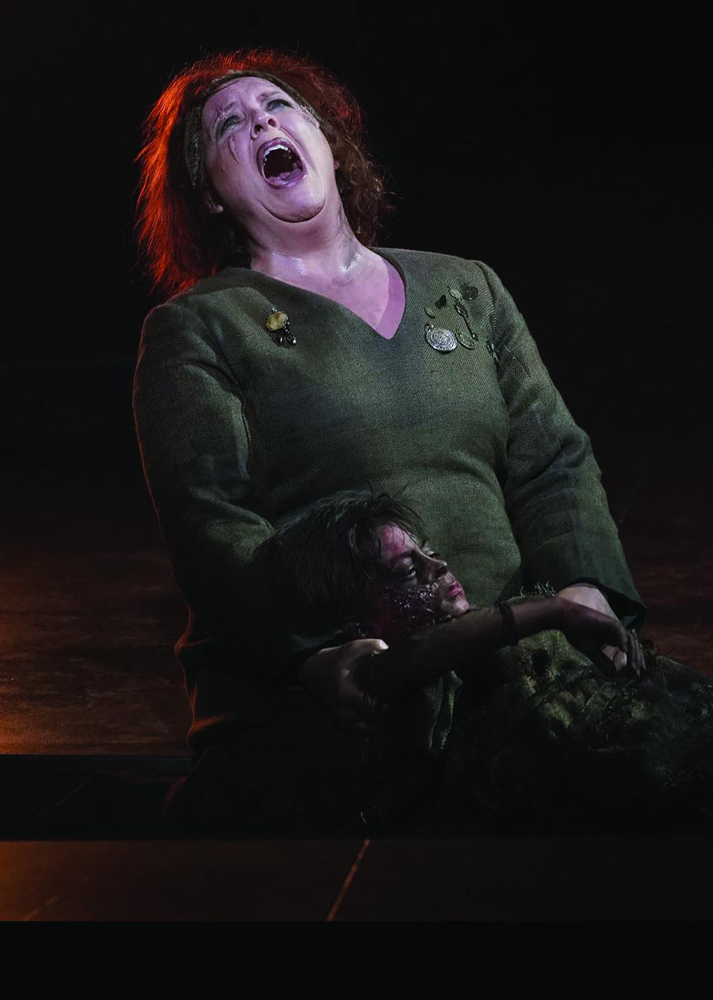 Fairy tales are replete with wicked mothers (or, more often, stepmothers) and their opera counterparts show many aspects of these ­fearsome maternal figures. Some versions of the tale on which Humperdinck's Hansel and Gretel is based speculate the wicked (step)mother and the witch are, in fact, the same character. It's not unusual for opera companies to cast one singer in both roles, a choice supported by the original story in which the mother dies just after the children kill the witch, suggesting, metaphorically at least, they may be the same woman. 
The most famous fairy-tale opera of them all, Mozart's The Magic Flute, also happens to feature one of the repertoire's most infamous mothers, the Queen of the Night who tries to force her daughter, ­Pamina, to murder the story's father-figure, Sarastro. The standard view of the queen is as an archetypal evil witch whose fearsome music with its stratospheric staccato high notes only reinforces her outsider status. The Magic Flute is a singspiel in which spoken dialogue ­alternates with the musical numbers. Most ­contemporary productions truncate the spoken passages, which has an especially brutal effect when it comes to our view of the queen. In ­stagings that use fuller versions of the text, we learn the queen's late husband was Sarastro's predecessor who, instead of passing his power onto his wife and daughter upon his death, hands it over to another man (Sarastro). Just before her most famous aria, "Der Hölle Rache kocht in meinem Herzen", the queen tells ­Pamina that her dead husband felt his kind of power was "beyond the grasp of a woman's ­intellect." The Queen of the Night's bitterness suddenly seems more justified. Within this ­context, the two heroic, virtuosic arias Mozart bestowed on the queen emerge as a protest against her lot, and she can no longer merely be pegged as a villainous mother.     
This page is also available in / Cette page est également disponible en:

Francais (French)