---
Advertisement – Publicité (Vidéo)
---
This page is also available in / Cette page est également disponible en:

Francais (French)
#_EVENTTYPES placeholder matched
#_EVENTCLASSIFICATIONS placeholder matched
• Philippe Meunier & Ian Yaworski •
Suspendu au sol
C'est le temps d'enlever nos pantoufles! Deux chorégraphes travaillent avec de nouveaux collaborateurs. Quatre danseurs contemporains s'adonnent à la gigue pour la première fois, générant des sons en mettant de côté les canons de la tradition. Les yeux y verront de la danse contemporaine; les oreilles, elles, reconnaîtront la gigue. Les artistes souhaitent suspendre le temps en examinant le rapport entre différents corps. Ces mondes qui se frôlent dans l'exploration du folklore – sans jamais que s'y déploie la virtuosité du gigueur – ne laissent aucune place à la censure.
–
Time to take off our slippers! Two choreographers work with new collaborators. Four contemporary dancers give gigue a try, producing sounds by leaving aside traditional canons. The eyes will see contemporary dance; the ears will recognize gigue. The artists wish to suspend time by studying the relationship between different bodies. These worlds that brush up against one another in the exploration of folklore – without ever giving into the virtuosity of the gigueur – leave no place for censorship.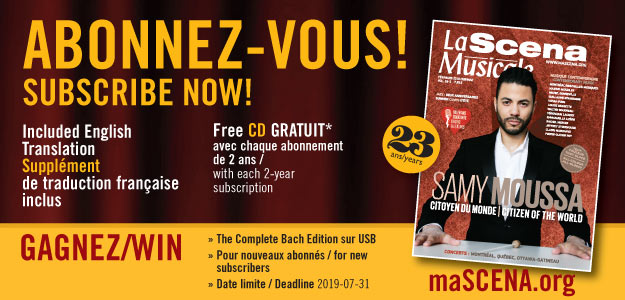 Sur scène / Onstage: David Campbell, Catherine Lafleur, Geneviève Lauzon, Liane Thériault. Collaborateurs / Collaborators: Corinne Crane, Cédric Dind-Lavoie, Benjamin Prescott La Rue, Cloé Alain-Gendreau.
Une coprésentation avec / A copresentation with Bigico.
• Stacey Désilier •
Pythagore mon corps
Une scène sombre, des costumes éclatants de couleurs néon. Comment trianguler le sens du timing entre l'individualité, la musicalité et la gravité? Plusieurs traditions se côtoient afin d'offrir aux interprètes différents langages corporels. Arts martiaux, danses urbaines, boxe… tout est prétexte à lutter contre la chute et retarder la rencontre avec le sol. La chorégraphie se compose à travers des variations dans l'amplitude des mouvements, la durée des séquences et le nombre de répétitions. Les solos s'enchainent aux interactions et le spectateur est témoin de l'éternel balancement entre la rationalité et l'animalité humaines.
–
A dark stage, fluorescent costumes. How to triangulate the sense of timing between individuality, musicality, and gravity? Many traditions intermingle, providing the performers with different types of body language. Martial arts, urban dances, boxing – everything is a pretext to resist falling and to delay hitting the ground. The choreography is formed through variations in breadth of movement, in sequence length, and in the number of repetitions. As solos alternate with interactions, the spectator witnesses the eternal balancing of human rationality and animality.
Sur scène / Onstage: Charles Brecard, Justine Chevalier-Martineau, Noémie Dufour-Campeau, Roxanne Dupuis, Maïka Giasson, Alexandre Wilhelm. Collaborateurs / Collaborators: Mathieu Desjardins, Benoit Lariviere, Joël Lavoie, Marie-Pier Proulx.
Date/Time
Date(s) - 06/02/2020 - 08/02/2020
7:30 pm - 9:00 pm
Location
ÉDIFICE WILDER - Espace danse
Price Range
$21-29
Event Artists
No Information
Phone Number
514-525-1500
Event Website
https://tangentedanse.ca/evenement/philippe-meunier-ian-yaworski-stacey-desilier/
Event Facebook
https://www.facebook.com/events/2461704667382397/
Categories
Types none
Classification of ensemble/soloist none
This page is also available in / Cette page est également disponible en:

Francais (French)