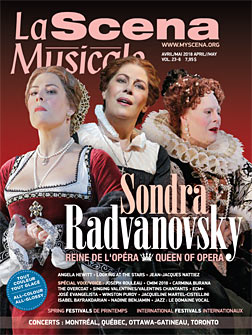 This page is also available in / Cette page est également disponible en:

Francais (French)
As part of its 30th anniversary, the Ensemble contemporain de Montréal will delve into its second staged opera production. Hockey noir is a chamber opera built on film noir, where dark atmospheres, conspiracies, investigations and seduction prevail. The action takes place in 1950s Montreal, in the heart of hockey playoffs that see the Montreal Quabs facing the Toronto Pine Needles.
ECM+ artistic director Véronique Lacroix has asked Cecil Castellucci to write the libretto and André Ristic to compose the music. This creative duo produced the comic book opera Les aventures de Madame Merveille in 2010.
"Madame Merveille was memorable," Lacroix said. "Its performance led to many other large-screen productions.
"From this first innovative and illustrated opera, the crucial visual aspect has turned into a unique expertise. It was only logical to celebrate 30 years with Cecil and André, two individuals who have left their mark on our company."
Hockey and Investigation
A string quartet, keyboardist, percussionist, and four solo singers will perform on a skating rink-like stage. Musicians wear hockey shirts and the conductor, dressed as a referee, will be part of the action. Illustrations by Kimberlyn Porter are projected on a large screen in form of the letter H at the back of the stage.
As the concert trailer makes clear, projection designer Serge Maheu occasionally animates images to make them livelier.
"This gives the images more immediacy," Lacroix explained. "The old-fashioned, mechanical, and hand-crafted aspect underscores the period and magnifies the characters' features."
Characters are caricatures in nature. Baritone Pierre-Étienne Bergeron plays Romanov, a mafioso who menaces the hockey scene. Mezzo-soprano Marie-Annick Béliveau plays the colourful Madame Lasalle, a double-game femme fatale.
Soprano Pascale Beaudin has an unusual role, Bigowsky, a star player who gets in trouble because of gambling. She must fake her own death and take on her female disguise at the end. Lastly, tenor Michiel Schrey is Lafeuille, a veteran wishing to win the Cup in what will be his last series.
Voice-over character Detective Loiseau oversees an investigation. He unravels the action and progressively tells a story to the audience. All characters, in their own way, are searching for power and love.
"By the time the story ends, it is easy to see that every performer has tried to solve their own mysteries," Lacroix said with a smile.
Dark Style
Librettist Castellucci is a film noir and detective novel enthusiast. "Shadow and light are used to increase dramatic effect," she said. "It's really interesting. In this story, I have made use of key elements, namely, a mystery, detective, femme fatale, and robber."
The concept behind Hockey noir came to life when the composer recounted an anecdote to Castellucci. This was the story of former Toronto Maple Leafs player William "Bashin' Bill" Barilko.
During the 1950–1951 season, his overtime goal in Game 5 of the finals won the Stanley Cup for the Leafs. Barilko went missing during the summer; his body was found only a decade later. He died in an air crash as he embarked on a hunting trip.
Originally a cartoonist and novelist, Castellucci is not a traditional librettist. "I write stories as if they were scenarios, and I do the same with my comic strips. I am always prepared to delete texts – words, in this case – to improve the overall picture."
This bilingual libretto is a testament to its American roots. Castellucci was born in the United States, and lives there today, even though she lived in Montreal for many years.
"Montreal is a cosmopolitan and bilingual city, making it crucial to have a bilingual libretto." she said. "The text is mostly in French, but I have scattered English here and there."
Contemporary Opera
André Ristic has collaborated with ECM+ since 1996. "He has been truly inspired," said Lacroix. "His rhythm-filled and dancelike vocal music reflects his parents' Slavic origins.
"He did not deprive himself of harmonic knowledge of the piano to create music that is modern, melodic, and harmonic through various tensions. When we hear the characters sing, it is easy to tell what their psychological profile is."
The composer has loved classical and romantic operas since his childhood. From a musical perspective, this work deliberately nods at Mozart operas and the tradition of male roles played by a woman.
This will not be a challenging "modern" opera. "We are working with restraints of the human voice," Ristic said. "I believe that experimental contemporary music restricts modern opera and leaves audiences puzzled. It was important for me to create an accessible work, not an artistic manifesto."
Hockey and a string quartet were the two starting points. "I wanted to create a skating rink atmosphere, so I used the keyboard to simulate a sound bank and a period electronic organ," Ristic explained. "The percussion depicts Montreal's urban side, and the string players serve as a reminder of films during this period, like those by Hitchcock."
This opera will be performed in two rival cities. Montreal will be the first stop, followed by Toronto. The tour ends in Belgium, the composer's adoptive country.
He will take advantage of this travel agenda to be overtly political. "We are broaching a subject and language dear to the heart of Quebecers."
Expect a 75-minute, bustling investigation without intermission, punctuated with dramatic, light and comic scenes. "It is possible to find a thread of poetry in the story's unexpected conclusion," Lacroix confided.
Hockey noir, May 3 and 4, 7:30 p.m., Monument-National.
www.ecm.qc.ca

See the trailer.
Translated by Dwain Richardson
This page is also available in / Cette page est également disponible en:

Francais (French)