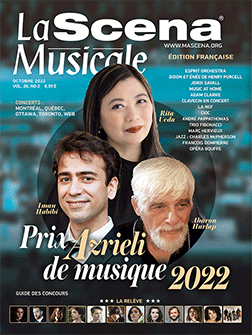 This page is also available in / Cette page est également disponible en:

Francais (French)
Although she is still but poised on the precipice of a career full of promise, contralto Rose Naggar-Tremblay has been charming audiences for many years. The Montreal native began her musical studies at 12 years old, and went on to receive a degree in vocal performance from McGill before joining the Atelier Lyrique de l'Opéra de Montréal in 2017, where she sang the role of Zora in their 2018 Opus Prize-winning production of Ana Sokolovic's Svadba, as well as Getrude Stein in Twenty-Seven, and Gabrielle in the première of La nuit est ma femme.
More recently, her work as an opera singer has taken her to Bulgaria, where she made her European debut in the title role of Carmen with the Sofia Opera; to France, where she won first prize in the 2021 Enesco Competition; and to Germany, Italy, Korea and the Netherlands, for contracts received as a result of her success in the 2021 Jeunes Ambassadeurs Lyriques Gala. She credits her recent successes—and a renewed confidence in her voice—with "rebuilding trust in (her) instinct, and finding the right team."
Naggar-Tremblay is also an avid chamber musician, and has been featured as a soloist in Palmieri's Magnificat, Handel's Messiah, Mozart's Requiem and Duruflé's Requiem, as well as in performances of various cantatas and recitals, namely for the Montreal Baroque Festival, the Highlands Opera Studio, and the Toronto Summer Music Festival. Naggar-Tremblay is a true renaissance woman in her field, working additionally as a composer, librettist, and songwriter.
The 2022-23 season will be Naggar-Tremblay's last predominantly North American season for the foreseeable future.  This fall she will take part in the Jeunes Ambassadeurs Lyriques Gala (Oct. 13-15), as well as in concerts with Les Rugissants (Montreal, Oct. 26-29 and Nov. 2-3), and the Orchestre Philharmonique et Coeur des Mélomanes, with whom she will perform as a soloist in Verdi's Requiem (Nov. 13). In November, she will take up residency in Augsburg, Bavaria (in Germany) before returning to Canada for numerous holiday concerts, followed by the highly anticipated release of her solo album of original compositions, Je me souviens à toi, on Jan. 27, 2023. "Training as an opera singer gave me great liberty with my vocal expression," she said, "and songwriting keeps me close to storytelling and poetry. Everything in between is research and feeds my curiosity."
Naggar-Tremblay looks to an exciting spring of highly diverse engagements both at home and abroad, including: recitals at Bon Pasteur (Montreal) in February and March; performances as the Second Wood Sprite in Dvorák's Rusalka, in France, throughout May and June; and as Bradamante in Handel's Alcina with the Manitoba Chamber Orchestra later in June—to name a few.
The upcoming years will have her mostly working in Europe, with details of her engagements yet to be announced. Canada will surely miss this rising star, but how lucky we have been to hear her voice across our country in the early years of her flourishing career.
www.rosenaggartremblay.com
This page is also available in / Cette page est également disponible en:

Francais (French)