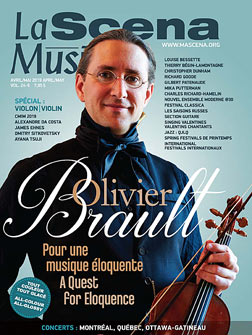 This page is also available in / Cette page est également disponible en:

Francais (French)
Last February, the Opus Tribute Award from the Conseil québécois de la musique (CQM) went to Gilbert Patenaude in recognition of a long career. He is known for his commitment to choral singing, particularly as the director, for 38 years, of Les Petits Chanteurs du Mont-Royal. It is with dedication and rigour that he has taken on a demanding pedagogical and musical load that includes, in addition to teaching, more than 80 annual performances, religious services and other events. His achievements with young singers include no fewer than 23 international tours and a dozen recordings. He has trained more than a thousand boys, addressing an immense repertoire ranging from Gregorian to contemporary music, from the great polyphonic works of the Renaissance to folksong.
The choir director has also achieved much with Les Troubadours de Terre des Hommes, the Vaudreuil-Soulanges Choir, Les Voix d'Elles, Les Filles de l'Île et Le Chœur Enharmonique. He still manages the men's choir Les Chantres musiciens, which he founded in 1992.
Despite having been initiated to music early by the clerics of Saint-Viateur, then at the Vincent-d'Indy School, Gilbert Patenaude was destined for a career in social work. Without completing his studies in social sciences, he found his first job as a music teacher in Matagani, north of Abitibi. When he returned to Montreal three years later, it was to study at the Conservatoire, including conducting, singing and musical analysis in the classes of Remus Tzincoca, Pierre Mollet and Gilles Tremblay.
Patenaude is also a composer whose range of works includes choral music, chamber music, opera, musical tales and songs for voice and piano in addition to hundreds of arrangements. In search of a balance between prosody and music, the composer tends to go beyond pure technical display. As evidenced by his operas Chevalier de Lorimier (1992), Marguerite Bourgeoys: Troyes Ville-Marie (1996) or his adaptation of the Little Prince of Saint-Exupery (2002), his main source of inspiration is humanity in history. Poetry-loving, he sets Émile Nelligan, Alfred Desrochers, Gérald Godin, Roland Giguère, Gaston Miron, Gatien Lapointe and many others to music. His music also illustrates many texts by his companion Thérèse Tousignant.
Committed to his community, he was also the founding conductor of the Laval Symphony Orchestra (1984-1986) and artistic director of the Théâtre d'Art Lyrique de Laval (1986-1994).
Pedagogue, choral and orchestra conductor, artistic director, composer, arranger, Patenaude is a musician indeed, totally invested in his art. He has transmitted to more than one generation the taste and appreciation of music.
This page is also available in / Cette page est également disponible en:

Francais (French)