This page is also available in / Cette page est également disponible en:

Francais (French)
Artists generally confine their work to one field. Painters and sculptors, for instance, are not so involved in any of the performing arts. These require an audience, which is the raison d'être for all musicians, dancers and actors. Thus, the solitary pursuit of visual art runs counter to the dispositions of stage performers. But there are exceptions, people whose creativity flourish in both worlds. John Heward was one of them. For close to half a century, this full-blooded Montrealer pursued twin careers, one as a visual artist, the other as a musician.
In spite of a long career, he was a late starter. At first a book publisher, he sold his company in 1970 to devote himself full-time to the visual arts. A year later, he met Roger Bellemare, a gallery owner who became his lifelong art dealer. A decade later, Heward renewed a youthful passion, music, and, more specifically, drums. Breaking away from the jazz tradition he grew up on, he found his niche in freeform music. Gradually, and almost unwittingly, he became a father figure for the local improvised music scene. Always open to new encounters, he performed with major figures such as saxophonist Steve Lacy or the multi-instrumentalist Joe McPhee, who graciously performed with his old friend one last time in June of this year, an event recorded for posterity and slated for future release.
As dissimilar as the visual arts are to music, there was still an underlying thread running through Heward's work as a whole. Neither a conceptualist bent on formulating grand schemes nor a theorist keen on expatiation – he left it to others to speculate on these – he simply let his art speak for itself, on its own terms. Rather than resorting to words, which he used sparingly in conversation, he turned to paint brushes for his canvases, sticks and mallets for his drum kit, allowing his hand to be the sole arbitrator of his every gesture. His works, often oversized and always unframed, would never jolt the eye, their uncluttered surfaces reduced to the most essential of strokes. There is an abstractness to his art akin to that of music. Several of his works have appeared as album covers, for his own recordings in particular.
A personable individual, Heward was respected in both worlds he espoused. Like his art, he exuded a certain austerity, yet entertained no pretence whatsoever. In 2012, he was awarded the prestigious Paul-Émile-Borduas prize in visual arts, a just reward for someone who greatly admired that rebel artist and author of the seminal manifesto, Refus global.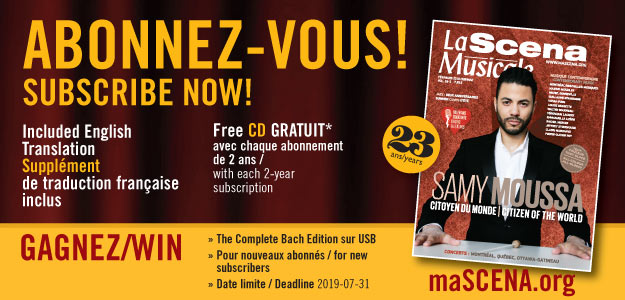 On Nov. 6, John Heward passed away at 84, fallen by that same dreaded cancer that robbed the life of his friend and colleague Raymond Gervais 10 months previously, to the day. Those who knew him will surely pay a final tribute in some way, even if he wished there to be no memorials held in his honour. We bid farewell to a man of distinction and a consummate artist who leaves a considerable output in not only one, but two worlds, an accomplishment surely worth noting. R.I.P. J.H.
John Heward's last works have been on display at the Darling Foundry this fall. This exhibition closes on Dec. 9 (www.fonderiedarling.org).
Several of his recordings, as leader and sideman, have been issued on the Ambiances magnétiques label. (Go to: www.actuellecd.com)
Marc Chénard
This page is also available in / Cette page est également disponible en:

Francais (French)