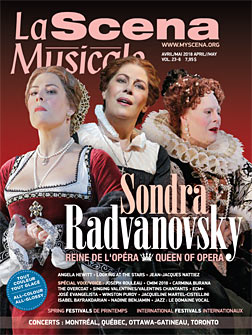 This page is also available in / Cette page est également disponible en:

Francais (French)
McGill University's Schulich School of Music lost one of its master spirits last November with the death of consummate voice teacher Winston Purdy at age 76. Having taught at McGill since 1973, Purdy nurtured several generations of singers, many of whom have subsequently risen to the first tier of international classical performers.
Reminiscences of Purdy and his teaching invariably come couched in great warmth and admiration. "He had a profound understanding of singing in all its aspects," says Dominique Labelle. "Scientific, spiritual, physical, cultural, you name it."
Labelle, an accomplished soprano, studied with Purdy in the 1980s and later returned to McGill as a teacher herself, becoming one of Purdy's closest colleagues. Hers is an oft-repeated theme.
"He was so intellectual about singing, as well as sensitive and instinctive," says renowned mezzo-soprano Michele Losier, who studied with Purdy from 1998 to 2002.
Rose Naggar-Tremblay, a member of the Atelier lyrique of the Opéra de Montréal who graduated from McGill last year, was working with Purdy on a joint recital prior to his final hospitalization. Poignantly, that final recital had to be cancelled.
"He loved to make us work from the tiniest, most subtle sound the voice could produce," says Naggar-Tremblay. And, remarkably, he made students feel uplifted in the process, instilling confidence and even a sense of higher purpose. "He taught you to forget about yourself and to serve the music."
Among the hallmarks of Purdy's pedagogy was a dual commitment to imparting in-depth technical knowledge about vocal physiology and engendering a richly imaginative appreciation of total musical architecture.
"He would play a chord and say, 'Tune yourself to this… feel it,'" Losier recalls. "I have to be thankful for this. Winston was always bringing us back to the score. It was very enlightening."
"He always knew what the chord meant," agrees baritone Étienne Dupuis, who studied with Purdy concurrently with Losier.
"He would talk about music like it was full of little secrets," says Naggar-Tremblay. Dupuis recalls Purdy's enthusiasm in explaining how Robert Schumann had encoded the name of his wife, Clara, in Dichterliebe.
Baritone Bruno Roy, a Purdy student from 2009 through 2015, remembers how his teacher would "light up" when he told a story. "You could feel his passion and excitement," says this member of the Canadian Opera Company's Ensemble Studio.
Purdy's studio was papered with anatomical illustrations. His enthusiasm for physiology had been fostered by years of study with famed Oberlin College pedagogue Richard Miller, a pioneer in such analysis.
"I remember watching a video Winston gave me of Richard Miller teaching," says Dupuis. "I liked Winston's way of saying it better."
"Winston would never try to make you fabricate any sound," Losier adds. "He would take away what was artificial and make us discover our natural sound."
Perhaps no element of Purdy's distinctive style is more universally attested to than his humor. "He loved to laugh," says Cécile Gendron, a soprano and voice teacher who was also Purdy's invaluable partner and companion through his final years. "We would fall asleep laughing!" she says.
Less widely known, however, were the personal obstacles against which Purdy's humor was deployed. Afflicted all his life with a stutter, he made sure he had a clear idea of what he was about to say. "It improved his teaching," notes Gendron.
Stricken with polio as a child, Purdy relied in later years on a cane, yet always insisted on walking unaided up the extra flight of stairs to his sixth-floor studio above McGill's Pollack Hall.
Alerted by physicians as early as 2006 of other grave health concerns, Purdy was finally told in 2010 that his condition was inoperable. "They saw that it [had gone]too far," confides Gendron. "Then he lived seven more years. He was a very strong man."
Indeed, Purdy's productive, engaged, uncompromising life acquires a nearly hagiographic dimension: good works, heroic virtue, lightness of heart in the face of adversity – and perhaps even the performance of miracles.
"I was struck with vocal-cord paralysis," reads one anonymous online tribute to Purdy. "He worked with me until I was singing better than ever."
It's a story that surprises no one who knew Purdy.
"Usually, as singers, we don't want to look at pathology," says Gendron. "But he was interested in all that, in cures."
In recent years, Purdy privately circulated to students an ever-evolving draft of an untitled book. Viewed for this article, it proves provocative, practical, eminently clear, with arresting commentary on vibrato, the appoggio and performance psychology. And it captures beautifully the personality and singular pedagogical brilliance of its author.
Knowing that time was short, Cécile Gendron repeatedly encouraged Purdy to complete the work and make it suitable for publication. But, with characteristic modesty (or wry dissimulation) he replied that nobody would be interested in reading it.
For Gendron and others among Purdy's admirers, publication is an understandable priority. (McGill-Queen's University Press would make an obvious partner.)
But, surely, Winston Purdy's true magnum opus was his teaching life; and his legacy, the legion of singers whose craft he helped hone, and whose art he elevated.
This page is also available in / Cette page est également disponible en:

Francais (French)