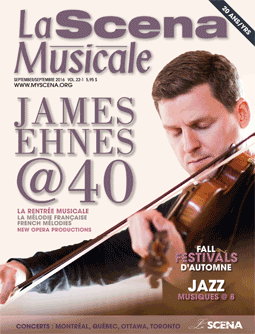 This page is also available in / Cette page est également disponible en:

Francais (French)
Lupo plays the LMMC
Much loved in Quebec, Italian pianist Bedenetto Lupo will once more grace the Ladies' Morning Musical Club for its first concert of the season. Upcoming artists include the Pacifica Quartet (October 2), Quatuor Hermès (October 23), cellist Pieter Wispelwey (November 13), and soprano Karina Gauvin (December 4). Lupo will play works by Chopin, Scriabin, and Rachmaninoff. September 11, Pollack Hall 3:30PM. www.lmmc.ca
Souvenir de Florence
Six MSO musicians – Richard Roberts, Jean-Sébastien Roy, Victor Fournelle-Blain, Sofia Gentile, Gary Russell and Sylvain Murray – will come together for this recital of chamber music devoted to Tchaikovsky. String Quartet No. 2 in F Major will be followed by the String Sextet in D minor "Souvenir de Florence." September 23, 6:30PM, Bourgie Hall. www.mbam.qc.ca
Jacques Hétu at Pentaèdre
Wind quintet Pentaèdre marks the 50th anniversary of the neo-classical work Quintet Op. 13 by the late Quebec composer Jacques Hétu. They will also play an arrangement of Mozart's Quartet K. 464, and the wind quintet by neo-classical composer Harbison. September 21, 7:30PM, Conservatoire de musique de Montréal. www.pentaedre.com
Guitar and I Musici
Guitarist Jérôme Ducharme joins I Musici in four small-scale concerts under the baton of Jean-Marie Zeitouni. Ducharme is a concert performer as well as a guitar instructor at McGill's Schulich School of Music. The program comprises Jacques Hétu's Concerto for Guitar and Strings and Interludio I and II by Moreno Torroba in a version for guitar and strings. September 22, 23, and 24, St. John the Evangelist Church. www.imusici.com
Organ recital at the Maison symphonique
German organist Christian Schmitt is the MSO's guest for a recital on the Grand Orgue Pierre-Béique. The theme is German organ music from Bach to Reger. He will play the Fantasia and Fugue in C minor by J.S Bach, BWV 537, Ligeti's Volumina, Widor's Organ Symphony No. 6, Merkel's Variations on a Theme of Beethoven, Mozart's Adagio and Allegro in F Minor K. 594, and Reger's Chorale Fantasia on "How Brightly Shines the Morning Star." September 22, 8PM, Maison symphonique. www.osm.ca
Battleship Potemkin
Following Chaplin's Modern Times last year, the MSO continues its celebration of the great film classics with Eisenstein's Battleship Potemkin. Again it's with live accompaniment, this time from film music specialist Timothy Brock, who will conduct the MSO in Edmund Meisel's score for this masterpiece of Russian cinema. October 5, 8PM, Maison symphonique. www.osm.ca
Hélène Grimaud at the OM
French pianist Hélène Grimaud returns as the guest of her friend Yannick Nézet-Séguin to perform with the Orchestre Métropolitain. The concert will kick off the OM's new season with Concerto No. 3 by Bartók and Symphony No. 5 by Mahler, two pieces that suit these highly dedicated musicians. October 6, 7:30PM, Maison symphonique. www.orchestremetropolitain.com
Bourgie Hall is five years old
Bourgie Hall has been welcoming music lovers for five years now. A grand birthday concert will celebrate the occasion with 25 musicians, including cellist Matt Haimowitz, violinist Axel Strauss and harpsichordist Luc Beauséjour. The program will include the Brandenburg Concertos 5 and 6, and works by Monteverdi, Mendelssohn, and Maxime McKinley. www.mbam.qc.ca
Dame Evelyn Glennie visits Montreal
Evelyn Glennie, the deaf percussionist from Scotland, will perform in Montreal with the Manitoba Chamber Orchestra, conducted by Anne Manson. They will play Vivaldi's Concerto for Piccolo arranged for vibraphone, Corelli's La Follia, and works by Christos Hatzis and Michael Oesterle. The program wraps up with the Chamber Symphony in C minor by Shostakovich. October 5, 7:30PM, Bourgie Hall. www.mbam.qc.ca
Music and poetry at OUM
The great poets will be celebrated at the first concert of the season by Orchestre de l'Université de Montréal, led by guest conductor Paolo Bellomia with recitation by actor Albert Millaire. We'll hear the Faust Overture by Wagner, Five Pieces for Orchestra by Arnold Schoenberg, Der Wein, a concert aria by Alban Berg for soprano and orchestra based on three poems from Baudelaire's Les Fleurs du mal, with soprano Julie Daoust, and the symphonic poem Ce qu'on entend sur la montagne by Franz Liszt from a poem by Victor Hugo. Also the premiere of a work by Evelin Ramon, winner of the OUM 2016 composition contest. Free admission, October 7 at 7:30PM, Église St-Jean-Baptiste.
McGill Chamber Orchestra at the synagogue
For Remembrance Day, the McGill Chamber Orchestra has planned a multimedia concert entitled Remembrance. Conducted by Boris Brott, it features violinist Lara St. John, soprano Sharon Azrieli Perez, and tenor Gideon Zelermyer. They'll play Copland's Appalachian Spring, two movements from the Baal Shem Suite by Ernest Bloch, and Chassidic Dance by Alexander Brott. The concert will also have a cantata inspired by the famous poem In Flanders Fields by John McCrae, composed by James M. Stevenson for orchestra, soprano, tenor, and children's choir. November 10, 7:30PM, Congregation Shaar Hashomyim. www.ocm-mco.org
Molinari and Aboriginal music
The Molinari Quartet presents Aboriginal Music, a chance to hear works inspired by the traditions of the aboriginal peoples of Australia, South Africa, and the Canadian Inuit. They'll perform Quartet No. 2 by South African composer Kevin Volans, Quartet No. 16 by Australian Peter Sculthorpe – using a didgeridoo, the Aboriginal wind instrument – and Quartet No. 1 The Awakening by Canadian composer Christos Hatzis, with a soundtrack of Inuit throat singing. October 28, 7:30PM, Conservatoire de musique de Montréal. www.quatuormolinari.qc.ca
Maxim Bernard and Horowitz
Pianist Maxim Bernard marks the 30th anniversary of the famous concert Vladimir Horowitz played on his return to Moscow, 60 years after he defected from the USSR. Bernard will play works by Scarlatti, Mozart, Chopin, Rachmaninoff, Scriabin, Schubert, and Liszt. September 29, 7:30PM, Chapelle historique du Bon-Pasteur.
Translated by: Cecilia Grayson
This page is also available in / Cette page est également disponible en:

Francais (French)