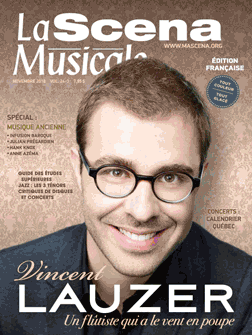 This page is also available in / Cette page est également disponible en:

Francais (French)
The University of Toronto Faculty of Music now boasts one of the largest student bodies of any music school – 896 as of this writing. One hundred years ago, the faculty had no students and only a couple of faculty members.
Indeed, the Faculty had literally zero students because before 1918, U of T was only in the business of administering exams to external candidates who studied independently. If a candidate successfully completed a certain set of exam papers, he was awarded his degree in music. For present-day readers, the closest analogy to this format would be the examinations offered by the Royal Conservatory of Music, which, incidentally, had been entwined with the University of Toronto from 1919 until 1991.
STEADY GROWTH
The examinations-only structure of the Faculty changed after the end of the First World War. By 1919, the motley faculty at the University of Toronto had given a total of 18 lectures on music theory and music history. In the ensuing decades, regular classes were introduced, followed by expansions in curriculum and programs. 1962 marked another significant year as the Faculty moved into its present home, the Edward Johnson Building, which also happens to be the first building designed for music study in Canada.
The year 2018 marks just as big a milestone as the Faculty celebrates its 100th anniversary. Centennial celebrations abound, including visits by many distinguished guests, cross-area concert collaborations and informative public events. The Faculty has a lot to be proud of. To date, it has had almost 7,000 graduates from 14 different programs of study.
BRIGHT FUTURE
As the Faculty prepares to step into its second century, it has a lot of accomplishments to look back on and even more to look forward to. When asked about what he has in mind for the next hundred years, Dean Don McLean responded with the following:
Who in 1918 could have predicted the musical world we live in in 2018? Recording, radio, broadcast, Internet! Who would risk imagining 2118? But we do know that the next century for music will be international – local in action, global in scope; it will be interdisciplinary – the impact of music on and in many other disciplines and fields will become normative; and it will be innovative — music will continue to be cutting edge in the development of technologies such as AI, VR, and bioengineering and it will lead in developments of infrastructure to create livable 'sound' spaces.
Whatever happens, the University of Toronto will surely, in Dean McLean's words, "prepare the next generation of community-centred, globally-informed cultural leaders."
IN THEIR OWN WORDS
Throughout this long and eventful history of academic and artistic excellence, the Faculty has woven countless students, faculty members, and alumni together into one diverse and dynamic community. Here are highlights from a few individuals whose lives have touched and have been touched by the Faculty of Music:
What aspect of being a pedagogue do you love most?
I love being part of the developmental process and witness the changes in young singers between the ages of 18 and 30. I am a catalyst for change in their artistry as singers. Each voice and talent is so different, I am constantly renewing my ideas and understanding as well as nurturing theirs. As a mentor in the graduate voice pedagogy program, I [witness]intuitive talents blossom and grow. Making vocal and musical discoveries together is extremely satisfying. As my students take ownership of their talent, I take a step back and watch them inspire, support, and nurture others. The world needs this musical interaction.
— Lorna MacDonald, Associate Professor and Head of Voice Studies
The one-on-one composition lessons, especially (but not exclusively) with graduate students who ask important questions and seek answers beyond musical technique. I often quip that if my students learn from me half as much as I learn from them, they will have learned a lot. The best learning takes place in a trusting environment and between friends. Respect for a teacher needs to be earned, not demanded. I insist that my students address me by my first name and I encourage them to disagree with me so that they may develop their own personal creative response to the world. This personal contact is incredibly energizing to me and I seldom get tired teaching privately for many hours in a row. I consider this kind of contact a gift and feel grateful for it.
— Christos Hatzis, Professor of Composition
Teaching is a process of constant exploration in a collaborative environment, and it is that shared discovery that I love. Seeing and hearing the "ah-ha" moments over time, observing young musicians mature and become independent and then take flight – those are the remarkable privileges of teaching experienced during a 43-year career. What a gift! If students learn to love the process in that way, they are assured of continued musical growth.
— Hilary Apfelstadt, Professor Emerita of Choral Studies
How has U of T made you a better artist?
So much of one's musical development is owed to mentors. I was lucky enough that U of T introduced me to one of my greatest and constant mentors, Dr. Elizabeth McDonald. Through her guidance I learned so much about what it means to be a great artist: to have a dependable technique but also to be the kind of person others can depend on. She taught me not only how to sing, but also encouraged me to explore what my ears heard and what my heart told me was socially right; the three need not be and should not be separate. Her advice and guidance were only further emphasized by my other mentors: Dr. Hilary Apfelstadt, Dr. Stephen Philcox, Professor Mia Bach, Professor Kathryn Tremills, Professor Monica Whicher, to name a few. They all taught me to push myself to be a complex and accountable artist. They led by example and one couldn't help but be inspired.
— Alexandra Smither, soprano (BMus from U of T, MMus from Rice)
U of T has certainly helped me on my journey to becoming the artist I wish to be. During my studies, I was able to work with truly inspiring professors and artists alongside a group of really talented and hard-working students. The program pushed me to my musical limits giving way to a musician with an understanding of music and singing I did not know could exist.
— Clarisse Tonigussi, founder of The Canadian Women Composers Project (BMus and MMus from UofT)
What is the most unforgettable musical experience you've had at U of T as a music creator?
Many unforgettable experiences. Some of my seminal musical collaborations began with U of T colleagues, like the Gryphon Trio, with whom I engaged in a journey of mutual discovery through our collaboration in the multimedia music theatre work Constantinople; the St. Lawrence String Quartet, when they were the visiting ensemble at the Faculty of Music and commissioned my Second String Quartet in 1999. Soon after the premiere in Toronto, they recorded a CD with my two string quartets for EMI and toured with them internationally. The premiere of my first Flute Concerto with French flute virtuoso Patrick Gallois accompanied by faculty and student musicians in Walter Hall in 2003; the performance of my orchestral composition The Isle is Full of Noises by the University of Toronto Symphony Orchestra in 2017. These are a few of many such wonderful experiences.
— Christos Hatzis, Professor of Composition
Performing in the International Bach Festival with Helmut Rilling, and creating, producing and performing Marrying Mozart for the Mozart anniversary year. Both stretched me as an artist in the best possible way.
— Lorna MacDonald, Associate Professor and Head of Voice Studies
Working with visiting composers was a highlight. In the choral area, we were fortunate to have Alice Parker, Eleanor Daley, Ruth Watson Henderson, Morten Lauriden, Ola Gjeilo, Imant Raminsh and Steven Chatman, among others. The performances of their music and corresponding collaborations with other musicians in the city were inspiring. We also had the good fortune to take choral ensembles to perform twice at Lincoln Center.
— Hilary Apfelstadt, Professor Emerita of Choral Studies
While I was finishing my masters at U of T in 2017, I singlehandedly organized a cross-country tour featuring a recital of Canadian women's vocal music. It was the most fun and challenging experience I have ever had. Through connections at U of T I was also able to commission a new work for soprano and piano for the tour by U of T graduate (then student) Rebekah Cummings, which I performed in all 19 concerts around the country.
— Clarisse Tonigussi, founder of The Canadian Women Composers Project (BMus and MMus from UofT)
When I started at U of T in 2010, I was fortunate enough to join the contemporary music ensemble, GamUT, right off the bat. GamUT, then run by Norbert Palej, was the first time I ever experienced contemporary classical music. Norbert really had faith in and pushed me, assigning me works by Schnittke and Górecki in my first semester. These works opened my ears to sounds that I had never imagined, sonic worlds that I had never explored. I remember poring over scores, crying because I couldn't count, and feeling exhilarated onstage amidst new sounds and colleagues. Now, eight years later, a large portion of my art is based in that world. That first concert fundamentally altered the career path I have taken and I never looked back.
— Alexandra Smither, soprano (BMus from UofT, MMus from Rice)
What has been the most important thing that you strive
to impart to your students?
To be fearless, honest and authentic as artists. Creativity is not something you master. It masters you when you allow it to possess you and shape you. It is not easy for young people (any people, really) who fear loss of control to let go of their inhibitions and become important artists and creative individuals in any walk of life. The certainty which is promised by the objectification of reality and which is promoted by academic culture is at cross-purposes with true creativity. Teachers of creativity have to struggle to stem the avalanche of positivism is such an environment and inspire free and unrestrained thinking and feeling. I find that individual composition lessons are the best way [to find]this mode of deep personal communication with students. I prize the opportunity given me by the university to perform my best by personally engaging with students in this manner.
— Christos Hatzis, Professor of Composition
This page is also available in / Cette page est également disponible en:

Francais (French)