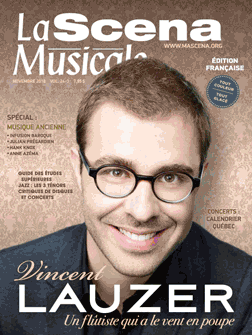 This page is also available in / Cette page est également disponible en:

Francais (French)
Infusion Baroque has it all: brilliant virtuosity, musical integrity and a concert presence unlike any other. With their innovative and often interactive performances, these musicians offer a progressive and accessible approach that is rarely seen in the mostly-serious world of art music.
The Mandate Behind the Name
This multi-talented female quartet (Alexa Raine-Wright, baroque flute and recorder; Sallynee Amawat, baroque violin; Andrea Stewart, baroque cello; and Rona Nadler, harpsichord) draws inspiration from anything and everything with a humourous sense of inquisitiveness. Even its name resulted from an exercise in free association. Nadler recalls: "We knew we wanted something beyond the traditional concert experience. In a manner of speaking, we wanted to 'infuse' our performances with something special. We were talking about all this over a pot of tea, and found the perfect name for our group."
The quartet, whose members met as students at McGill, played as Infusion Baroque in 2013. Its flagship program was titled "The Art of Corelli." Even then, the group incorporated multimedia and interactive elements into their performances. In the following year, Infusion Baroque made its big break by winning the grand prize and audience prize at the Early Music America Baroque Performance Competition. Not only did the prestigious award give the ensemble a sizable cash prize but it also propelled Infusion Baroque to appear with major music presenters across North America.
Off the Beaten Path
Their first recording, consisting of works by C.P.E. Bach – one of Nadler's favorite composers – was released to much acclaim last year. "He's got one foot in the Baroque era and one foot in the Classical era," Nadler says of this most famous son of J.S. Bach. "His pieces are so mercurial and sensitive. It's refreshing because we don't hear so much of that in the mainstream Classical realm."
As Infusion Baroque builds momentum, the group has been as dedicated as ever to bringing lesser-known works to the concert repertoire. On Nov. 16 the group releases the world-premiere recording of the Six Quintettos of Anton Jorg Kreusser.
"Kreusser is a composer from the last quarter of the 18th century whose name most people have never heard of," Amawat says. "We came across him by accident and he's become a favourite among our group as his music is so unique and quirky. We love bringing this kind of originality to the public, because in a way, we are playing
Behind the Scenes
Nadler explains how the group comes up with such novel programming: "Each idea comes differently. Often one thing leads to the next. For example, the idea for the program Who Killed LeClair? arose when I was playing a concert in a church that was kind of spooky. I remember thinking that this would be a great place to do a murder-mystery concert."
Much later, when the quartet discovered that one of its favorite composers, Jean-Marie LeClair, was actually victim to a murder that was never fully solved, it seemed only fitting to present his music in a murder-mystery format.
"We have two versions of Who Killed LeClair?" Amawat explains. "One traditional program in which we narrate the story for the audience with an interactive component at the end. In the other, we do a full-on murder-mystery evening, complete with costumes and beer. We always get a lot of laughs."
Laughter might raise a few eyebrows at a traditional music concert, but this irreverence is part of what makes Infusion Baroque so successful at cultivating new and old audiences.
Nadler adds: "We get a lot of audiences who have never been to a classical concert before. The key is usually getting them through the door and to show them the humanity behind all this music written so long ago. Once they stop feeling so daunted, the listeners just open up and respond to the music."
Despite all this fun, the group always makes sure that the biggest takeaway is the music itself. "In a typical performance, we might play a piece or two and then talk about the piece or its composer," Nadler explains. "But we don't dramatize the playing itself. Everything serves the integrity of the music. We always try to play the music as musically and authentically as possible. We let the music speak for itself."
Transformative Travels
Many of the unforgettable Infusion Baroque moments have been in the context of bringing music to a new and unexpected audience.
"One of our educational concerts in Houston was for around 150 students from kindergarten to second grade," Amawat recalls. "For most of the students, this was the first time that they heard Baroque music, even 'classical' music, for the matter.
"The connection we made was really moving. A few days after we had left the school, we got notes from the kids saying that they 'loved our songs' or that we played their 'favourite concert.' It was really touching to be able to share this music that is so close to us."
Other highlights include working with high school students in Milwaukee and university students in Thailand. "It's so invigorating to work with people with such sensitivity and thirst for knowledge," Amawat remarks.
In this vein, Infusion Baroque hopes to work on even more educational projects. "Ultimately, it's about telling the stories of the real people behind all this music," Amawat says. "These stories, as told through our performances, are things everyone can relate to. We want to bring this chance to more and more people."
Nadler adds: "I think one way we are so effective in bringing our music to our diverse audiences is that we are not afraid to be entertaining, or to get laughs if the music calls for it. We try to bring back the human side and make these 'great composers' a bit more relatable."
Art as Inspiration
Tea might have inspired the name of the group, but Infusion Baroque refers to life and other art forms to draw musical inspiration. Nadler explains: "I don't do it as an art form but I do love to dance. The important thing about dance is that there is always a rhythm, no matter the speed. I look for this groove when I'm playing. This visceral element of music is what makes it so interesting."
The world premiere recording of the Six Quintettos of Georg Anton Kreusser will be released on Nov. 16. Infusion Baroque performs instalments of the Virtuosa Project – an initiative on the subject of women in music – on Dec. 8, 2018, and Jan. 11, 2019 at the Clark Room of Notman House at 51 Sherbrooke St. W. in Montreal. Lecture at 7:15, concert at 8. Look for a web series in 2019. They will tour to Quebec City (Dec. 11), Ottawa (Jan. 12), Almonte (Jan. 13) & Toronto (Jan. 14). ­www.infusionbaroque.com
This page is also available in / Cette page est également disponible en:

Francais (French)