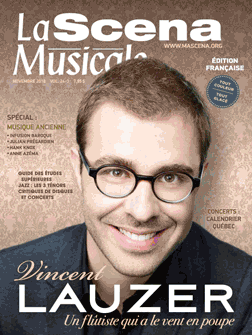 This page is also available in / Cette page est également disponible en:

Francais (French)
Concordia University
Concordia's Department of Music celebrates the Year of the Woman. Key among its celebrations is the hiring of Andrea Young as Artist-in-Residence. Joshua Rager releases a new CD (Dreams and Other Stories), Ricardo Dal Farra completes the department's first field school at the Universidad de Caldas, and recent graduate Ilyaa Ghafouri wins First Prize at the TIMES PLAY 2018 Composition Competition.
Glenn Gould School
Beginning in the 2018-19 academic year, students completing undergraduate requirements at the Glenn Gould School will receive a Bachelor of Music, Performance (Honours). Acclaimed cellist Hans Jørgen Jensen is named to the faculty. Scholarship student Sae Yoon Chon wins the prestigious Grand Prize at the 11th Dublin International Piano Competition.
McGill University, Schulich School of Music
Doctoral violin student Amy Hillis wins First Prize at the Eckhardt-Gramatté National Music Competition in Strings, and alumnus Eric Abramovitz is appointed associate principal clarinet of the Toronto Symphony Orchestra. Violinists Jinjoo Cho and Violaine Melançon join the faculty of over 200 professors. Juno-award winning saxophonist/composer Christine Jensen becomes artistic director of McGill Jazz Orchestra I, and Grammy-award winning soprano Suzie LeBlanc is introduced as artistic director of McGill's Cappella Antica.
University of British Columbia
Instructor and alumna Jocelyn Morlock (MMus'96, DMA'02) wins Classical Composer of the Year at the 2018 Western Canadian Music Awards, and a Juno Award for Best Classical Composition for her orchestral work I Am Amanda Todd. Valerie Whitney is hired as the newest addition to the horn faculty.
Université de Montréal
Salle Serge-Garant, one of three concert halls at the Faculty, reopens following a renovation. This 150-seat venue now features a larger stage, improved acoustics, new seating, state-of-the-art technical facilities and two new concert grand pianos. Acclaimed musicians such as pianist François Bourassa, trumpet player Stéphane Beaulac, and violinists Yukari Cousineau and Laura Andriani join the faculty. The Orchestre de l'Université de Montréal celebrates its 25th anniversary in 2018-19, and will perform at Maison symphonique in December.
UQAM
Faculty composer Jean-Olivier Bégin receives the Screen Composer of the Year Award at the 2018 SOCAN Montréal Awards, and a Gémeaux Award for the Best Original Music. UQAM alumna Stéphanie Hamelin-Tomala (DESS in Film Music) wins two SOCAN 2018 Foundation Awards for Emerging Audiovisual Composer.
University of Toronto
The Faculty celebrates its 100th anniversary in 2018. It now has 550 undergraduate students and 350 graduate students in a wide variety of specialized areas. Over the past few years, the Faculty has continued to evolve through the establishment of interdisciplinary fields in training and research, curriculum reform, infrastructure development, internationalization and constant renewal of faculty members as it steps forward into its second century.
Western University, Don Wright Faculty of Music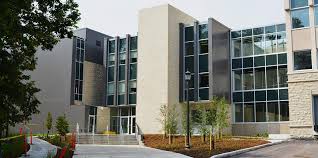 Five years ago, Western University began a project to renovate part of the existing music building, build a two-storey section that houses rehearsal space and a new recital hall, as well as a five-storey tower for more rehearsal, teaching, classroom and performance space. In October the Don Wright Faculty of Music celebrated the official opening of this 69,000-square-foot space.
Wilfred Laurier University
Laurier launches a new concentration in Integrated Musical Arts to the Bachelor of Music degree. Assistant professor and voice coordinator Leslie Fagan has been appointed to the Order of Ontario. Students and alumni will take part in the Kitchener-Waterloo Symphony Orchestra's concert performance of Carmen. Laurier celebrates 30 years together with its quartet-in-residence, the Penderecki String Quartet.
Morningside Music Bridge Program
In July 2019, approximately 65 young musicians will gather at the New England Conservatory in Boston for an intensive month of music-making. Morningside Music Bridge brings together violinists, violists, cellists and pianists for a tuition-free learning experience. Previously, this international summer program has also been hosted by the Fryderyk Chopin University of Music in Warsaw and the Central Conservatory in Beijing, among others.
Vanier College
The Linda and Sheldon Kagan Music Collection at Vanier College passes its first anniversary since it was donated to the college on Sept. 7, 2017. The collection of recordings (about 10,000 LPs, 45-rpm singles, CDs and cassettes) not only features a wide variety of popular music, but also includes a rich array of classical music, world music and beyond.
This page is also available in / Cette page est également disponible en:

Francais (French)