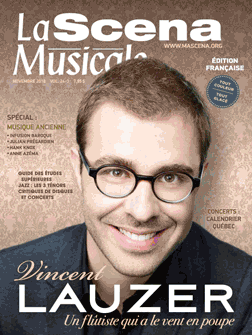 By all appearances Mozart's Violin Concerto No. 5 and Beethoven's Ninth Symphony are sharply contrasting if not utterly dissimilar works. The former, stemming from the Salzburg prodigy's youthful years, is gracefully elegant in tone and style. Scored for a smaller orchestra, the piece is a wellspring of melodic ideas that often go undeveloped.
The latter work, for its part, is a late opus of the German composer, the result of much thought, and soon recognized as a pinnacle in his artistic oeuvre. Far more ambitious in scope, it requires not only an unusually large instrumentation to fully realize its intention, but a novel one for the time. These major works will be performed on Dec. 2 at the Maison symphonique de Montréal.
Mozart wrote the bulk of his violin concertos between April and December 1775, at a time when he accepted a posting offered by the bishop-prince Colleredo in Salzburg. He used the opportunity to replenish the coffers of his family while giving himself a break from his numerous concert tours. The conditions were ideal for him to write specifically for an instrument he played himself.
In spite of going back to a more conventional and elegant style that had been cast aside in his first piano concertos, there is no lack of artistic sensibility and wealth of musical ideas in this violin concerto, chock full of motifs, colourful melodies and varied rhythms. The word "Turkish" has sometimes been appended to this work because of its use of exotic rhythms then in vogue, yet these bear a closer resemblance to the Hungarian czardas. Alexandre Da Costa will bring this piece to life next month with his Stradivarius pre-dating Mozart's birth by half a century, aided and abetted by the Orchestre symphonque du Nouveau Monde.
As for the Ninth, Wagner believed it to be the last of all symphonies, the very consecration of that musical form. In 1822, London's Philharmonic Symphony Society offered an advance to Beethoven for writing his penultimate work. At that time, he had already been thinking about it for a while, with his sights set on putting Schiller's An die Freude to music (the Ode to Joy). Less than two years later, on May 7, 1824, the score was premiered in the Austrian capital, just three months after its completion and in a city whose musical tastes he disdained. Though deaf, he stood at the podium that evening, sharing duties with Michael Umlauf. The work was groundbreaking in more than one way: in it, he introduced military percussion – bass drum, triangle and cymbals had never been used before in so-called "serious" symphonies. Its fourth and final movement included a choir, extending its duration to over an hour, unrivalled in length in the day. This splendid musical monument will thus close a must-see concert by the Société philharmonique du Nouveau Monde placed under the baton of Michel Brousseau.
Translation by Marc Chénard