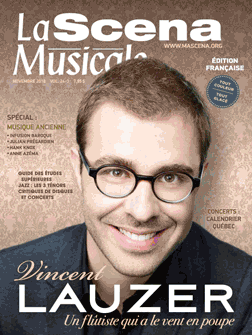 After winning two Prix Félix and one Prix Opus and receiving her training in classical piano, Julie Lamontagne is now pursuing a career in jazz. As a composer and an arranger, she develops new approaches by mixing styles for which she has a fondness.
Now What, an album produced in collaboration with New York-based saxophonist Donny McCaslin, and Noël, an anthology of holiday classics with a touch of energy and swing, are two of Lamontagne's major projects. In the spirit of Christmas, Lamontagne will join the ­Orchestre symphonique de Longueuil on Dec. 6 in a classics meet jazz concert.
"The idea is to select an excerpt from a f­­amiliar classical concerto, remove it from a traditional setting, and change chords or improvise, creating a wonderful interaction between the trio, ­orchestra and audience," the pianist explains. ­Although this project had initially come to light with a chamber orchestra, it will now be realized in symphonic format under Marc David.
Arrangements of themes by Chopin, Grieg, Mozart and Rachmaninoff will encourage the ­audience to hear the greatest classical hits in a new light and to appreciate the mix of a ­symphony orchestra and jazz trio – two ensembles that rarely play together. Double bass player Dave Watts and drummer Richard Irwin ­complete the trio.
The first half of the evening immerses listeners in Ella Fitzgerald's universe, featuring singer Ranee Lee. This Brooklyn native has dazzled Montreal stages with her warm, powerful voice for nearly half a century. Reuniting two "great jazz singers" is expected to be inspiring. Such meetings have influenced more than one artist.
"As a teenager, I often heard Ranee Lee sing," Lamontagne confessed. "I always admired her talent and sensitivity." In 2013, she asked Lee to be part of her Noël recording.
To begin the Advent season, the Théâtre de la Ville de Longueuil will buzz with Noël jazz, a clever mix of classical and jazz repertoire presented by high-quality musicians. With the Concerts Préludes Hydro-Québec, starting at 7:15 p.m., audience members can listen to young musicians in a wonderful initiative highlighting tomorrow's artists.
Translation by Dwain Richardson
Noël jazz at Théâtre de la Ville de Longueuil, Dec. 6 at 7:15 p.m. www.osdl.ca