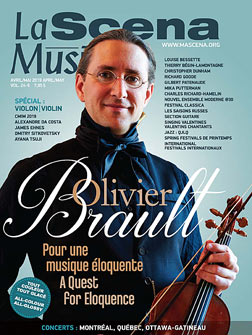 This page is also available in / Cette page est également disponible en:

Francais (French)
From its beginnings in 2002, the Concours musical international de Montréal (CMIM) has proven its mettle. With some daring and much intelligence, it has set itself apart from others in its field by projecting a more human image and extending its outreach in the community. Like all competitions, it adheres to its own set of rules, one of these being its alternating annual focus on piano, voice and violin. Yet it includes some non-competitive events in its program, for the sake of added colour. CMIM artistic and managing director Christiane LeBlanc is very much responsible for broadening the event's scope.
"When I took over, the event was on solid footing," Leblanc states. "It had been well thought out from the start and effectively run since. We are indebted to its co-founders Joseph Rouleau and André Bourbeau: They set high standards and saw to it that it would be transparent in all of its dealings. But the event was still under wraps, something like a best-kept secret. We then decided to incorporate events of, say, greater mass appeal for the purpose of getting more Montrealers interested. Some might turn their noses at the prospect of seeing a music competition, but the truth of the matter is, we are more of a festival, and with Montrealers being so enamoured of these…"
A Family Spirit
LeBlanc provides insight into the event's inner workings. "To prepare a competition for young musicians takes a lot of legwork, and it keeps us busy year-round. More than anything, we want contestants to have a great time here, musically for sure, but also on a human level. We accommodate them in family homes for their two-week stay, that brings them a little closer to the city and its people. But there are more initiatives to mention, each one serving the interests of all concerned, the organizers included."
As part of its commitment to acknowledge the efforts of as many competitors, CMIM awards more prizes than those reserved for the three finalists. Next, all rounds are recorded for broadcast on Internet, so friends and loved ones may hear their own in action, wherever they may be. Jurors can also be met one on one, so those eliminated can be better apprised and receive advice for self-improvement. Lastly, competitors can perform privately in their spare time, at residences for seniors or health facilities.
New ideas are spun out every year to make the participants' stay not only pleasurable but memorable thereafter. "The most telling moments occur off stage," Leblanc says. "Friendships are forged. They encourage each other and the sense of camaraderie is palpable, even if all are vying for top honours. That is so heartening."
Mini Violini – A Showcase for Young Prodigies
The CMIM adds an innovative touch each year with a special non-competitive event. The organizers have put together a showcase for violinists aged 10 to 14, in keeping with the instrument chosen for this edition. Five international junior competition winners are earmarked to play on May 27 and 28, as preludes to the opening round the next day. No first prizes, no eliminations: all will play with no pressure on their shoulders. Jury members will be in attendance as well, and willing to impart their wisdom.
"I really wanted these young people playing here without any hassles," LeBlanc says. "They are welcome to stay for the duration and attend both masterclasses and concerts. I hope they take full advantage of their experience. This is done with the audience in mind, as it is a good way for them to get into the event and discover budding talents. Who knows, some may well return one day as contestants."
The Quest for Excellence
This year's crop of competitors can count themselves lucky, one reason being the venues – Bourgie Hall and the Maison symphonique – which are second to none in town. The six finalists, for their part, are slated to perform a violin concerto with the Montreal Symphony Orchestra and Alexander Shelley. It is rare to find an ensemble and orchestra of such quality servicing a music competition. Contestants will hardly be the worse for such an experience.
The impressive jury, chaired by Zarin Mehta, includes renowned violinists and pedagogue such as Pierre Amoyal, Cho-Liang Lin, Mihaela Martin and Boris Kuschnir. Dimitry Sitkovetsky is known for his transcription for string trio of Bach's Goldberg Variations, which he will play with two of his colleagues on an all-Bach program preceding the final round. Another point of interest is the music salon, where several luthiers will have their latest fiddles on display. What's more, an instrument will be built right there and then, with many hands involved, then to be offered to one of the winners. Talk about a nice gift! For all of its strokes of imagination, CMIM is now shortlisted for the 2019 grand prize of the Conseil des arts de Montréal.
Like most competitions, the CMIM requires contestants to play a mandatory piece. This year's selection is a solo work by Michael Oesterle, a Canadian composer of German birth. Contestants will have a little over two months to master the score, play it by memory and insert it within their programs. "Past works commissioned by us have had an afterlife," LeBlanc notes. "Two of these, by Alexina Louie and Marjan Mozetich, have been well received since. Some competitors even brought them back home to play."
One thing you can bet on is that all contestants, even those who come out empty-handed, will never forget their visit to Montreal for the CMIM. With opening day now fast approaching, audiences should make a point of checking out this event that really puts Montreal on the musical map in its week-long run.
___
CMIM 2019 takes place from May 29 to June 5 at the Salle Bourgie and the Maison symphonique.
Program info and tickets: www.concoursmontreal.ca
Translation by Marc Chénard
This page is also available in / Cette page est également disponible en:

Francais (French)