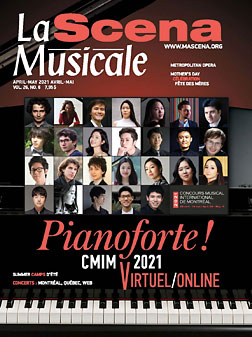 This page is also available in / Cette page est également disponible en:

Francais (French)
"Sort of a Romeo and Juliet thing," Taras Kulish, executive director of the ­Orchestre classique de Montréal, says of Mykola Lysenko's epic 1891 opera Taras Bulba, the overture of which will be one of the highlights of the "Great Slavs" program heard in Salle Pierre-Mercure on May 18.
"A love story between a Polish princess and a Ukrainian warrior," Kulish continues. "They are destined not to be together because of the fighting. Lots of historical things in there, the Poles against the Ukrainians, who's invading whom."
And lots of percussion in that rousing ­overture as it was orchestrated after the ­composer's death, although assistant conductor Xavier Brossard-Ménard will be leading a transcription for strings by François Vallières.
Still, this is a good way of getting some music by Lysenko, 1842-1912, into the ears of Montrealers. The patriotic father of Ukrainian music refused to authorize a performance of the opera in Russian, which delayed its ­premiere until the Kharkiv opera company (now named after Lysenko) tried it on in 1924.
Lysenko (pronounced LISS-en-ko) is revered by his compatriots for having compiled and arranged ­hundreds of folk songs and set poetry by the ­author, artist and political figure Taras Shevchenko, 1814-1861, who made Taras a popular name in Ukraine. The composer also wrote a well-crafted String Quartet in D Minor while studying with Carl Reinecke in Leipzig. You will hear the snappy first movement.
The Shevchenko Foundation and the Caisse populaire Desjardins Ukrainienne de Montréal are sponsors of the concert. It is not coincidental that Kulish is of Ukrainian ­descent and in his former capacity as an ­operatic bass sang arias from Taras Bulba. "I'm thrilled that Boris is open to my suggestions," Kulish says, referring to OCM artistic director Boris Brott, who will be on the podium for everything but the overture.
There are other Slavic selections on the ­program, including Ancient Legends by Vania Angelova, a Montrealer of Bulgarian origin. "Pagan-like," Kulish calls the music. "Very primal in sound, with a hint of Slavic melody in it." 
Shostakovich's Cello Concerto No. 1 needs no introduction, especially with Stéphane Tétreault as soloist. Simon Bourget takes the prominent horn part. We also hear this ­composer's Suite for Jazz Orchestra No. 2 in an arrangement by Nurhan Arman.
The concert will be performed before a live audience on May 18 and made available as a webcast the same evening, with viewing until June 1. In-person tickets cost $50 or $60. The online price is $15 or $30 for the ­"solidarity" option.
Are sales in Ukraine expected?
"The people in Ukraine are not rich," ­Kulish says. "I don't expect any sales from Ukraine ­itself, but there are strong Ukrainian communities in Toronto and Chicago and New York City."
There might also be interest in small-town Quebec. "The vast majority of tickets online are from outside Montreal," Kulish says of the OCM season so far. "Will those people ­continue to support us? We'll see."
This page is also available in / Cette page est également disponible en:

Francais (French)