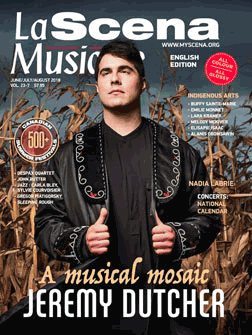 This page is also available in / Cette page est également disponible en:

Francais (French)
Set in the idyllic Bas-Saint-Laurent region, the annual Concerts aux Îles du Bic festival offers a series of concerts and music events entirely dedicated to chamber music. Over the years, the festival has proven to be a resounding success, earning it a reputation as one of today's most important gatherings of Quebec chamber musicians. During its 17th edition from Aug. 4 to 12, the public is invited to a dozen concerts which celebrate the music of yesterday's and today's composers while redefining the limits of the genre.
United by a common passion for chamber music, cellist James Darling and violinist Élise Lavoie left the tumultuous Montreal scene in the early 2000s for the captivating charm and tranquility of the Bas-Saint-Laurent landscapes. These professionals had the idea of creating a unique concert experience that would unite the intimate and communal side of chamber music with the enthralling beauty of the banks of the lower St. Lawrence. The project came to fruition in 2002 at the first edition of the festival. The region's residents as well as out-of-town music lovers flock to the festival year after year, attesting to the quality of programming.
The high calibre of invited artists and the excellence of the performances undoubtedly play a part in the success of the festival, but it's the setting and the opportunities to meet musicians that give the project its originality. When asked about this aspect of the festival, the artistic director and cofounder James Darling emphasizes that the festival is not just a simple tour stop. Each concert offers a unique encounter between the interpreters and the repertoire, giving the experience its spontaneous and authentic character.
The 2018 program features musicians from diverse horizons who will interpret a repertoire that is decidedly eclectic, proposing a new interpretation of the concept of chamber music. The opening on Aug. 4 features the distinguished young cellist Stéphane Tétreault and pianist Lysandre Ménard. The Made in Canada ensemble on Aug. 8 will play Mozart's Piano Quartet in E Flat K. 493 as well as a mosaic of 14 Canadian pieces composed especially for the occasion. The closing soirée on Aug. 11 features eight performers in a program including Debussy's Danse sacrée et danse profane (Valérie Milot, harp) and Schumann's Piano Quintet.
Translation by Isabel Garriga
Complete program, points of sale list and details about the concert venues are available on the festival website. www.bicmusique.com
This page is also available in / Cette page est également disponible en:

Francais (French)