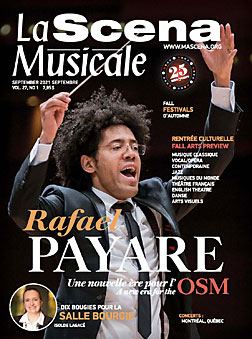 This page is also available in / Cette page est également disponible en:

Francais (French)
Entre drame humain et conte politique
At the cutting edge of the contemporary scene for more than 30 years, the Chants Libres company is presenting the world premiere this fall of its new opera L'orangeraie. Adapted from the novel of the same title and presented as a coproduction with the Nouvel Ensemble Moderne (NEM), the opera depicts the throes of war in the Middle East through a gripping family drama.
Genesis
Deeply impressed by Larry Tremblay's 2013 novel, the founding artistic director of Chants Libres, Pauline Vaillancourt, felt a deep empathy for the characters, whose music she could hear instantly. The musicality inherent in the text and the depth of the themes prompted Vaillancourt to ask the author to produce the libretto for this nascent opera. The musical side suited the sensibilities of the Franco-Lebanese composer Zad Moultaka, who himself fled the war in Lebanon at a young age. He has opted for eight singers in addition to the 15 musicians of NEM.
Absorbed by the central themes of the libretto – war, family and sacrifice but also healing and salvation – Vaillancourt approaches the staging by delving into the hearts of people confronted with terrible moral dilemmas. It is the complexity of the characters, neither good nor bad, and the current resonance of the themes that inspire the staging, always in tune with the music that binds and animates the destinies of the protagonists.
A premiere in two stages
Originally scheduled for last fall, the L'orangeraie saw production come to a standstill in March 2020 because of the pandemic. This blow experienced by the entire cultural community did not, however, slow down the enthusiasm of the Chants Libres team, which launched Prélude à l'opéra in January 2021. Both a commentary on the condition of an artist in a period of confinement and a foretaste of the final work, this daring digital event sees the actor Sébastien Ricard embody the author and key character of the story confronted with emptiness and loneliness.
The ghostly presence of the musicians of the Nouvel Ensemble Moderne under the direction of Lorraine Vaillancourt and the eight singers establishes a solemn and serious atmosphere which greatly enhances the expressive weight of the text. For a foretaste, Prélude à l'opéra a can be viewed free of charge on the Chants Libres website.
Chants Libres presents L'orangeraie Oct. 19-21 at the Monument-National in Montreal and on Nov. 5 and 6 at Le Diamant in Quebec City.
This page is also available in / Cette page est également disponible en:

Francais (French)