This page is also available in / Cette page est également disponible en:

Francais (French)
Woefully Arrayed : Sacred & Secular Choral & Polychoral Works
Jonathan David Little, Navona Records NV6113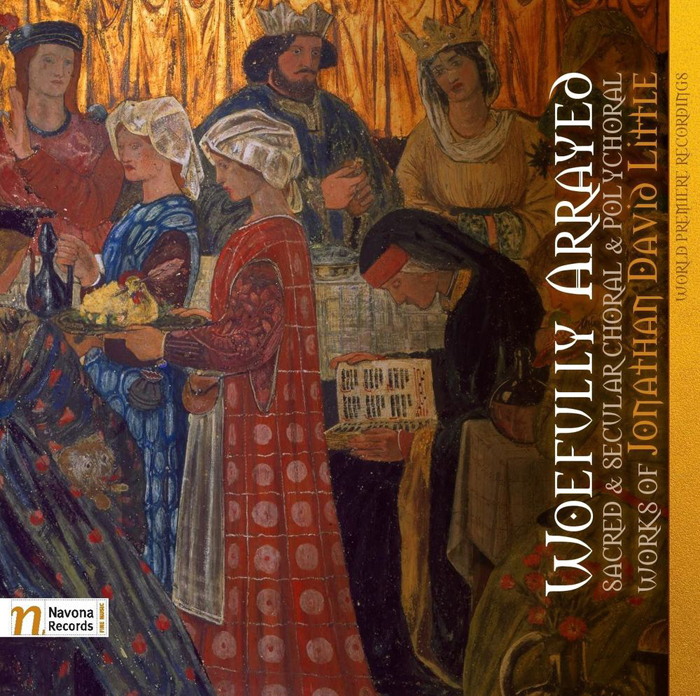 Woefully Arrayed by the Australian-born composer Jonathan David Little is dedicated to choral music. Recorded for the most part in churches in 2016, the six pieces have been performed by various ensembles, including Vox Futura, the Thomas Tallis Society Choir and The Stanbery Singers. As the title suggests, Little's musical manner is in line with such Renaissance polyphonic composers as Palestrina and Josquin des Prés.
However, Little does not just imitate the language of his predecessors. If he accepts the formal general characteristics, such as contrapuntal writing and melisma, he also takes liberties by introducing strong dissonances between the voices. Little is also inspired by the Venetian tradition of polychoral singing to create responsorial dynamics between the different sections. Woefully Arrayed, the title composition, uses two distinct sections, facing each other to create an opposing relationship. The composer also uses clever methods to play with the acoustic properties of the recording venue. Singers are meticulously arranged to create various sound effects. For example, That Time of Year requires singers to move during performance to create a sound halo effect.
Altogether, Little's style is arrestingly beautiful and manages to strike a delicate balance between tradition and innovation. AGV
Translated by Viviane Reid
This page is also available in / Cette page est également disponible en:

Francais (French)