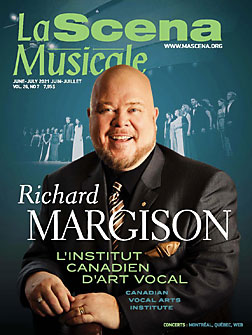 This page is also available in / Cette page est également disponible en:

Francais (French)
Name: Samira Tou

Type de voix : soprano
From: Algérie
Teachers: Gail Desmarais, Anne Popescu, Rose-Marie Landry, Lyne Fortin
Éducation : Université de Montréal et Université McGill
Samira Tou has been lauded for her acting ability, engaging presence and dancing skills. Weaned as much on the rhythms and melodies of her native land as the sounds of Western music, this singer embraces music from a worldly perspective, as if she had many options to choose from.
By the time she started operatic singing, she already had 15 years of experience as a classical dancer under her belt. On two occasions, she was a vocal soloist for the Canadian Vocal Arts Institute. The first, in 2016, as Catherine in Le Mariage aux lanternes, followed by Gianetta in L'elisir d'amore. She also appeared as Barbarina in Mozart's Le nozze di Figaro, produced by l'Atelier d'opéra at Université de Montréal. in 2015, she was a soloist featured at the fifth edition of Oper'Actuel – Works in Progress, held under the auspices of Chants Libres.
She also lent her voice to the feature film Ésimésac, whose original soundtrack was shortlisted for a Jutra Award. Also to her credit is the role of Fiorella in Offenbach's Les Brigands, produced by the Opéra Bouffe de Québec in 2017. She will return to this company in October, when she takes on the buoyant character Pépa in La belle de Cadix by Francis Lopez – a role totally in keeping with her outgoing personality.
Can you list your 10 favourite operas?
Well, I'll go with five!
5- Le nozze di Figaro: a timeless tale, all the more so, because I like the scandalous nature of Zerlina.
4- L'enfant et les sortilèges: the story itself and Ravel's score lead us into a dreamlike world that is both innocent and very dark.
3- Gianni Schicchi: an Italian treat, as light and tasty as a tiramisu!
2- Orphée aux enfers: I really go for social satires and operas devoid of hang-ups.
1- Roméo et Juliette: I've seen it in the theatre, at the movies, as a ballet, but the opera grabs me the most. And the orchestration is simply brilliant.
Do you come from a musical background?
Not the least. In fact, I had to reassure my parents by studying radiology before entering a full-fledged music program. But I have no second thoughts about this, because I acquired an expertise in mammography, and can fall back on that if I have to secure a stable income. My entry into the world of opera actually came out of my time spent as a classical dancer, but singing was always there since my childhood. I decided to study opera because of the challenge it represents. An operatic performance to me is the expression of total art: you have songs, music, theatre, even some dance.
I wanted to be a serious musician, one who could read scores, develop vocal power and have respectable breathing abilities. However, opera is not part of my native North African tradition, so learning it was like an exotic experience, a discovery each and every time.
What motivated you to study opera?
I was not able to pursue my training in classical dance once my advanced studies in the field were completed. I was rather stoic about it at first, but wound up chasing my dream anyway. In my earlier studies in radiology, I foresaw two careers for myself, one to help others, the other to live from my art. It has worked out for me anyway.
What are your career goals and how do you think you will achieve them?
When I began my studies, I found myself playing in small operetta companies, and did a bit of that. Now that I have more musical resources at my disposal and that my voice has developed, I cross my fingers and hope going to Europe some day and try my luck. My range has changed over time and I am working on more ambitious roles, like Manon and Juliette.
What is your take on music competitions?
I have only respect for singers who manage to take part in them. Pressure is so great. Like, some attendees have the scores in their laps, waiting for that moment a singer fluffs a note. The experience of a competition is akin to that of a recital, minus the cutthroat competitiveness. To me, competitions ensure that the level at the upper echelons of music remains very high through the safeguarding of standards. Furthermore, they are a way of singling out exceptional talents. Conversely, they can undermine chances of success and seriously damage egos.
Where did you study and with whom?
I did my undergrad at McGill with Gail Desmarais. Not only did she nurture my musical instinct and allow it to grow, she also built my self-confidence. I stayed at McGill to take a master's with Annamaria Popescu. She was most patient in teaching me the Italian recitativo.
From there, I went for a second master's at the Université de Montréal, this time with Rosemarie Landry. She taught me the importance of being rigorous, and the demands posed by the French style (mélodie française). Now I am with Lyne Fortin. From her, I am learning to train my body to sing with a mature voice. I cannot thank enough all these passionate and strong women.
How have you kept your voice in shape during the pandemic?
Before it hit us, I was already in lockdown, as I was in the throes of a double pneumonia. I was lying in hospital at the time, I had influenza, supposedly contracted from a patient. Doctors tell me now that I may well have caught COVID at work, but it did not prevent me from getting cast at the Opéra Bouffe in Quebec City. It was still a long haul for me before I could find my endurance again. To ward off depression and to just maintain a healthy way of life, I put together a dual training program, one for sports, the other for music. That way, I wanted to take full advantage of the extra time on my hands and the ongoing quiet surroundings to prepare for my return after we get through it all. There is one proverb I like very much, it comes from Iran and goes like this: when a hurricane blows in, some hide from it and others build windmills.
What repertoire are you studying at this time?
Juliette, Manon and Zerlina.
What are you most looking forward to during your upcoming stint at ICAV?
I will appreciate taking part in concerts again. This year, I will sing to celebrate the great privilege of performing in a large hall again for the sole purpose of expressing my art. As simple as that. I want to show my best wares this year. My wish to sing is to be happy, healthy and have enough talent to do all that.
Which do you prefer: having the most powerful voice at your disposal or to be able to draw out all sorts of dynamic shadings and tonal colours?
To me, the main goal of singing is expression, so it seems pleasant to me to appreciate those shadings and tonal colours in the voice. It is actually more difficult to master the pianissimos than the fortissimos, so my point is not just a whim on my part.
What makes a great singer?
A great singer is a great actor!
This page is also available in / Cette page est également disponible en:

Francais (French)