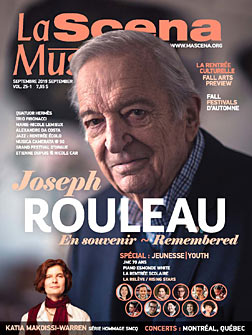 This page is also available in / Cette page est également disponible en:

Francais (French)
Now that school is back, the time is right to present a list of Quebec high schools in the public and private sectors with dedicated arts programs.
A number of schools have arts programs that consist of either more advanced courses in a few disciplines or a range of extracurricular activities. One example of the former is Royal West Academy, an alternative anglophone public-sector institution that offers a selection of programs in various fields. After three years devoted to the visual arts, there are a number of options to choose from in the last two, such as sound engineering, music performance, 3-D modeling, filmmaking, visual arts and graphic design. In the provincial capital, the École Cardinal-Roy is another public-sector institution that offers a joint studies program in arts and sports. Prospective students interested by the arts have several options to choose from as per their qualifications. Programs are focused on theatre, visual arts, choral music and circus performance.
In the private sector, there are no fewer than five schools with a specific arts program.
One of these, the Collège Notre-Dame in Sherbrooke has an extracurricular program for dance in several styles that is offered in each of its five grades. The same applies for the Marcellin-Champagnat high school in Saint-Jean-sur-Richelieu with programs for artistic development in theatre, music, multi-media, visual arts and dance, also available in all five grades.
Founded by the Marist Brothers, a Roman Catholic religious order, the Collège Laval offers advanced programs in a number of artistic disciplines. Six to eight additional study periods are appended to the curriculum, the number determined by an individual's abilities. Collège Claretin in Victoriaville offers similar arts programs in the areas of stage performance (workshops in voice, theatre, drum corps, dance) and visual arts. Students at Montreal's Collège Saint-Jean-Vianney are granted an added period of time per day to pursue an activity of their choice, either in visual arts, or in dance, the latter available in all grades from 7 to 11, the former restricted to the first three.
PUBLIC AND PRIVATE SECTOR ARTS PROGRAMS
There are public sector schools with focused arts programs, some in a range of disciplines, others in a single one. For more information on the criteria of admission, refer to the website of each institution. In the private sector, two Quebec schools offer focused arts programs: Collège Saint-Joseph de Hull in Gatineau for fine arts and Collège Sacré-Cœur in Sherbrooke for dance. Listed below are educational institutions with arts programs duly recognized by the province's Ministry of Education.(1)
(1) Ministère de l'Éducation et de l'Enseignement supérieur : « Projets de concentration en arts » Go to: www.bit.ly/2Peq4u9
VISUAL ARTS
QUEBEC CITY
École Louis-Joseph-Papineau
visual arts and multimedia
LAVAL
École Horizon Jeunesse
École Curé-Antoine-Labelle
MONTÉRÉGIE
Saint-Hyacinthe
École secondaire Casavant
inter-disciplinairy program in music, visual arts and theatre
Saint-Hubert
Longueuil
MONTREAL
arts-études
visual arts or media arts
educational institution dedicated to the arts with four main programs,          two for music (vocal and instrumental), and one each for visual arts and theatre. From kindergarten to Grade 11.
GATINEAU
École secondaire Grande-Rivière
SAGUENAY
interdisciplinary program in visual arts and theatre
THEATRE
DRUMMONDVILLE
SHERBROOKE
PASBÉBIAC
École polyvalente de Paspébiac
LAVAL
École Curé-Antoine-Labelle
TROIS-RIVIÈRES
MONTÉRÉGIE
Saint-Hyacinthe
Saint-Hubert
MONTRÉAL
Multi-Arts and Media programs (visual arts + multimédia and              theatre
École FACE
École Robert-Gravel
educational institution focused solely on theatre. Divided in two distinct programs: acting and production.

SAGUENAY
CIRCUS
MONTREAL
DANCE
SAINTE-ADÈLE
École secondaire
Augustin-Norbert-Morin
SAINT-HUBERT
LAVAL 
École Curé-Antoine-Labelle
MONTREAL
École Édouard-Montpetit
École Lucien-Pagé
MUSIC
AMOS
La Calypso bldg.
winds and percussion
École polyvalente de la Forêt
winds and percussions
QUEBEC
winds and percussions
CENTRAL QUEBEC
Drummondville
strings, guitar, piano, winds and percussion
Saint-Léonard-d'Aston
École secondaire La Découverte
winds and percussion
MONT-TREMBLANT
École polyvalente Curé-Mercure
winds and percussion
MONTÉRÉGIE
Saint-Hyacinthe
Greenfield Park
École secondaire Saint-Edmond
winds and percussion
MONTREAL
École FACE
École Joseph-François-Perrault
arts program with classical music curriculum
École Marguerite-De Lajemmerais
arts program with guitar curriculum
music program with a jazz focus
Dorval
École secondaire Dorval-Jean XXIII
winds and percussion
GATINEAU
École secondaire Grande-Rivière
winds and percussion
Translation by Marc Chénard
This page is also available in / Cette page est également disponible en:

Francais (French)