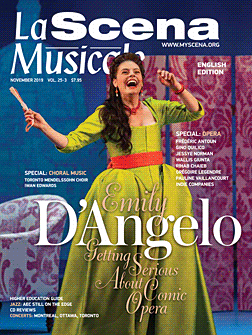 This page is also available in / Cette page est également disponible en:

Francais (French)
La Scena Musicale attracted a total of 35 staff, partners, subscribers and artists to its first mixer event on Nov. 11 in Briskets restaurant. Montreal music people met with their peers to chat in a laid-back atmosphere. The evening resulted in positive feedback. We look forward to repeating the experience.
Several artists featured in our November issue were at the event, including tenor Frédéric Antoun, who made the cover, baritone Gino Quilico, who was interviewed in this month's pages, and Stéphane Marceau, a contemporary painter who was profiled in our Visual Arts special.
The two featured opera singers, Antoun and Quilico, were invited to answer questions from the guests. Asked by Wah Keung Chan about his favorite art song, Antoun said he favored "Pace non trovo" from Liszt's Tre Sonetti di Petrarca, and generously performed a solo excerpt for us. Quilico, in turn, confided to us that Luciano Pavarotti had taught him how to make pasta – in his own special way.
It was also the perfect opportunity to launch our Discovery Box. We offered three of them in the raffle.
The first winner was Painter Avery Zhao, whose ticket was drawn by her husband, violinist Marc Djokic (double luck), and who won the Discovery Box comprising a CD by Marie Bernard and tickets for the 26th Jeunes Ambassadeurs Lyriques Gala presented by Théâtre Lyrichorégra 20. Entrepreneur Julius Frohlich, then won the box containing tickets for the play Constituons! by Christian Lapointe, at Théâtre d'Aujourd'hui, and a CD by Marie Bernard.
Finally, composer Lewis Furey won the "Gold" box consisting of a pair of tickets for Lucia di Lammermoor by Opéra de Montréal; a CD of Mozart's piano sonatas K. 310, 331, 576 by Yaron Ross and a $50 gift certificate for Le Bleu Raisin restaurant. Congratulations to the winners and enjoy your discoveries!
Thank you all for contributing to the success of this event and see you next time!
Watch our video of the event:
This page is also available in / Cette page est également disponible en:

Francais (French)