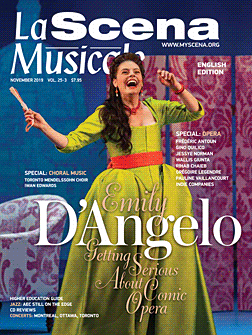 This page is also available in / Cette page est également disponible en:

Francais (French)
Wallis Giunta is the real deal. The Irish-Canadian mezzo-soprano combines a flexible and precise coloratura with a captivating stage presence. Hers is a transcendental talent. An offbeat artist, she has been able to stay true to her idiosyncrasies by using them to grow and explore new frontiers. She is also something of an archetype for a new and difficult-to-categorize opera singer who has eclectic tastes and constantly seeks new ways to communicate with her audience.
In October, the energetic redhead was making her debut with the Seattle Opera in the title role of Rossini's La Cenerentola. She returns to Canada on Nov. 24 for a recital for the Mooredale series with pianist Steven Philcox at the University of Toronto.
Beginnings
Giunta grew up in Ottawa, where her house overflowed with an eclectic record collection ranging from Michael Jackson to Mahler. Her father, Mike Giunta, is a well-known radio announcer, producer and voice actor who was a founding program director at Galaxie (now Stingray), a multi-platform audio service that broadcasts continuous music.
From a very young age she sang and improvised harmonies to different folk songs with her sister, who accompanied her on guitar. She was a member of the Ottawa Central Children's Choir for six years and travelled with them to the United States, Italy, the U.K., Japan and across Canada.
At age 15, Giunta landed a spot in the chorus of the now defunct Opera Lyra Ottawa. She sang in productions of Madama Butterfly and La Bohème, and "just fell in love with it." She decided then and there to become an opera singer. She started her operatic path singing soprano at the University of Ottawa during her freshman and sophomore years, but her teacher Jean MacPhail at the Royal Conservatory's Glenn Gould School in Toronto was able to guide her vocally and help her develop as a mezzo-soprano instead.
At present Giunta is in the midst of becoming an established name in opera circles. She is known for her ability to adapt her silvery voice to contrasting vocal styles and is thoroughly at ease in concerts, recitals or full opera productions.
TEDx Talk
Last year Wally (as she is known to her friends and on Facebook) gave a TEDx Talk called "Singing out of the Box." The idea was to show all the different facets of her voice. She sang "Una voce poco fa" from Rossini's Il barbiere di Siviglia, "I Can Cook Too" from the musical On the Town by Leonard Bernstein and an a cappella Irish folk song, "She Moved Through the Fair."
What was her motivation for this presentation? Opera can be a very rigid business ruled by vocal categorizations. Therefore, it can be difficult for multifaceted singers to be taken seriously.
"I have never had trouble personally finding work as a singer, but I think some people in the industry prefer that a singer specializes in one specific style," Giunta says.
For nonconformists it can be suffocating and detrimental to try to fit into a mould. The key to her success has been to embrace and explore different facets of her voice and artistry.
"I have had people contacting me for new exciting projects, offering me to sing in them because they've heard I was kind of weird. For example, the organizers of the BBC Proms in London reached out to me last year because they were celebrating Bernstein's 100th anniversary. They were looking for classical singers who were versatile and could do a recital consisting of standard classical repertoire, demanding and experimental contemporary music, and also musical theatre.
"Keeping on a very narrow path and never expanding horizons: Nah, I don't think that can help a singer, it would usually hold them back instead."
Art song, folk and recitals
In recitals La Wally likes to include contemporary music, particularly folk/Canadian music from artists such as Gordon Lightfoot, Joni Mitchell and James Avery. The way Lightfoot uses his instruments and the way he composes for his guitar share characteristics with a classical Spanish song or an Irish or Celtic folk song. "These composers have a seriousness about their works that lend them to mixing well with other art songs".
"The Mooredale recital will include two Joni Mitchell numbers. "She's just a fantastic singer and also uses her instrument in a very healthy way, so when I'm singing her music I don't really have to change much. I don't put the full operatic sound into it, but I sing it in a healthy classical way."
Voice technique
"I don't really have one specific regimen or technique," Giunta says. "I see this more as a toolbox full of ideas that I've collected from all the teachers and coaches that I've had throughout my life."
Giunta defines herself as somewhat in the middle between a technical and an intuitive singer. "I generally tend to be intuitive until something doesn't work," she says with a laugh. "At that point I go into my toolbox and try the different strategies that I remember working before." The most important thing for her is to be confident and to not think too technically, because it liberates her and makes her present emotionally and dramatically. "That's when you get real exciting performances!
"What was most difficult in my earlier years, mostly through my 20s, was breath support. I have a really high energy level, always buzzing around, and I'm naturally quite slender with a narrow rib cage. I've often felt that I couldn't get quite grounded to connect to my body and find enough space in my body to breathe as much as I needed to."
Moving to Leipzig and adopting a slower pace has helped Giunta ground herself. "I was alone and quiet and I had to be with myself," she says. "I had to chill out and connect to myself." She discovered a breathing technique in yoga that proved helpful. "It's the idea that creating space for breath is not an action, it doesn't involve any strength or effort, the lungs are like a vacuum. When you breathe out and completely exhale all of the air, the lungs almost automatically look to refill, that's part of being alive. So I started to change my mentality and instead of thinking about taking a forceful big breath, I started to make sure that I completely used all of my air in the previous phrase so that it feels like my lungs fill up on their own. I realized that when I was trying too hard to make the breath, I wasn't getting nearly as much air."
She stresses that it's important to strategize the breathing in every piece to have the adequate amount of air for each phrase, taking shorter inhales for a short phrase, so that she doesn't end up stacking air throughout the aria and creating unnecessary tension.
#MeToo
"I've had several sexual harassment experiences," Giunta says. "Typically, a man in a position of power tries to take advantage of what they perceive as vulnerable young woman." Sexual harassment in opera, she says, is both common and difficult. "There is a lot of expression, you have to play your character and do things on stage with a colleague that you would never do in an office setting. People get confused and the lines of personal and professional life get bit blurred.
"I've had many propositions, but I always stand up for myself and say no!" Refusing advances has many times had negative consequences, because the rest of the working experience becomes unpleasant. "They will take it out on you and treat you differently," she says of the aggressors.
Nevertheless, Giunta has observed much improvement in the way companies deal with harassment. "A few times the companies that I worked for stood up for me and made sure that there were no repercussions. An example I have seen with several companies is that they start right from the beginning of each contract and have someone from the administration show up and set some rules: 'Good morning. I hope you all have a great time. We have a strict no-harassment policy. Everyone here is treated equally. If you experience anything, this is the person to talk to, here is also a number you could call.' They give us an actual plan. It's transparent."
Giunta added that an environment conductive to harassment is one where people around the persons of power allow it to go on by turning a blind eye and finding justifications as to why it is not their responsibility to do anything. That's why, in her opinion, the solution lies in everybody, not just women, speaking up when harassment occurs. "I know it's hard, and there is always a risk, especially if you're a young artist, of getting blacklisted or labelled as difficult. But the temperature is changing, especially here in North America, and the only way to continue that change is to keep talking about it and keep telling people: 'No, this is not OK.'"
This page is also available in / Cette page est également disponible en:

Francais (French)