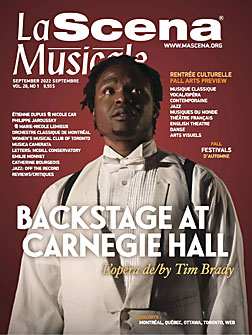 This page is also available in / Cette page est également disponible en:

Francais (French)
On Sunday August 13, a jam-packed Wilfrid Pelletier Hall received with ovations singer Bruno Pelletier in his return to the emblematic musical creation of Plamondon and Cocciante duo: Notre Dame de Paris.
The production breaks a 22-year spell since the revered Quebecois singer first incarnated the role of "Gringoire". Pelletier was joined by a solid cast of performers, including another member from the original 90's production; Canadian singer/songwriter Daniel Lavoie.
What you missed:
Bruno Pelletier is at the peak of his power. He showcased a powerful belt canto and great stage presence. He has found the elixir for vocal youth. Father Time has brushed his voice with a golden dust gritty quality. Daniel Lavoie was not left behind and also hit gold with some of his high notes. One of his strongest moments came when he visited Esmeralda in prison to confess his love for her.
Elhaida Dani's interpretation of Esmeralda was flawless. The Albanian diva is a previous winner of contest such as Starmania and The Voice Italy and she showed why. Her voice is comparable to a young Laura Fabian. Mixing raspiness with tenderness and a good amount of power.
The show emphasized constant movement and kept us at the edge of our seats. For this purpose the team of dancers: Gabriel Nabo, Serena Origgi, Alessia Papale, Valentin Piers, Laurisse Sulty, Alex Besnier and TIGER brought us a fast paced combination of classic and contemporary dance styles while Jonathan Gajdane, Vaia Venetis, Ivan Trimarchi, Roberta Zegretti, Oyassa, Andrea Neyroz, Matthieu Jordan, Nathan Jones, provided breathtaking acrobatics comparable to the ones we would see at a Cirque du Soleil production.
The highlight of the show was the ending salutes and the encore. Bruno Pelletier got Wilfrid Pelletier's entire audience to sing the emblematic chorus from the song Les temps des catedrales along with him. It was the perfect send off and a good way to compensate for the weak ending of the work.
Gripes:
While the dancing and acrobatics might have been the strongest part of the show, they were also a nuisance in intimate moments. The constant dancing felt borderline burlesque in moments such as in the death of Esmeralda, and in the song Déchiré. Something more sober would have highlighted the moment better.
Furthermore, we wondered why they couldn't hire real musicians and back vocalist to perform the music live if they had the budget to hire a big group of dancers and expensive decors. Instead, they opted (like most of musicals nowadays) to use a backing track. Musically, this is the equivalent of glamourized karaoke. It is robbing musicians from jobs, lacking organic feel, disappointing for the spectators, and a downer for the singers who can't perform more freely.
This would have been a great opportunity for the writing team to revise the arrangements and even do some trimming. Some of the lyrics for the songs sound as if they are simplistic. Sometimes trying at all costs to find a poor rhyme. Songs such as Dieu que le monde est injuste lack substance and are just not of enough quality to have a place in an otherwise high quality show.
The young singer Emma Lépine (who wasn't even born when the show first premiered) might have stepped too quickly into a production that is about 1 size too big for her current level. She clearly lacked the experience and presented an unpolished characterization of Fleur-de-Lys. Having said that, she has a beautiful flutey sound on the top notes that merits further development.
Should I stay or should I go?
Go see it! If you are in for some fast-paced entertainment and great pop vocals.
Stay home! If you are looking for deep, discreet and life altering work of art.
Rating 80/100
A few performances are left for Montreal's Place des arts, Salle Wilfrid Pelletier between August 18-21. The show will then tour Quebec with September presentations at Trois-Rivières (Cogeco Amphitheatre), in Sherbrooke (Salle Maurice O'Bready) and in Quebec (Grand Theatre de Quebec).

Montreal Tickets at: https://placedesarts.com/en/event/notre-dame-de-paris
This page is also available in / Cette page est également disponible en:

Francais (French)